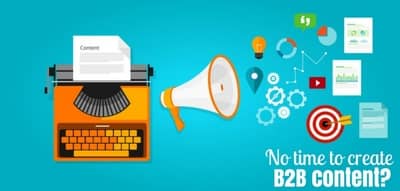 Content marketing is one of the biggest rising trend that a majority of B2B marketers want to do more of this year and in the future. It works because useful content can attract your customers to your website and helps generate leads. The dilemma is that you have a business to run, and will have no time to create fresh B2B content that keeps attracting more website visitors and leads.
If you are facing a B2B content creation dilemma, make use of these 10 ways to get past the time factor and provide your website visitors with a steady flow of fresh curated content. You'll end up in a dilemma of having too much content and not enough time to follow up on the B2B leads that it generates.
1. Accept guest posts
Want to write for Lucep? We regularly publish the views and best practices of sales experts on The Lucep Sales Blog. Make use of the Lucep widget below to request a callback, and we'll talk about your ideas for a guest post or other expert content on marketing or sales technologies.
2. Block time for content creation
Once you get the hang of it, it doesn't take much time to write 1-2 posts per week. Do it during the weekend, or during your commute, or in between work. But the best way to make sure you have a regular publishing schedule is to block time on your calendar every week at the same time, and on a specific day of the week.
3. Hire a B2B content creator
If you're absolutely busy with no time for creating your own website content, then get hold of a content creator. You can hire freelancers or contract writers and digital marketing agencies to do this for you. That could cost you up to $100 per post, depending on the quality of writing and the length of the article you are looking for.
4. Engage B2B influencers
Here's our list of the Top 50 sales bloggers, and we're working on putting together a list of the top 50 marketing technology blogs as well.
5. Post user reviews from your B2B customers
As part of an effort to learn, implement and share what we know about marketing and sales, we do a lot of experiments with different channels, automation technologies, and services.
One of these experiments unearthed the fact that user reviews are, in fact, the most important channel that you can put your time and resources into. Read more here.
6. Save time by using a content curation tool
Pawan Deshpande, CEO and Founder of Curata, explained to us in an exclusive interview that content curation should involve a level of humanness, but tools such as Curata can save time and may do a better job than a person.
It's not just about crawling websites and finding new content, but also about schema (tagging, adding author information, etc.) and other tasks that B2B marketers have to spend time on.
7. Aggregate content from relevant feeds
Another way to share highly relevant and targeted content with your readers is to embed syndicated feeds into your pages. Every page you have can be a static page where you don't have to update the content, while including a feed that provides dynamic and fresh content that matches the page context.
8. Promote static pages instead of blog posts
As a matter of fact, you don't even need dynamic feeds to make a static page rank well on the search engines. The experience we have had working with a few Lucep clients who have promoted static pages instead of blog posts has proven to be very positive.
Focusing your SEO campaigns on keywords that lead to static pages is the better option for a number of reasons, including the fact that it offers a better user experience and will generate more B2B conversions.
9. Publish micro blogs
It's not necessary these days that you have to publish long form posts or even a page full of content in order to get lots of traffic. Just a few lines, ably supported by the right image or video, is enough to generate a lead, or even set off a whirlwind of social shares and traffic from both social networks and the search engines.
Use Facebook, Twitter, LinkedIn, Medium, Paper.li, Pinterest, Instagram, Youtube, Flickr and other social networks. Cross post the same content and links, and steadily increase social engagement as well as website traffic.
10. Use and reuse quality video content instead of text