upGrad was founded in 2015 by Ronnie Screwvala, Mayank Kumar, and Phalgun Kompalli with a view to "to impact the lives of working professionals by helping them upskill while they work."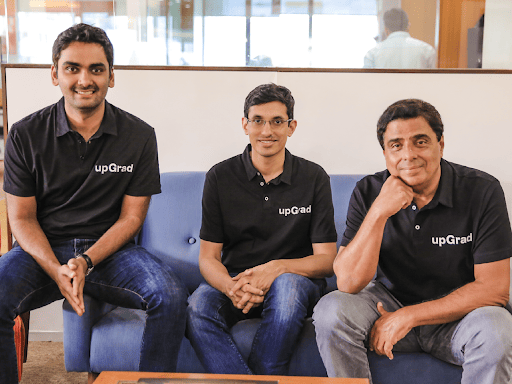 By 2018, upGrad had crossed a milestone of 10,000 learners, and hit one million registered learners in 2020. upGrad now has over 2 million registered users, and is valued at $2.25 billion.
upGrad educational program success story
upGrad offers education programs in Data Science, Software and Technology, Management, Law, and other categories where upskilling is both critical and rewarding.
Each of these programs that upGrad offers is in collaboration with one of the world's top universities such as IIT Madras, Duke CE, Deakin University, Liverpool John Moores University, etc.
For example, you can signup with upGrad for an MBA from Golden Gate University or Deakin Business School, or a globally recognised Master's in Data Science from Liverpool John Moores University.
The high standards set by upGrad and their partner universities reflect in the results. upGrad Results reviewed by Deloitte show that 5 out of 6 learners get positive career growth. upGrad students get an average of 52% salary hike after completing their MBA programs.
upGrad Study Abroad success story
This is a unique and popular program that allows students to complete their education partly online with an Indian educational institution, and then at a physical campus abroad.
For example, their Bachelor of Computer Applications / Bachelor of Science is a 3 years course. In the first year, you will be studying online with the Indian Partner University. For 2nd and 3rd year, you will be going to the UK to study at Keele University.
The benefits:
Significant savings of upto INR 25L+ compared to a traditional 3-year on-campus UK degree;
Post Study Work Visa opportunities (upto 2 years) as accessed by graduates of standard UK degrees.
In a tweet, upGrad Abroad President Ankur Dhawan further noted that "When we started upGrad Abroad, the mission was to empower learners to study overseas by easing the process and handholding them throughout their journey. Our growth showcases the trust our learners have in our convictions."
upGrad awards
upGrad has won awards for both the "ed" and the "tech" in their edtech, including:
Best Career Planning Platform at Ed Tech x 11th Indian Education Awards, 2021
#1 Startup in India as per LinkedIn Top Startups, 2020
EdTech of the Year Award, 2021 at TechIndia Transformation Convention, 2021
Best Online Platform for Higher Education on 29th July, 2021 at Global Brands Awards 2021
ET Best Education Brand 2020.
'Best Communication and Teaching Platform' in the Education Innovation Awards 2020 by Entrepreneur India.
'Best Corporate Training Programme' by the 10th Annual Indian Education Awards 2020.
upGrad office and program contacts
Headquarters: Ground Floor, Nishuvi 75 Dr. Annie Besant Road Worli, Mumbai – 400018
Phone: 18002102020
Email: [email protected]
Program
Contact
Study Abroad
https://www.upgradabroad.com/
+91-8068792911
[email protected]
upGrad Rekrut
https://www.rekrutindia.com/
[email protected]
upGrad Jeet
https://www.upgradjeet.com/
[email protected]
KnowledgeHut
https://www.knowledgehut.com/
India : +91-84484-45027
Toll Free: 1800-121-9232
Other regions: https://www.knowledgehut.com/contact-us
upGrad Campus
https://upgradcampus.com/
[email protected]
+91-8035241332
Education technology for lead management
As noted, upGrad gets student enquiries from all over the world, and has course offerings in different parts of the world. upGrad has implemented Lucep to centralize and automate lead qualification for their different programs in multiple countries.