As a rule, it's better to keep your CEO out of sales, because their time is better spent elsewhere. But many of the successful startups we speak with often share this problem of plenty - they haven't had time to grow their sales team, and the lead volume has suddenly grown so much that their Co-founders and CEO, Sales team and even Marketing and Operations teams are swamped with meetings with potential clients.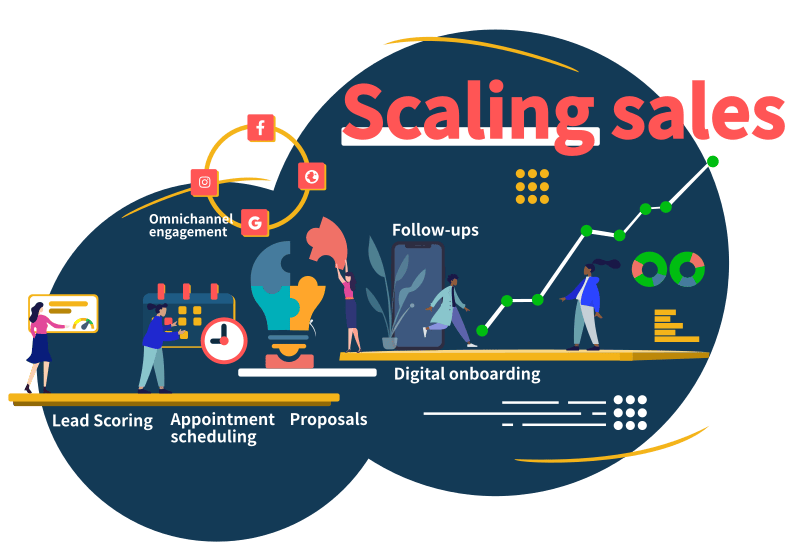 Even so, without the required sales automaton in place, you are unlikely to be able to keep up with the lead volume. In this post, we list the automation steps, tools and strategies that will be useful to you in scaling sales without hiring, to match fast rising lead volumes.
1. Lead scoring
The Pareto Principle posits that 80% of your revenue will come from 20% of your customers. The question you have to answer first is, who are these 20% among all the leads generated? Lead scoring makes this a science, where factors assigned to each lead show which one is potentially more likely to convert into a customer.
Contacting a warm lead that has demonstrated intent (inbound, ideal buyer persona, visited landing page, longer session duration, asked for callback, downloaded brochure, opened email, has agreed to a scheduled call, social engagement, etc.) is more likely to close a sale than calling a cold lead.
What are all the lead scoring factors you should consider, and how do you put your leads through a predictive lead scoring process? Easiest way is to automate this process by using a scientific lead scoring tool such as Madkadu.
Madkadu is a data science tool that provides context behind your lead and account scoring by surfacing relevant details - what technologies a company is using, what roles they are hiring for, key behaviors in the product - that quickly tell sales why a lead or account is qualified.
Case study: Lucid was receiving PQUs (product qualified users) in Salesforce, but could not see a score or context for why the user was qualified.
Using Madkadu, their Senior Marketing Ops Manager Peter Kirk and his team built a predictive scoring model without relying on the data analyst team to identify and surface product-qualified users most likely to convert.
Their team saved countless hours on optimizing their scoring system, allowing them to focus more of their time on strategy instead of execution.
Omnichannel lead acquisition from your website,
social lead forms and all your digital sources. Try it now:
2. Appointment scheduling
Once you have set up a process to score and qualify the leads to be chased, the next bottleneck where it gets harder to scale is scheduling calls and meetings. When your sales team responds to a large volume of daily leads to ask for a meeting, do they ask for a specific time and date or expect them to set it?
There's a better way to automate it at scale. Once we have validated leads, Lucep initiates a multi-channel automated meeting request across SMS, email, Whatsapp and the phone.
Once they respond by picking a slot, it's not only a scheduled time slot to call them, but also a reinforcement of their intent.
Our Sales team only has to call people who have already confirmed their time slots.
You can then have a sales expert call at the scheduled time, or narrow it down further by offering a specific time to start the meeting within that time slot. Also, it helps track the sales team's response time and performance.
3. Omnichannel engagement
Omnichannel strategies drive an 80% higher rate of incremental store visits. - (ThinkwithGoogle)

Over 35% of customers expect to speak to the same company representative, no matter which channel they use. (Zendesk)

287% higher purchase rate for omnichannel campaigns, compared to single-channel engagement (Omnisend)
So a lead that is first contacted on the phone must then be sent some additional information by Whatsapp and/or email. If they respond, you send a meeting request and the engagement moves to online video.
The meeting follow-up is an email, and then perhaps a series of calls to push the lead along further to take the next steps. Meanwhile, you can also engage them on social media and display ads through a retargeting (remarketing) campaign.
As the statistics note, omnichannel engagement produces better results, and accelerates the sales cycle.
Omnichannel lead acquisition from your website,
social lead forms and all your digital sources. Try it now:
4. Proposals
The next place where you can bring some more efficiency is the proposal. Here's a typical scenario - Sales team brings in customization requirements, and now you have to come up with a suitable pricing strategy for this lead.
You spend hours or even multiple meetings with Sales, Product, Operations and your other teams trying to understand the resources required, and reach the right price point without shredding your standard pricing structure. The next time another lead wants custom pricing, you go through the whole process again.
Meanwhile, the lead is waiting for your proposal, and perhaps being engaged by your competitors…How do you move every lead quickly from the proposal requested stage to the proposal submitted one, even if it requires custom pricing?
There's an app for that, and it's called QuoteCloud - https://quotecloud.net/. Create and send sales quotes, easier and faster.
No design skills required, and you can use their library of sales quote templates, or design your own. Know when your customer is reading your sales quote, and live chat with customers while they read your sales quotes. Most importantly, you can automate internal approvals and send reminders to customers if they have not opened or approved your sales quotes.
5. Follow-ups
A CRM will remind you of the next step to be taken for every deal in the Sales pipeline. But if your Sales team's app or inbox is being flooded with reminders, notifications and scheduled callback requests, what are they going to do?
The solution is workflow automation. For example, we use Pipedrive as our CRM, and follow-up actions are triggered automatically through integrations with apps like Asana and Slack that we use.
Slack channels for each customer and related Asana tasks are plugged into Pipedrive workflow automation so that follow-ups for each deal happen on time, with minimal intervention by the owner of the deal.
6. Digital onboarding
When you have a lead in the final stage, you have to keep calling to ask for the purchase order, and take the customer through the onboarding process. It becomes a lot easier and faster if you have a fully digital onboarding process.
This is where DocByte comes into the process, with its multi-channel onboarding system that can be used with Point of Sales, mobile salespersons and at home. The process can be fully digital or semi-digital on mobile devices and workstations. Automate collecting documents, and extract the data where needed. Get your contracts signed digitally while keeping it 100% secure.