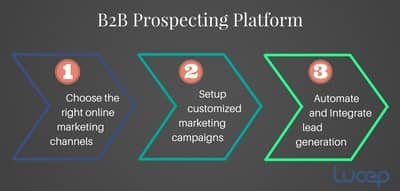 B2B sales prospecting is simpler than selling directly to consumers, but the engagement has to be on a more personal level. It's hard to reach decision makers through blanket ad campaigns that target the whole market. You have to work harder and personalize your approach to target every single decision maker, or at least a group of business leaders who fit the same profile
Based on the sales approaches we have developed for Lucep and for our clients, the 3-step process listed below should help you build a B2B prospecting platform that is simple and effective.
1. Establish your presence on the right online marketing channels
This post on the top 5 online marketing channels your campaign should cover explains very neatly what you have to do to get some traction with a small budget. Start with SEO, content marketing, social media marketing, email marketing, and video ads.
The link above includes sales prospecting tips from experts on how to approach these five channels. Read these tips from Ann Handley, Erik Newton, Rebekah Radice, Jordie van Rijn, and Thomas Stern. These are statistics that highlight why you should focus on these 5 key online marketing channels.
Content marketing reduces costs by 62% while delivering three times more leads (source – CMI);
Essential SEO components – Multichannel and hybrid marketing, micro moments, schema, meta descriptions, and site-wide optimization;
83% of marketers acknowledge the importance of social media marketing;
email marketing generates an ROI of $38 for every $1 spent (source: DMA National Client Email); and
Online video advertising revenue will reach $5 billion this year.
2. Setup customized marketing campaigns
You can't have the same marketing strategy for all these aforementioned channels. Lucep has tried everything from Reddit ads (per impression on Reddit as well as through Fiverr) to Outbrain PPC, Google Adwords PPC and Display ads (with conversion tracking and remarketing), LinkedIn PPC credits, Facebook ads, and PPC on user review sites where Lucep is listed under various categories of sales software.
The results are vastly different for each platform. You cannot take one page or blog post and promote it across all these and other channels. On Reddit, they need something that is clearly controversial or at least thought provoking enough for a spirited debate (and some mud-slinging). LinkedIn is good for B2B talent scouting and posts that appeal to the decision makers, such as this post on the proven elements of B2B C-Suite marketing.
Facebook ads, on the other hand, won't produce much conversions for B2B topics, and Outbrain seems to be a particularly tough nut to crack for any kind of posts about marketing and sales. As for PPC, you need a dedicated resource who knows everything about designing campaigns and setting them up on all the paid ad networks.
By doing this, and you have yourself a steady flow of leads to fill your sales pipeline.
3. Automate and integrate lead generation
As the number of leads generated grows, it'll get harder to keep track of their progress through your funnel. Get a CRM, and set up the required integrations with your website, social media, email list management platform, and other sales tools you need (such as Lucep – free trial)