The biggest problem with social media marketing is that it's hard to measure the returns. In fact, let's forget about how to measure ROI from social media. How many businesses even know what are the metrics you should measure? So let's take this in a step by step manner. In this CRM guide, you'll learn how to integrate your CRM with Twitter, and set conversion goals in Google Analytics.
CRM Integration to Collect Leads from Twitter
The integration part is quite easy. Your CRM may already have an interface ready to automatically import leads from Twitter. If not, you can make use of common integration platforms such as Zapier or Automate.io.
The thing that you need to do is define what constitutes a lead for you on Twitter. For example, it can be new followers. Anytime your Twitter handle gets a new follower, they can be automatically added to your CRM as a new deal, contact, activity, note or organization.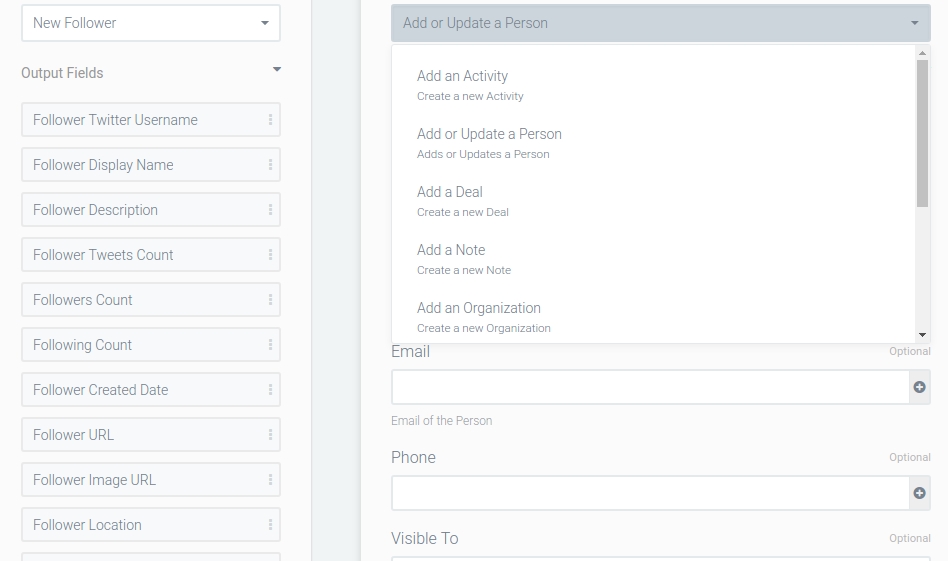 It's still necessary to collect additional information about each Twitter follower added to your CRM in order to push it forward to the prospect stage, but it's far better than simply considering them as people who can share your links.
Once you have all the information about the lead, the conversion rate will be much higher because you already have an interaction with them. These are people that know your business, and you have a channel in which you can contact and respond to them instantly.
 Quantifying Twitter marketing metrics
Branding
Customer support
SEO
Website visitors
Reaching influencers
Retweets and Likes
Branding you can quantify as the number of mentions and the reach of your shares. Customer support is the number of existing customers who try to contact you on a social platform, or you contact them to provide support.
The SEO impact of social media is a bit harder to quantify, but it's still possible if you look at your analytics to see the difference between posts that have been shared and those that haven't.
You can create a channel for each social network in your traffic analytics tool to track the number of website visitors or clicks you get.
Then you have influencers, which is also a bit of a grey area. One way to measure this particular metric is to look at the traffic you get from each influencer that you reach out to. It depends on how engaged their followers are. An influencer with half a million followers may barely send your website 10 visitors, but another one who doesn't even have half that number may be far more influential in terms of the website traffic and the number of shares and likes generated.
By far the easiest metric to track is the number of retweets and likes you get for each tweet that includes a link to a page or blog post on your site. This tells you how popular that page is, and will help you focus your content creation and marketing efforts on the kind of content that works best.
Tracking Twitter lead generation and conversions using Google Analytics
This is all fine, and you have a report on your desk which has colorful piecharts about social media engagement. But what you really want to know is – where are my leads? How many sales did you get from social media?

If you add UTM tags to the URL that you are sharing, it becomes easy to track leads and conversions from social media. Read up on how to use the Campaign URL Builder so that you can track custom campaigns in Google Analytics.