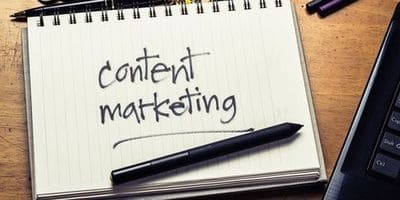 Before we get to the part about figuring out the traffic and conversions from your blog, you need to know what is that you're trying to achieve from the efforts spent. You could be looking to generate more traffic and leads online, you can use it for outreach efforts on social media, to engage influencers, and simply to say what you have to say.
The ultimate blogging ROI is still lead generation and conversions. But knowing that a blog post about defining marketing and sales qualified leads is getting a lot of traffic but no conversions tells us that it's not a good keyword. On the other hand, an article about the best click to call solution that gets a limited number of visitors that convert at a decent rate tells you that this is what we have to focus on.
As far as Lucep is concerned, we're trying to refine the content to find out what kind of blog posts will attract our key customers. It may seem simple that since Lucep is a click to call back platform, that's what we should be writing about all the time. Unfortunately, it doesn't work like that, because the keyword doesn't have the required volume of search traffic.
So we had to further refine our content strategy to ensure that while click to call remains at the center of it, we still write about a wide array of topics that are of interest to sales managers and CEOs – our key demographic.
Once you arrive at your content strategy like this, you need to know your conversion rate, and you need to know whether it's better than or at least as good as the industry average.
What is the average conversion rate?
The average conversion rate for websites, as per Wordstream research of customers with a combined ad spend of around $2 billion, is about 2.35%. But the conversions vary a lot by industry. Research by MarketingSherpa shows that websites of the financial services and media publishers have an average conversion rate of 10%, while software and SaaS sites convert at 7%. At the other end, retail and eCommerce sites convert at 3%.
We've addressed some of these issues in this post on how to get more Shopify conversions. But if you're getting started with a sales blog, the strategy will be more challenging.
For the Lucep Sales Blog, we first tried a keyword based approach that was moderately successful. The idea was to bring in traffic with a wide funnel, educate the targeted audience by providing them with competing solutions, and then pushing forward through to the decision stage with landing page content that showed them the advantages of signing up for a free trial.
This will bring in enough traffic and leads to build a sustainable sales pipeline, but it won't bring you the reach, branding and industry engagement that a high-profile sales blog needs.
Using influencers to reach your audience
We engage with sales industry influencers through this blog and by engaging them on their own sites, through the Lucep sales events that we organize, and by being onstage at other startup events. Influencer marketing is now an established channel, but how much returns you get from each influencer is variable.
As far as our engagement with sales experts and opinion shapers is concerned, it's more about branding than generating leads at the moment. Lucep is positioning itself as a sales enablement platform for the North American market, and we want to visible to the experts in the sales industry.
In terms of visitors and traffic, it's not half bad considering that these are the biggest sales industry influencers in North America, and their followers on social media. We're following up with direct engagement that should allow us to tap into their sphere of influence. But it's already allowing us to focus on paid ads that address the market we're aiming for.
In summary, here's the answer to figuring out your blogging ROI – your website traffic, how many conversions you are getting and should be getting from your blog, and how you can leverage it to engage influencers and their networks.
1. Use a traffic calculator to figure out your existing lead generation and conversion rates.
2. Find out where you stand in terms of the industry average conversion rate.
3. Create a content plan that targets your ideal customer profile.
4. Engage influencers to reach a wider section of your targeted customers.