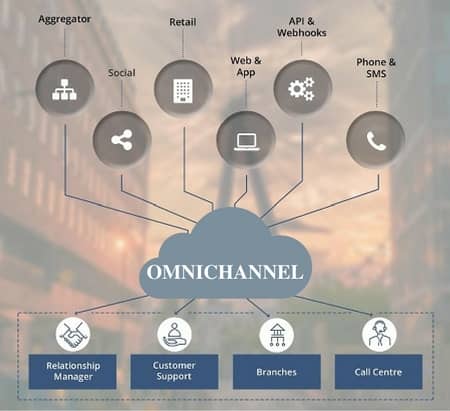 In this article, we are going to share actionable tips on taking multichannel marketing one step further to make it omnichannel, in order to provide a 360-degree brand experience for your customers.
You need to start by laying out your own definition of omnichannel marketing, and then look at the best practices and case studies. Find out how to offer your customers a seamless buyer's journey across channels, instead of a series of increasingly redundant conversations on multiple channels.
What is Omnichannel? Have a read on the article where we collected definitions from experts. The one that's most relevant to this article is from the Deloitte Point of View report – "Omni-channel marketing is about delivering a more interactive, personalized brand experience that goes beyond siloed behaviour and where the consumer is reached through all possible touch points or channels."
The thought that's foremost in your mind at this moment is – How do I offer my customers an omnichannel experience? Here's the answer, or answers. It should be a brand experience, instead of a transactional one. We looked at data on how large organizations are doing it (via presentations at IQPC's Branch Transformation Conference, case studies from Think with Google, and survey data from The CMO Club).
1. Think customers, not channels.
A survey report on "Demystifying omnichannel marketing" by The CMO Club and Rakuten Marketing says that companies going omnichannel are simply doing what their customers prefer, in terms of having a conversation. It's not about offering multiple channels, but about being "omniscient" in knowing your customers, their questions and problems. Communicate with them through content that resonates, regardless of where they are getting it.
The best way to do this is to talk to your customers, and the people who know your customers. A local employee at a location who speaks the same language and is a part of the same culture will tell you exactly what content you need to engage that set of customers at that location – what kind of branch design you need, what services to offer, what are the requirements and experience for staff, etc. It's the connection these employees have with their own people that you need to capture and convert into an omnichannel plan that's part of a broader global strategy.
2. Branch design based on customer characteristics
One of the key driving trends at the Branch Transformation Conference that we attended this year was the introduction of the human element into branch design (see whitepaper on Future of Bank Branches) through customer identification and matching services against the needs of segments at each location.
Define the purpose of your branch by identifying customer characteristics, segmenting them based on location and preferred products and services, and then design each branch by focusing on providing the services that are most relevant to the customers who will be using that branch.
3. Unify your brand and sales messaging for each segment, across all your locations.
This is an Adidas case study on how they came up with an omnichannel implementation plan for their 2020 strategy. Outlined by Simon Atkins, Brand Director of Adidas North America, this is the broad outline of the strategy:
Fit into your consumers' lives
Consumers need to hear a single voice
The cultural shift required is intense
The old practice of rolling out product launches region by region has had to give way to a single, coordinated global launch, since consumers in every region now want the latest product that's creating the most buzz online and on social media.
ake it easy for them to move from discovery to purchase. Adidas worked with Google to move users from mobile search ads forward to a seamless checkout.
You not only need to provide integrated messaging, but also have to get the sequence right. By sending brand messaging first and then following up with eCommerce messages to the same set of consumers, the effectiveness of conversion rates for an Adidas campaign went up 75x.
4. Eliminate the Physical Branch – Digital Divide
Now you have a detailed understanding of the data required for branch transformation – who are your customers, and how to engage with them in a seamless manner that they are familiar with. The final step is to bridge the physical store and digital channel divide, so that it becomes a truly omnichannel brand experience, online to offline and back, as needed Refer to this conversation between Matt Lawson, now Managing Director, Ads Marketing at Google, and John McAteer, now VP, US Sales and operations, Google Retail and Tech. It has two very salient points that you should think about while bridging your own branch-digital divide:
The title, which says – Why you can no longer define your strategy by channels; and
It's a non-line world to your customers: there is "no line" between offline and online. It's non-line.
One of the examples provided is that of Home Depot, which reorganized two separate marketing teams (online and offline) into cross-channel teams (strategy, planning, budget and activation, execution).