It's conventional marketing wisdom to be where your customers are. From the shops and right to the email inboxes and the most visited website in your industry, a huge social presence and now mobile, marketers have followed their customers on every channel possible. But that's still not enough, because there's a difference between a multi-channel approach and offering omnichannel customer service.
Let's start by defining omnichannel marketing, and then we'll consider how it differs from multi-channel customer engagement. Omnichannel, simply defined, comes down to offering a seamless customer experience, regardless of the channel.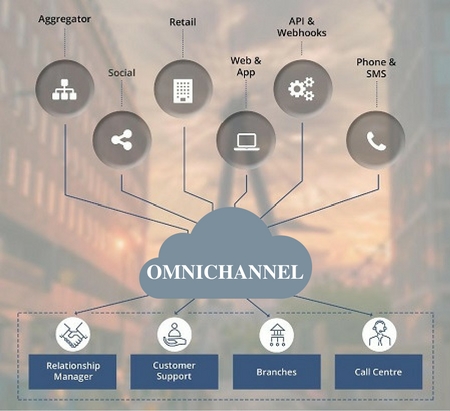 In order to better understand how this works, we have collected the views and opinions of marketing leaders that have published reports explaining what is omnichannel marketing, and how it helps improve your customer relationship management process.
1.   Tackling an omnichannel marketing triathlon
This is from a guide by Dun & Bradstreet, published in partnership with Adobe. They posit omnichannel marketing as a triathlon, where one engagement channel is not enough. Their top 3 tips for your omnichannel marketing triathlon – identify active customer channels, unify your customer data, and complete the customer picture.
Using this approach, you'll collect all the information from various channels (web, email, phone, mobile, apps, social, in-person, etc.) into a single database (CRM), and enhance it into a customer profile with more data from a third-party source.
2.   Advantages of omnichannel marketing for the enterprise
Mobile engagement platform Localytics has collected a set of omnichannel marketing statistics for enterprise that clearly highlights why and how it helps improve your customer experience.
90% of users move between devices while accomplishing a goal (The New Multi-Screen World, Google).
80% of users start researching online and end up purchasing in-store (Consumer Study, Symphony Financial).
Omni-channel customers spend 208% more than direct in-store shoppers (TheRetailPro).
3.   Omnichannel marketing for small businesses
"Omnichannel means creating an experience for your customers that is personalized, frictionless, and continuous across channels, formats, locations and devices."
This is the definition you should be looking at. It's part of a 1-hour recorded webinar from non-profit small business association SCORE. It explains how to develop an omnichannel strategy for your business, implement it as a seamless customer experience, and case studies and examples of small businesses that have done this.
4.   Omni-channel Retail eCommerce point of view
"Omni-channel marketing is about delivering a more interactive, personalized brand experience that goes beyond siloed behaviour and where the consumer is reached through all possible touch points or channels."
This is from a Deloitte report (e-commerce Point of View) on how to succeed in eCommerce. It says the challenge is for retailers to optimize conversion rates through different channels while providing a personalized shopping experience.
5.   Multichannel vs omnichannel marketing
"Brief, inevitable Latin lesson: "multi" means "many" and "omni" means "all." Despite this, omnichannel marketing doesn't necessarily have more 'channels' than multichannel marketing."
Beautiful explanation of the difference between multichannel and omnichannel by Christopher Wen, writing for GetCRM. The point being that the channel actually doesn't matter, because it's one single conversation with your customer, regardless of the channel they are using at any given point of time.
6.   Demystifying omnichannel marketing
"A promising strategy that seeks to create a seamless, personalized customer experience, online and offline, across multiple channels and silos."
This from a CMO solution guide from The CMO Club, in partnership with Rakuten Marketing, which demystifies the word and concept by focusing on it as an extension of a cross-channel approach that marketers are already employing. Going omnichannel simply requires taking it to the next holistic level.