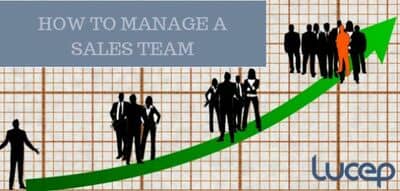 The two main approaches to sales team management are activity- and results-based management. CEOs and sales managers will lean towards a results-oriented approach, but your sales representatives will be happier fulfilling the activities you hand out to them. Regardless of how you choose to manage your sales team, what you need after that is:
A lead distribution system; and

The ability to track the performance of each sales representative.
Lead Distribution and Sales Team Performance Tracking Tools
Lead Distribution: How to distribute leads is an ongoing challenge for sales managers, even when you have a good lead management system that provides you a steady stream of sales-qualified leads. Using Lucep's website widget and mobile app, you can skip all that and distribute inbound leads straight from your website to the sales team member who is immediately available.
Lucep's AI engine ensures that the right sales team member gets the lead instantly, along with the analytics needed to respond within 60 seconds and close the sale within minutes.
(Lucep, an instant response callback tool, makes it easy for your website visitors to get an instant callback from a member of your sales team. try lucep. Talk to your customers now.)
Sales Team Performance Tracking: The good news is that apart from being a callback tool, the Lucep widget and app duo also happen to double as an extraordinarily capable traffic analytics tool. The data you get in your weekly report as a Lucep user includes individual sales team performance in terms of conversions and conversion rates.
Lucep knows which website user has requested a callback, which sales team member answered the call, and what the same user did after that on the website. This enables highly accurate sales team management and monitoring in terms of conversion rates. The report tells you everything you want to know about each sales representative's performance, including the average response time and their customer engagement (leads/converted).
Bitrix24: Bitrix24 is a sales automation and sales team management solution. It can automatically distribute leads, create custom workflows, train your sales force, and more. You can get it as a cloud solution, or as a locally hosted software with the source code.
CRM: Most every CRM has some kind of sales team management and performance tracking mechanism these days. Lucep has already written about how CRMs track sales team performance. The list includes Salesforce.com, Zoho, and Pipedrive, among others.
Sales App: There's an app for this too. In fact, there are a whole lot of sales apps that can either track sales team performance, or just track your hapless sales representative (Routzy, GTX Corp's Track my Workforce, or the Sales Force Tracking app from Maven Systems) to make sure they are working on leads instead of spending the day at the mall.