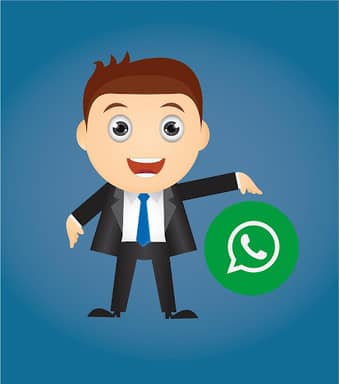 Along with your website, email, phone and social media, customers have now come to expect instant response from businesses via WhatsApp. You can't afford to ignore a marketing channel like WhatsApp that offers you direct access to over 2 billion consumers.
Here's a standard business flow that happens with most businesses. Someone fills up a web form or emails you, or calls you on the phone. After the initial conversation, they want to know more and ask for some product material or a quotation or pictures of the product.
Until recently, the sales people would send over the required material by email and then wait for a response. But now, people ask for it to be sent on WhatsApp. You send it over, and get to know instantly when they have read it. They may even respond back instantly with a "Thanks" and then call or message after going through what you have sent.
WhatsApp has made the sales cycle move faster. The engagement is more personal, and you are interacting with a prospect who can respond back in real-time.
Fine, but how do you get started with WhatsApp marketing? You can't just wait around 24/7 answering customer questions, and a personal account can't make use of the powerful WhatsApp tools that the Business API provides.
Listed below are some of the most effective WhatsApp marketing tools and strategies that successful businesses are making use of to reach and engage their customers.
1. Download WhatsApp Business app.
Download the WhatsApp Business app here (Android, iOS). What is the difference between the WhatsApp app for individuals and the business app? The individual one only allows you to set your name, profile picture and your phone number, and you can join WhatsApp Groups. The WhatsApp Business app additionally allows you to create a product catalog, add your business description and contact information, and use WhatsApp API to automate response to messages.
After downloading, you'll be asked to go through a series of steps before you can start using it for automated engagement. Here's a WhatsApp marketing FAQ that explains the compliance requirements such as Facebook Business Verification and WhatsApp Business Activation, and who to work with for going through the approval process.
This is a bit of a hassle at the moment, because it may take between 5-15 days for all the approvals to come through, and WhatsApp / Facebook does not talk to you directly. It has to be done through one of their approved "Partners" who will take your documents and details such as Business Manager ID and phone number, company logo, address, email, website, etc.
See the full check-list of essential documents required in the aforementioned FAQ. Once you have completed this compliance, you should also be able to send bulk WhatsApp messages to a list of numbers that have opted-in.
2. Create a catalog.
Creating a catalog is one of the key features of the WhatsApp Business API. First you set up a business profile, offering helpful information about your business, products, and contact information. Create a catalog in the Business app under More options —>Settings —>Business tools—> Catalog.
You can add up to 10 images per product, and include the price, product code, description and a website link for more detailed information.
3. Set up auto response.
Setting up an auto response is one of the most powerful WhatsApp strategies you can implement. This is called an "Away message" that is customizable. When enabled, customers who try to message you on your WhatsApp Business app will get this automated message instantly. You can choose the times when it should be enabled (Always, Custom schedule, or set your Outside of Business Hours), and which customers to show it to (Everyone, Not in address book, Exclude list, or Include list).
You can access this in the Business app under More options —>Settings —>Business tools—> Away message. Turn on "Send Away message" and then you can edit the message.
4. Implement a WhatsApp chatbot.
If a simple automated response is not enough, you can implement a chatbot that will take your customers through an interactive sequence, offering more information depending on their inputs.
All you have to do is provide the flow you expect if a customer messages you on the Business app. For example, many chatbots are triggered when a customer says "Hi" and is then shown a menu.
Talk to our demo WhatsApp chatbot RITA now to see how it works.
You can also optionally ask for a name and/or email, so that you can not only call back, but also email the customer with details.
5. Omnichannel marketing strategy.
WhatsApp marketing strategies are effective enough on their own, but it works really well in seamless transition with other offline and online channels.
Here's an example of how an omnichannel marketing strategy would look like:
Lead raised on a website form or Facebook.

Business responds back by phone or email to qualify the lead - make sure the requirement is genuine, and find out more details about what the customer is interested in.

Sales team member calls back, speaks to the customer, and is then asked to send some information or a quote.

At this point, you can send it by email and wait for a response. Or you can also start engaging by WhatsApp, sending more information, asking questions, and responding quickly to customer queries. You can also send "Buy" links on WhatsApp after the quote is sent.
Whether you start with WhatsApp as the lead source or make use of it for omnichannel engagement, you will find that it makes your marketing strategies work much more effectively.