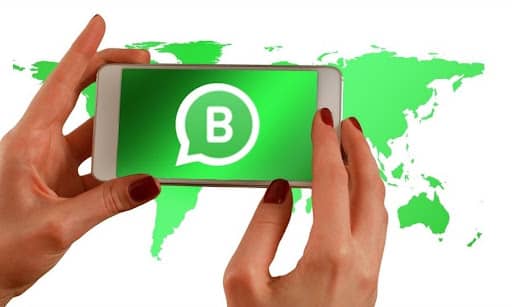 More than 2 billion people in over 180 countries use WhatsApp, including over 390 million in India alone. Over 100 billion WhatsApp messages are sent every day.
WhatsApp is now the core component of any multi-channel marketing strategy to reach your customers, in addition to your website, social media, SMS, and email.
1. WhatsApp marketing statistics.
98% open rates.

45-60% response rate.

Message all your potential and existing customers in 180 countries.

Two billion people and 50 million businesses are on WhatsApp.

54% of consumers prefer to track orders via WhatsApp.

39% of consumers prefer to get customer service responses via WhatsApp.
Customer engagement on WhatsApp helps improve your customer experience and increases conversions, because it combines the best of instant messaging and two-way conversational interaction.
In this article, we provide you with answers to all your WhatsApp marketing questions, from Business APIs to Facebook verification and the process and documentation required for activating your WhatsApp Business account.
2. How to get started with WhatsApp Business APIs.
WhatsApp doesn't typically work directly with businesses that want to send bulk messages to customers on WhatsApp. The way it works is that WhatsApp opens up its APIs (application programming interfaces) to registered partners, who can then sign up businesses and act as messaging gateways.
WhatsApp marketing campaigns are very easy to set up with the right provider. You fulfill the requirements (detailed below) and start customer engagement on WhatsApp with a Business app, automated responses, chatbots, outgoing messages to your customers, automated lead qualification, and more.
Leads generated can be engaged in real-time 24/7, qualified, and sent to your CRM or sales team by a platform such as Lucep that integrates the WhatsApp APIs with your CRM.
Just follow the steps below to set up a WhatsApp Business app and make use of APIs after Facebook Business verification and WhatsApp for Business activation.
3. Create a WhatsApp Business account.
The first thing you need to start with WhatsApp marketing using a Whatsapp Business app is a unique phone number registered in the country where you want to reach customers. The WhatsApp Business app is free to download (Android, IoS) and personalize with your business profile, allowing you to share your location, email, website, and create a business catalog and include a description of what your business is about.
The WhatsApp Business app can be used to send and receive messages from customers one-on-one or to WhatsApp groups in which you have been added or are an admin, just like a normal WhatsApp account.
You can also set up automated responses or even a WhatsApp chatbot, so that your business account can engage customers 24/7 and provide them with an appropriate response to their query. Here's a demo of how it works - Talk to the Lucep chatbot now!
One requirement while setting up a WhatsApp Business account is Facebook Business page verification. Also, sending out WhatsApp messages to a list of phone numbers requires some apps to have API access.
In this case, WhatsApp and their registered partner who connects you to the WhatsApp Business API will require you to verify your Facebook Business page, and go through a few additional steps to do what is known as WhatsApp for Business Account (WABA) activation.
4. Facebook Business verification process.
Since 2014, WhatsApp has become a part of Meta (formerly Facebook), and using the WhatsApp Business app now requires a business to have a verified Meta Business page. Take the following steps to verify your business in Meta Business Manager:
Login as Admin of the Facebook Business page that needs to be verified.

Go to Business Manager, and click on All tools, and then the Business Settings gear.

Within Business Settings, go to Security Center, find the Verification section, and click "Start Verification." (note that the Verification button will be grayed out and not accessible unless you have initiated some action that requires verification.)

Enter your business details, and click Confirm.

Request verification code by phone, SMS or email, or choose to verify using domain verification in which case you don't need a verification code.

After submitting, it takes between 5-10 days for the verification to be completed. You can track the status of your verification by visiting the Security Center.
5. WhatsApp for Business Account (WABA) activation requirements.
Make sure you have this list of requirements ready when you contact your telecom or WhatsApp gateway provider.
Phone number not previously used on WhatsApp. You will receive an OTP for account activation.

Verified Facebook Business page URL.

Business Manager ID of your verified Facebook Business account. Note that business manager IDs can be connected to more than one phone number, but all have to be from the same service provider (WhatsApp partner). If an ID is already in use with another provider, then it can be migrated to the new provider, but not allowed to be used in both simultaneously.

Company logo for WABA Display Picture - preferably in 400x400 pixel.

Profile name.

Company address.

Business category to be updated on the WABA account

Business Description to be updated (maximum of 256 characters).

Company email address.

Website URL.

About your organization - To be updated on WABA (maximum of 139 characters).
6. Procedure for Whatsapp Business Account activation.
First, share the details listed above with your telecom gateway provider or preferred WhatsApp partner through whom you wish to reach customers on WhatsApp.
After verification, the gateway provider will send a request to your Facebook page. Approve the request from the 'Requests Tab' within Business Settings. This authorizes the gateway to send messages on behalf of you ("Client").
The WhatsApp Business account will now be reviewed by Facebook before approval. Once it is verified, Facebook will share an OTP to the WhatsApp phone number provided. You have to share the OTP with your gateway provider.
This entire process may take between 7-14 days, and may sometimes require follow-ups on your part if there is some query or additional information required to be submitted.
7. Submit your WhatsApp templates.
Once you have completed all the compliance requirements, you are now ready to get started with WhatsApp marketing by making use of their business APIs for reaching out to sales leads.
Each message sent in bulk to your list of numbers has to be pre-approved. These are called "WhatsApp templates" and you have to submit each one with your gateway provider. They will in turn get each one approved by WhatsApp managers before the message can be sent out.
Once all this is done, you have the enormous reach and conversational platform of WhatsApp at your disposal. With one click, your business can reach up to 100,000 customers in any one of the 180 countries across which over 2 billion Whatsapp users are eager to respond to your messages with a staggering 98% open rate.
Almost all of this engagement can be automated, with leads from your website and social campaigns retargeted on WhatsApp. Leads and customer enquiries generated on WhatsApp can likewise be automatically qualified and moved in real-time to your CRM.