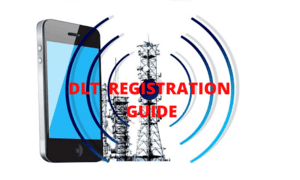 We have already done the Distributed Ledger Technology registration procedure with a DLT platform, assisted by our telemarketer and the access providers (telecom operators). It seems fairly simple now, but we realize how difficult it is for businesses who are just getting started with SMS campaigns.
In this article, you will learn what is DLT registration, why it is required, how to do DLT registration, what is the cost, and what are the KYC documents required.
1. What is DLT registration?
As per Telecom Commercial Communications Customer Preference Regulation (TCCCPR 2018), the Telecom Regulatory Authority of India (TRAI) requires businesses that want to send bulk SMS to register themselves on a blockchain Distributed Ledger Technology (DLT) platform.
You have to provide the name of the business entity, along with the templates (messages that will be sent), headers (sender IDs), and the consent templates.
This means that there is a record for every SMS sent, which specifies the business entity sending the SMS, the actual sender name displayed, the main content of the SMS, and the nature of the consent that the SMS recipient has agreed to.
2. Telemarketer or Enterprise?
You can do DLT registration as:
a. Enterprise or Principal Entity sending messages to its customers and potential customers;
b. Telemarketer with a direct connection to the telecom operators; or
c. Aggregator that do not have a direct connection with the telecom operators.
The first time you register, your business will be provided a unique Registration ID. Most businesses will be registering as Enterprise, and you will be asked to provide the name and ID of your Telemarketer when you do the registration. This you can get from your preferred SMS gateway service provider before you start the registration process.
You also need to provide your SMS gateway provider the name and ID of the person in your business authorized to sign on behalf of the business. This authorization has to be provided on your official business letterhead. See sample below:
Download this sample letter as a text document.
3. How to do DLT registration.
TRAI allows the major telecom operators in India to offer DLT platforms. Links to these platforms are listed below, along with the DLT registration process for each one. You can register on any one of these platforms.
Before you start your registration on one of the above platforms, connect with a "Telemarketer" - a bulk SMS marketing service provider. They will provide you with their own name and ID, as registered on DLT. You will need the Telemarketer name and ID during your DLT registration.
4. Cost of DLT registration.
You will have to pay Rs. 5,900 as a one-time DLT registration fee on the first platform where you register. After that, additional registrations on any other platform mentioned above are free of cost.
5. Documents required on DLT platform.
The two key documents you will need for registering as a Principal Entity on any of the above platforms is your Business PAN Card and a proof of address document (GST registration, Certificate of Incorporation, Shop Act license). Soft copies of these documents must be uploaded, so keep the scanned copies ready.
6. SMS templates and Sender ID approval.
Once you have completed the DLT registration process, you can start your SMS campaigns. Each specific template (the message and sender ID or header that SMS recipients will see on their phone) has to be sent to your preferred SMS gateway service provider whose ID you provided during the registration process.
Once the template and header is approved, then you can actually login to your SMS gateway dashboard and upload your list of phone numbers to whom the pre-approved message will be sent. This is where you finally get to do the one click needed to activate your SMS campaign and the messages start being sent to your list.
Disclaimer: This is a guide based on our interaction with telecom operators and SMS gateway service providers. Please refer to the latest TRAI regulations to confirm the process and requirements for DLT registration.