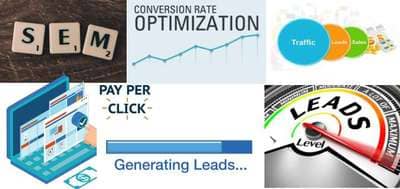 How to get more traffic and leads online? How to convert more leads into sales and revenue? These are common questions we get from small businesses and startups trying to get some traction.
Lucep is technically a conversion rate optimization tool that will optimize your website customer engagement and lead conversions. But we like to say that it is a customer experience optimization platform, because that's what we do to help our clients generate more leads and revenue.
This should also be reflected in your website user experience. A lighting fast website that offers precise information in a pleasing and simple way is what people want.
Make it faster and more usable. Maybe you're just not asking your website visitors to buy. Maybe you're asking them to buy too soon. Maybe the graphics and logos, colors and fonts and other such things are not coming together properly to highlight the message.
First you need to understand your website UX – see it from your user's point of view – and then you experiment with stuff to make it better.
In this post, you will find a list of the top CRO platforms for website optimization that will help you methodically experiment your way towards higher conversion rates. Use these tools to set up heat maps, test alternative versions of your pages and elements within pages, and create new landing pages that are more effective.
1. VWO
Visual Website Optimizer (VWO) is an A/B testing and CRO platform. You can use VWO to build your optimization roadmap, and keep testing and continuously improving the UX and conversion elements.
Features: Track goals and funnels; heatmaps, visitor recordings, form analysis; A/B tests, multivariate tests, split URL tests; and target personalization.
Pricing: Free 30-day trial for Testing (starts at $49/month for 10,000 visitors) and CRO platform (starts at $299/month).
Website: https://vwo.com/
2. Optimizely
Optimizely brands itself as a customer experience optimization platform, enabling businesses to continuously experiment across websites, mobile apps and connected devices.
Pricing: Contact sales – pricing undisclosed for Optimizely Enterprise X, and will be set based on the number of unique visitors and the payment mode (monthly or annual).
Website: https://www.optimizely.com/
3. Unbounce
Unbounce is a platform for creating landing pages, website popups and sticky bars. Dedicated landing pages for PPC campaigns, built in Unbounce, are able to drive more leads and revenue than your usual static product page on a website. Sending paid traffic to these high-converting landing pages will lower your CPC and CPA.
We actually used Unbounce to create landing pages for a Google Adwords campaign, and then A/B tested multiple variants of our Callback landing page to see which one works better. The first landing page, based on an existing design, had the signup box below the fold.
The signup box was then moved right up top for the next variant. It was a huge improvement, in terms of conversion rates. Also, the analytics reports (sourced from integration with Google Analytics) are excellent, providing detailed information about the signups, campaign costs, and the path taken.
Features: Match your branding, drag and drop elements, responsive templates, integration with wordpress and publish to your own domain, dynamic text replacement, custom forms, lightboxes, parallax scrolling, fullscreen backgrounds, video widgets, add your own scripts, built-in Google fonts, webhooks and API.
Pricing: Free 30-day trial (starts from $79/month)
Website: https://unbounce.com/
4. Effective Experiments
Effective Experiments is an ideal CRO platform for high growth optimization teams managing multiple digital properties. Ruben De Boer, CRO Specialist for Sanoma, is quoted as saying that Effective Experiments has helped them document observations, ideas and AB tests.
That's otherwise hard to keep track of, if you implement optimization practices separately for ten different sites. Using Effective Experiments to setup and scale your testing program allows you to manage ideas and experiments from one place, and create a knowledgebase of successful CRO practices that you can then implement across all your sites.
Features: Visualize CRO Roadmaps, workflows and automation, prioritize ideas, knowledgebase, automated reports, integration with 3rd party tools including VWO and Optimizely.
Pricing: Starts from £100
Website: https://effectiveexperiments.com/