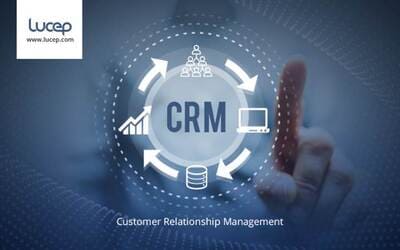 Lucep's sales team members who go to pitch Lucep, often end up sharing their knowledge of sales and selling tools with small business owners and their sales teams.
Some of the questions they get are typically about CRMs. What is a CRM? How can it help grow my business?" or "I've already got a CRM, and nobody is using it. Can you explain to my sales people why they should switch from spreadsheets and email to a CRM and mobile app?"
In this article, we're going to help you find out which is the best CRM for small business growth. This is based on our experience testing and using various CRMs for ourselves and as integration partners.
Let's start with the most common CRM features that are extremely helpful for small businesses, and we'll find the best CRM matching each feature.
1. Zoho for contact and task management.
Ideal CRM for contact management (leads, contacts and deals) and task management (calendar, reminders, calls, events, recurring activities). Zoho is free for up to three users, and these core features are available in the free version of this power-packed CRM.
Features: https://www.zoho.com/crm/help/feature-availability.html
Pricing: https://www.zoho.com/crm/zohocrm-pricing.html
2. Pipedrive for pipeline management and visual snapshot of deals.
Ideal for sales pipeline management. Pipedrive allows you to create pipelines for each channel, and customize each stage within each channel. The simple visual interface enables you to stay on top of all the deals you have in progress, and this is the lead management feature or functionality that gives CRM users an advantage over spreadsheets. You won't lose track of any of the deals in different stages of the sales funnel, and the actions you have to take for each one.
Pipedrive offers you a free trial, but there is no free version. Even so, the simplicity with which it can be setup and used by your team make it well worth the monthly per user cost.
Features: https://www.pipedrive.com/en/features
Pricing: https://www.pipedrive.com/en/plans
3. Hubspot for email lead generation and nurturing.
Hubspot is really, really good at is digital marketing. It's no surprise, therefore, that Hubspot is among the top free CRMs, and the tools and templates they provide for email integration and marketing are highly useful.
Hubspot Sales enables you to track email opens and clicks with real-time notifications. The second a prospect opens a mail, you get a notification, and you call them back while they're reading your mail.
You can connect your email inbox directly to the Hubspot CRM, using a Chrome extension for Gmail and an Outlook add-in if you're using Office. Your email replies will automatically get logged into the CRM.
Using Hubspot CRM for scheduling EDM campaigns and drip mailers really improves the prospect-to-lead conversion rate, especially if you set up auto-responders based on real-time notifications.
It's also ideal for lead nurturing, where you put non-converting leads on a gentle educational drip mailer campaign.
Features: https://www.hubspot.com/products/sales/email-tracking
Pricing: https://www.hubspot.com/pricing/crm
4. Salesforce for small business growth and AI-based lead scoring.
Salesforce is the 800-pound gorilla in the CRM space, and Sales Cloud Essentials is an out of the box CRM for up to five users. The full-featured powerful CRM, coupled with Salesforce's Social Studio and other integration tools will build a rock-solid omnichannel customer relations platform that will support unlimited business growth.
Features: https://www.salesforce.com/campaign/…
Pricing: https://www.salesforce.com/editions-pricing/sales-cloud/
5. TapCRM mobile CRM app.
TapCRM is a CRM manager and mobile app created to empower your teams with access to CRM data while on the go. It works with SugarCRM and SuiteCRM, providing real-time data availability to your teams as needed.
Features: https://www.appjetty.com/crm-mobile-apps.htm#features
Pricing: https://www.appjetty.com/crm-mobile-apps.htm#pricing
6. Freshsales for marketing automation integration.
If you've got a CRM, then all the other tools and platforms in your marketing, sales and customer support technology stack need to provide integration support for that CRM. On the other hand, if you are buying a CRM, then it has to fit into your existing business ecosystem.
This is exactly what Freshsales offers, with seamless native integrations with other business apps including Freshdesk, Freshchat, Mailchimp, Google Calendar, Zapier, Quickbooks, and more.
Features: https://www.freshworks.com/freshsales-crm/features/
Pricing: https://www.freshworks.com/freshsales-crm/pricing/
7. Agile CRM as a social CRM.
Social CRMs need to be, well… social. First, you need to be able to engage customers on their preferred channel, whether it is Facebook or Twitter or LinkedIn or email or chat. All this data, from all channels where any such interactions happen, have to be updated into the same contact / deal / organization data that is in the CRM.
So whenever there's a mention or query raised on social media, there has to be an integration that captures and feeds that data into your CRM. Secondy, this data needs to be made avalable to the team member who gets the lead, and to subsequent reps who followup.
Every CRM offers this social feature through integrations, but Agile has built-in social media solutions available directly in their app. You can do your customer engagement on social media from within your CRM dashboard.
Features: https://www.agilecrm.com/social-crm
Pricing: https://www.agilecrm.com/pricing