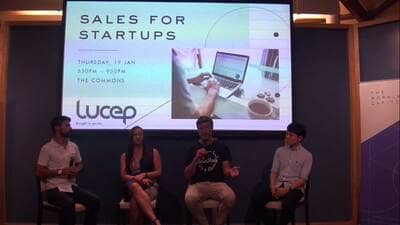 We regularly engage with sales experts on this blog and the offline 'Sales for Startups' events that Lucep hosts in our different markets. Each of these interactions and events invariably produces a few gems of information that are highly useful for people in sales. At one such startup event, our panel of sales experts came up some B2B sales tips about how to approach different markets.
One of the panelists you will hear in this video is Patrick Barnes, CEO and Cofounder of Advocately, a platform that offers advocacy programs for B2B SaaS companies. Another one is Sarah Hales, Sales Manager of Dragon Law, a firm that provides incorporation and related services for businesses in Southeast Asia. The third panelist is former Facebook Client Manager Philip Tnee, now Head of Sales at Purpleclick Media, a leading SEO and SEM company in Singapore.
Zal Dastur, Lucep: One of the things that's a bit different from your experiences have been in B2B, because a lot of people, you know, it's much more common in Asia, that this mysterious billion consumer group, which everyone is trying to go after, that's very B2C. But why don't you tell us about some of your experiences about selling to B2B here in Asia and in Singapore?
Patrick Barnes, Advocately: I think with… I think this applies in Asia and other markets as well. I find with B2B, even selling a relatively, you know, regardless of price, it's always good to communicate with customers on the phone as much as possible, and try and help them become successful with your product during the trial period. I think this is one of the things we really propagated both with TradeGecko, and Advocately is for the customer to really understand what they are buying and ideally to be as successful as possible and get as many results as possible during the sales cycle. So the end of the time period comes up, it becomes something they want to pay for to maintain, to keep on, as opposed the decision to start using. So in our case, I'm not sure if anybody here uses Slack, no yes maybe, so we give everyone notifications when they get your salaries online, and if you are using Advocately, people really enjoy that. So often when our customers decide to sign up, it's to keep that going, as supposed to like – oh cool, this is how it works.
Audience Question: In terms of variation, across markets, is there anything you need to take note of, like, is there any difference between someone selling to a say B2B startup in Indonesia compared to Hong Kong and Japan? Thank you.
Sarah Hales, Dragon Law: I think for us, being, we came from Hong Kong to Singapore. In Hong Kong, people will, as soon as they see a little bit of value, then jump on something cause they are so used to paying over the roof for tiny apartments. We're getting used to the same in Singapore, but you get a lot more here for the same price there. So, In Hong Kong, you can quickly get close, and not have as much negotiation and requests for discount, if you can show that they are getting value. If you can convey the value of your product, there's far less negotiation on the price, particularly.
Philip Tnee, Purpleclick: Well, regional experiences are… I think obviously the biggest similarity is, since the market… will be Malaysia, when you talk about markets within the Malaysian markets, it's just Kuala Lumpur, and…pretty much, in terms of how similar it is to Singapore. Negotiation sells, I would say, in Singapore because of the accessibility and just the freedom of information around everywhere, you tend to get pushed the hardest, when it comes to…you come to pricing. But I think when it comes to these large diverse kind of markets, like the Philippines or Indonesia, then there's a lot of blank transparency everywhere, people are charging all kinds of prices for very similar products, and then that's where in a sense there's an opportunity as well.
Umm… for instance, I know…they're one our closest competitors has, since it's…we're over 10 years old and they are about the same age, and since their inception, they have not been profitable in Singapore. Right, there's another agency, I won't mention who… and they've losing money, gaining money, losing money.. but in Thailand, they are killing it. They are making so much money right now, and it's really down to their arbitrage and how they operate on, and it's down to how nascent the market is right now. So it of course depends what you're selling, but I think opportunity sometimes sprouts out of, you know, obviously it sprouts out of transparency, and it's something to consider.