According to content marketing statistics from PointVisible, which you can see on this inforgraphic from MarketingProfs.com, a full 89% of B2B marketers are already using content marketing as part of their strategy. More relevant is that 62% claimed to be more successful at it than they were a year ago.
If you want to be more successful at B2B marketing and generate high quality leads that convert easily, you have to be able to pick and focus on the right type of content.
1. Product demos and videos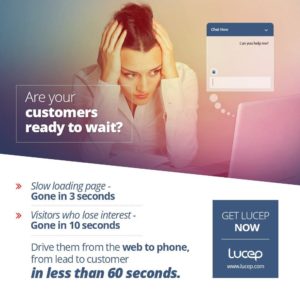 The goal of B2B marketing is to get your prospects to agree to a product demo. If they're open to watching it on your website before contacting you, then the first mission is accomplished.
Any lead generated after viewing your product demo is almost guaranteed to be a high quality lead.
If you want to see a Lucep product demo, just use the widget on the bottom right and request a callback. A Lucep rep will call you within 60 seconds to discuss more.
2. Reviews, testimonials, success stories and case studies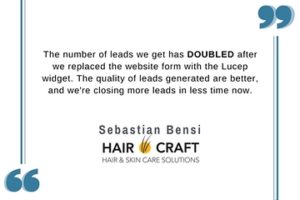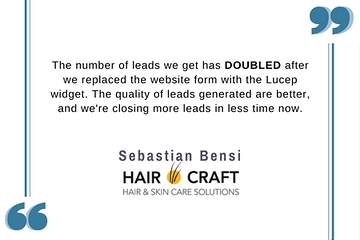 Testimonials from a B2B buyer's peers and competitors in the business community are far more effective than anything you could say. Be clear and transparent about the kind of reviews, testimonials, success stories and case studies you publish on your website or share with prospects on social media and through email marketing.
3. Answer commonly asked questions in an FAQ section
B2B buyers are far more amenable to call or email you than B2C customers. But instant response still makes for a better website experience. If you provide the answers right there, while they're still on your website, you may be able to generate more highly qualified leads quickly, before your competitors even know a new lead has been generated.
One good way to do it is to provide the FAQs below the fold, after your main landing or pricing page.
4. Long form blog posts
Most B2B websites have their own blog, and it's true that blog posts rank better than static pages in the search engines. I'm not talking about SEO here, but look at the Google algorithm as an accurate estimate of how popular your content is.
So, what does Google, or your ideal B2B customer, like to see? That would be a long form blog post that is between 1000 to 2500 words, and takes 7-15 minutes to read. Don't worry about attention spans and the fact that nobody reads large amounts of text unless they have to. Your B2B buyer, if they're really interested, will read the post in its entirety and then call you as a high-quality lead that already knows and trusts you.
For the record, this post is less than 700 words, but we've tried long form posts of over 1,000 words. Thing is that we want you to talk to us rather than read the entire post. So if you're interested in an instant lead response solution, please request a callback and then continue reading.
5. Write social posts that are truly useful for B2B buyers
The 140 characters you post on Twitter, or the images you post on Facebook, will get shares and likes. But they won't generate any click-thrus to your website unless you're throwing a lot of resources at social media marketing.
What does work very well for B2B providers is targeted marketing on LinkedIn, Medium, Inbound and other social platforms where people can write complete blog posts. Join the right LinkedIn groups, and post content that is as good as the posts you write on your own blog. If your post gets picked by LinkedIn Pulse or on an Inbound Digest or Medium Daily Digest, then you have established a steady source of high-quality B2B leads.