This is the final answer to our series on "Is Live Chat Dead?"
Live Chat is Dead – Reason #5 
Chat technology is so non-millennial
Not being able to respond to leads in the right manner and at the right time means you are losing the lead. If a person leaves the website, they are gone for good. When the sales representative doesn't respond quickly enough, the chat gets closed and there's no way to identify who it was and have a follow up on what could have been a solid lead.
Another problem is users are unable to pick up a chat afterwards. They don't have an option to retrieve the earlier messages, and so they have to start a brand new one and go through the whole process again.

Some businesses have optimized their live chat protocols in such a way that it prompts users with questions like "Can I assist you with anything else? or Do you want to end the current chat now?" After every one minute of inactivity and after 3 such queries, the chat is automatically shut down. This is probably done to avoid wasting the sales representative's idle time in case a user has left the chat. But it's still troublesome when nobody bothers to respond back.
Also, a frequent complaint from live chat users is that the apps on their phone drain their battery very quickly as they are constantly "pinging" the server to see if there are any live chats going on. Battery draining apps are something that people want to stay away from, and because of this reason several people have already stopped using live chat.
All these problems are a clear testament that live chat is dead.
Live chat users – Time to switch to click to call. Try Lucep.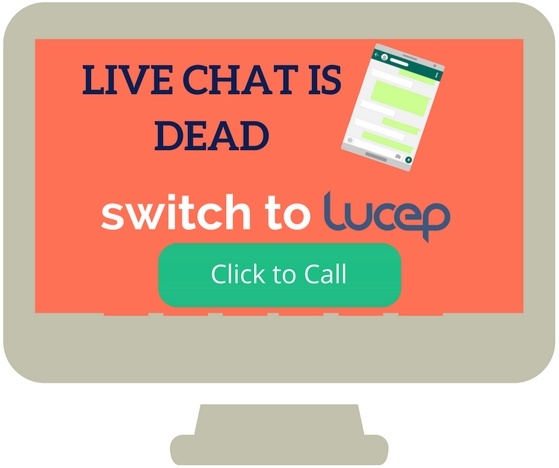 Live chat is dead because: