Lucep recently won a $100,000 contest to help develop insurtech for one of the world's largest insurance companies.
In this post, I want to share some of that insurance lead flow process that led to Lucep being chosen as the most innovative and exciting new insurance technology out of a field of 148 startups from 32 countries.
Let's define the challenge first, and the scale of it. Then you can look at how Lucep tackles it through omnichannel martech automation for lead acquisition, and then smart lead distribution to get the right leads into the hands of the agents who can best respond to it.
Top 4 Insurance lead sources
How are insurance leads generated? These are the top four insurance lead sources.
1. Carrier website: Through online insurance quotes, website forms, and "connect with an expert advisor" options.
2. Call center: Inbound leads on carrier's toll-free number, helpline and phone numbers. Outbound leads generated by call center agents calling prospects on a list.
3. Insurance agents: Agent websites, social media, email marketing, agent's own local office and signage, and word of mouth.
4. Aggregators: Third-party aggregators and insurance comparison sites.
Multichannel engagement of insurance leads
I'm going to outline a fairly common multichannel scenario here that insurance buyers and sellers will typically follow. That should help in highlighting the nature of the customer engagement challenge here.
a) Website: Insurance buyer goes to the insurance carrier's website, looks at the products, and fills up an online quote form.
b) Email: An email is sent to the buyer with a quote and purchase link.
c) Phone: A call center executive gets the lead. The call center executive calls and asks if the buyer has any doubts or questions, and tries to get the customer to buy online.
d) Agent: If the customer still needs to talk to an expert in person before buying, they may talk to an agent who is in the same location or nearby. The agent will then go through all of it again, asking the same questions and explaining the same products and options which the buyer has already been told about thrice before.
e) Comparison site: Meanwhile, the buyer may also end up on an insurance comparison website, where a form fill again generates the same lead.
Scale of insurance customer service
Before turning to the lead distribution part, I'd like to highlight the scale of this multichannel insurance lead acquisition, distribution and customer engagement process. There are nearly 6,000 insurance companies in the United States, who employ 1.5 million people. Another 1.1 million work for insurance agencies, brokers and related activities.
(Stats above from Insurance Information Institute. Wiki or company sites for organizations mentioned below.)
New York Life, the third-largest life insurance company in the U.S., has 12,000 agents and over 11,000 employees.
Metlife, one of the world's largest insurance providers, has approximately 100 million customers being served by 49,000 employees in a network that spans across 60 countries.
Kemper, with over $11 billion in assets, is represented by more than 30,000 agents and brokers, and employs over 7,800 associates.
Travelers Insurance has approximately 30,000 employees and 13,500 independent agents and brokers in the United States.
To put such stats into perspective at scale for any one insurance company – there are insurance leads going back and forth between 10,000 to 30,000 agents, brokers and employees across multiple channels – website, phone, SMS, social media, mobile app, email and in-person.
This is the challenge we're tackling – how to automate the lead acquisition, distribution and switching between channels seamlessly at scale, in a way that moves the insurance buyer forward quickly towards purchase.
Omnichannel insurance lead generation
Lucep has developed plugins and integrations to move leads raised from all the aforementioned channels over to your team on the phone. Whether a customer is first engaged on the website, Facebook, mobile app or email, the lead is instantly distributed to the right team member on their phone.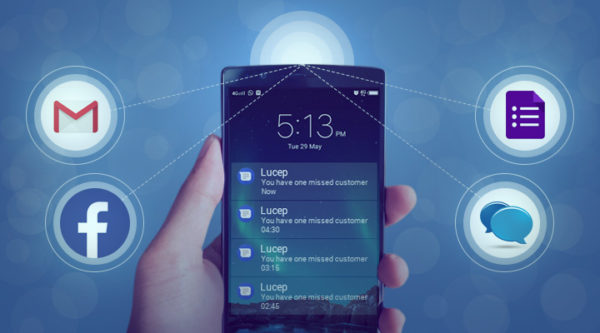 This is the first response to leads which are qualified by our marketing automation technology. Let's follow the same flow in the scenario outlined above under multichannel engagement.
a) Website: An insurance buyer enters a request for some specific coverage into an online quote form. Lucep captures all the quote application data entered in by the buyer on your website and will move it to phone, using smart lead distribution technology to make sure it reaches the right agent.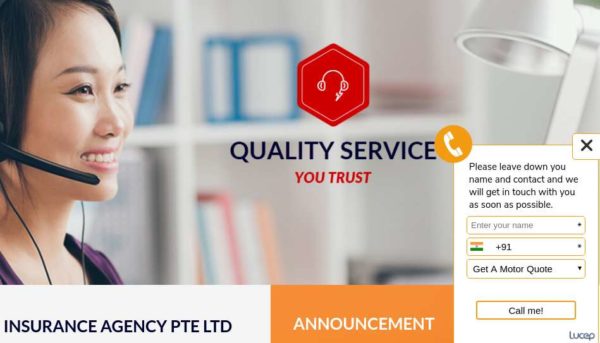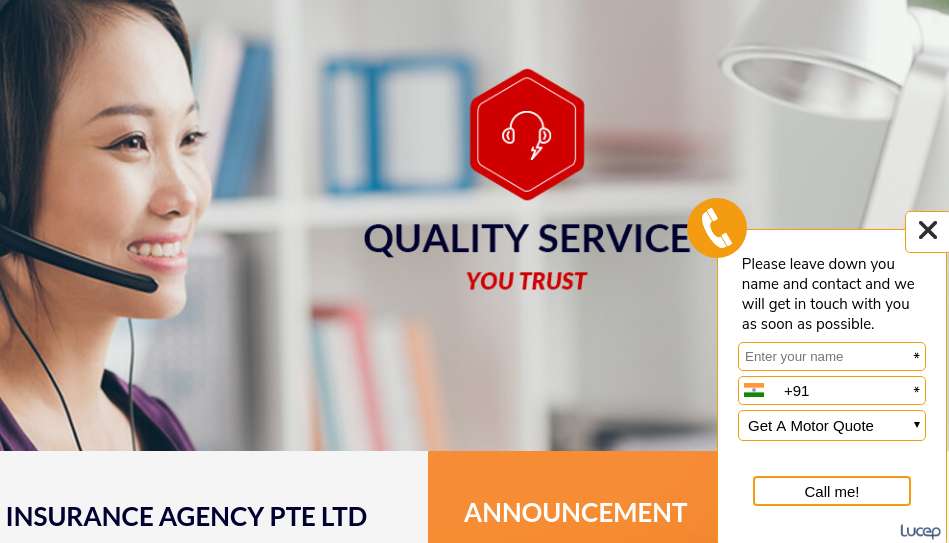 The lead notification also includes additional qualifying data such as demographics and website traffic analytics – pages visited, location, previous visits to the website, etc.
b) Email: An email is sent to the buyer with a quote, purchase link and a Lucep call button they can use to tap and talk to the email sender on the phone.
c) Phone: The buyer clicks the callback button, notification goes to the email sender, who then calls back on the phone instantly to continue the conversation and close the sale.
d) Agent: If the customer still needs to talk to an expert in person before buying, they may talk to an agent who is in the same location or nearby. The agent is sent a lead notification that includes the previous history of all the recent engagements, so the conversation continues from where it was left off on the phone.
e) Comparison site: If the buyer fills up a form on an insurance comparison website and a lead is sent to our insurance company, it will be sent to the person who is at that point in time already engaging with the lead on one of the above channels.
The results, or benefits, of such omnichannel customer engagement for insurance (as opposed to the prior multichannel effort) are immense: