Before we get to the part about how to implement this on your website, you should know why you need a cloud telephony system.
Importance of cloud telephony on websites
The typical conversion rate of a website (may differ by industry) is between 2-3%, which means around 97-98% of your website visitors don't convert into leads.
It doesn't mean all of them are not potential buyers. It just means that your website has not been able to engage many of your potential leads and motivate them enough to contact you.
A buyer today wants to feel valued, which happens only when the seller (that's you) chases them. How do you chase a visitor who is supposed to call you, but doesn't? To make this happen without it being a cold call, you need to make use of a cloud telephony tool on your website.
Make it easy for people to contact someone from your team who is available at that time. Call back within 5 minutes, and you are 7 times more likely to qualify the lead than those who respond within an hour, and 60 times more likely than those who respond after 24 hours or more. 
Ways to implement cloud telephony for your website
1. Add the tel schema. Simple html tag that makes any text or image such as a phone number or icon clickable, and will result in the number being dialed when tapped on a smartphone.
2. Get a cloud telephony number from a service provider such as Twilio or Nexmo, and make use of the code they give you.
3. Add a callback widget to your website template. This is what we do.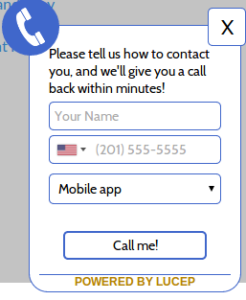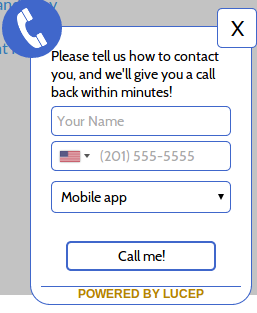 Once you have a cloud telephony number, and have added the Lucep widget on your site, you will see an instant jump in lead generation and conversions.
Based on the data we get, Lucep cloud users see a 70% increase in first contact rate, a 50% increase in first meeting rates, and a 200% increase in sales volume.
How does cloud telephony and callback trigger such a dramatic improvement in leads online? The secret that unlocks these leads is instant response. 
Cloud telephony and instant response for website leads
The key benefit you get when you start using a cloud telephony number and Lucep is the ability to respond instantly within seconds. Specifically, Lucep will enable you to respond to leads within 60 seconds. When you or your sales team member gets a callback request from a website visitor, you need to call them back instantly. So that's how cloud telephony works on your website.   
Did you know that 63% of buyers give their business to the first caller who responds? Even if you are not able to close the deal instantly, you get a huge advantage over your competitors who aren't so prompt at responding to leads.