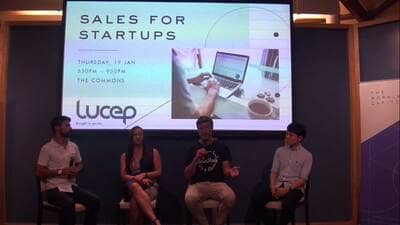 As part of an effort to better understand and help leads instead of selling to them, Lucep has been organizing a series of 'Sales for Startups' events in different markets. We bring together a panel of sales and industry experts, who talk about their experiences and offer sales tips to the audience, and also answer questions posed by the sales professionals, startup founders and entrepreneurs who attend.
One of the things we have been hearing a lot in these events is about how to build a sales pipeline filled with a steady supply of leads. One such question about how to get your first paying customers was answered by panelist Patrick Barnes, Cofounder and CEO, Advocately, which offers advocacy programs for B2B SaaS. Their goal is to help businesses grow by building better relationships with their customers. Patrick was formerly Head of Inside Sales at TradeGecko.
See the full video, and the transcript is also provided below.
Zal Dastur, Lucep: Talking about customers, Patrick, I'm gonna come to you because, I know you were at TradeGecko pretty much from the beginning, and you started your own thing now. So, tell me about, you know something, the first 10, 20, 30 paying customers you get are very different from the 100, 200, 300 paying customers you get. So what are the things that you have to do, or what are the things that you have done, to convince those first key people to part with their money, for your firm?
Patrick Barnes, Advocately: Yeah, that's a good question. That's super – super different. What have I done. What had to be done. I think it's, I think the thing that what Lachlan and I focused on is really… so, I suppose it's a couple of things. Before we even started, or wrote any code, we wanted somebody to give us some money to solve the problem for them. Like I'm not going to say, like, fixed price forever… but just a small amount of money and you can even delay the renewal until the code starts working for them and they start getting value for the product. Just where I'd really start the sales process. I mean, like, 3-5 people pay you before you even start writing code, delay the renewal, take really good care of them, look after them, and once they actually start getting results, then we'll…whatever…
Zal Dastur, Lucep (to the audience): Sorry, but does that scare anybody out there, who's just got a new startup? The idea of you asking for money before you've written a line of code? Like, because I know that when we did it, that terrified us. But it's amazing how many people are willing to part for money for an idea.
Patrick: Yeah, I'm not saying like heaps of money, but just some of it. Somebody's not going to give you like, I don't know, depends what you are trying to do, like but some amount of money, like in any kind of market rate, I'd probably, I don't know, I'd really like…that way. I hung out with my friends everyday. It was awesome. So, I was a little bit hesitant with that, and then I think what Lachlan and I worked on, is to really, once we did that, we did have a working product, is we really drive customer success during the sales cycle. Umm… one thing it does is, and the twist for us is and it promotes for is what is very high to cost, from when people give us money, they are getting results from the product, the sales cycle can still be very short doing that. If you get the onboarding right, and, yeah, it also means when you ask for money, and it's already working and they are getting results from it, they are much more likely to give it for you. I'm not saying this is forever, but like first 30. So, I think we've asked one person to pay us, ever, who didn't end up paying us. It was just because they had just fired their director of marketing, and they were about to hire a new one, and that new one was going to inherit Hubspot not set up from that…just person, and they didn't want to… basically start consuming that person's budget. And so that's through now, and I'm still working with them.
Summary of Startup Sales Tips to Get Paying Customers
Pitch your product as a solution to solve a customer's problem. You may be able to get these first customers to pay you some amount even if you product is not fully ready.

Work on building your product and use it to provide the solutions you promised to the customer. Meanwhile, postpone renewals and don't rebill until you provide a solution.

You can ask for money once they see their problems being solved. They'll happily pay you and continue to be loyal customers.

By doing this, you are shortening sales cycles and you can use these initial customers as testimonials and case studies for marketing to your new leads.

Related Posts:

Why Sales Strategy Should Direct Product Development

Sales Prospecting Tips From the Experts