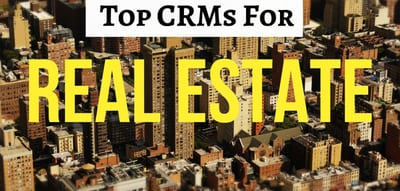 If you're doing well in the real estate business, then you know how little time you have to manage leads and keep track of all your contacts, listings, CMAs, escrow, all the paperwork, scheduled meetings, followups, and the current status of each and every deal you have in the works.
If a spreadsheet is not enough to handle all this any more, then it's time to consider a real estate management CRM that helps you in effectively tracking and managing customer data and relationships.
However, this brings up the issue of choosing the right CRM, learning how to use it, and integrating it with your existing software and systems. This can again be a daunting task in itself. So, we have come up with a list of the top 5 dedicated real estate CRM solutions that have proven their worth. Hope this makes your job easier.
1. Propertybase.
Propertybase is a new, innovative CRM that provides a plethora of resources for people in the real estate business. This fusion of state-of-the-art technology with fully dedicated real estate CRM software helps you not only manage and capture leads, but also reach and showcase your listings and CMAs using professional templates.
You get easy-to-use customizable templates, and a dashboard with all your leads from different sources in one single place. Every contact you meet, attract or reach in person, on your website, through the phone, or even on social media, gets loaded into the CRM as part of your leads database. It will soon become an invaluable resource for your real estate business, and you'll be able to manage and track every single deal from the first meeting all the way through to escrow and closure.
2. B2BBricks.
B2BBricks is your next generation real estate management software that will help you manage your entire business from a central dashboard. Managing a real estate business end to end is made easier when you have features that include world class property management, contact and property management, booking management, lead management, and more.
The number of other excellent services and features provided by B2BBricks is also worth a mention. This includes automatic proposal systems, instant notifications, high-level project management, and smart property management. With this CRM, you can also design your own customized real estate website to expand your business on the web.
3. Brivity.
Brivity is the right solution for you if you need a cloud-based CRM and real estate management system that can not only manage but also market, communicate, generate leads and close more transactions.
This tool along with its family of products can be used by brokers, agents, teams and even associations and vendors to help build and strengthen client relationships. Pricing for this CRM software is set on an affordable scale, starting from options for a single user plus one team member.
4. Seize the Market.
Seize the Market is a complete real estate management system. You can track and manage your entire business with just this one solution. It works exceptionally well for those who don't need a complicated stack of interconnected management tools, systems and software.
This CRM has powerful features including real time reports, appointment tracking, email drip campaigns, google analytics report and much more. It is designed to help you scale your business, and will continue to help you manage your business regardless of whether you have a team of 1 or 100.
5. Top Producer.
Top Producer is an award-winning real estate CRM that will help you excel at your business and grow faster than the competition. It will simplify your workload and comes highly recommended by countless other successful real estate business owners.
If you are new to this business and looking for a CRM tool that generates leads, convert them into clients and bullet-proofs your client-customer relationships, then this CRM has features that are designed to do just that, while also positioning your agents as local experts in the marketplace.
Top Producer CRM also gives you the ability to send your customers customizable emails, postcards and letters to position yourself as the market expert with cutting edge reports and presentations. Another thing that makes it so popular is that they keep adding new features that are very useful for a real estate business. If another CRM has a feature that is well received, it wouldn't be a surprise to find it implemented in Top Producer's platform in the near future.
Remember that not all CRMs are created equal. If you need a CRM that is perfect for agents, brokers and teams in the real estate business, take the free trial for one or more of the CRMs listed above.
In conclusion, the real estate CRM solution you finally opt for will manage the entire process, leaving you free to focus on the most important thing in your business – building relationships with your home buyers and sellers.