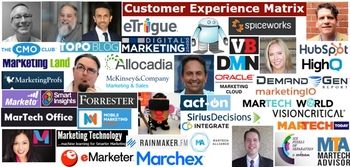 Since Lucep is a marketing automation platform that spans the divide between lead generation and response, we also develop engagements with marketing technology experts. We read all these marketing technology blogs, company resource sections and news magazines to pick the best ideas and trends we can find, to stay ahead of the curve and keep uptodate with what's happening in the martech landscape. This is Lucep's current reading list of the top 50 martech blogs and news magazines.
1. Martech Advisor – The world's leading source for marketing technology news, research, product comparisons and expert views. Their newsletter reaches 1.1 million sales and marketing professionals worldwide.
Website: https://www.martechadvisor.com
Twitter: https://twitter.com/MarTechAdvisor LinkedIn
2. MarketingProfs – MarketingProfs offers real-world education for modern marketers through training, best practices, research and other content. Trusted by 600,000 professionals globally, MarketingProfs is the only resource you need to stay ahead of the curve. Also, the Head of Content at MarketingProfs is Ann Handley, so you can be sure nothing mediocre is ever going to be published on this site.
Website: https://www.marketingprofs.com/
Twitter: @MarketingProfs; LinkedIn
3. Marketo Blog – Marketo makes marketing automation software for companies, to help digital marketers master the art and science of digital marketing. Their experience shows up in their blog posts on everything from marketing automation to content, email marketing, and modern marketing.
Website: https://blog.marketo.com//
4. Hubspot Marketing Blog – Attracts over 2 million monthly readers and has over 400,000 subscribers, and covers everything you need to know to master inbound marketing.
Website: https://blog.hubspot.com/marketing
Twitter: @HubSpots; LinkedIn
5. Martech Todays –If you want to know the latest news about blockchain solutions from new startups, how to capitalize on Google Tag Manager, cookie-less tracking, marketing automation and use of AI, the AR/VR transformation in marketing, and the speakers and agenda for the next Martech Conference, then you go to Martech Today.
Website: https://martechtoday.com/
Twitter: @martech_today; LinkedIn
6. Marketing Land–Covers all aspects of the digital marketing industry, and a sister publication to MarTech today and Search Engine Land. You can read about everything from Adwords scripts to AMP, LinkedIn integration, online marketing recaps, social video marketing, and more.
Website: https://marketingland.com/
Twitter: @marketingland; LinkedIn
7. MarTech Talks–Travis Wright, the host of MarTech Talks, is the co-founder and Chief Marketing Technology Officer at MarTech consulting firm CCP.Digital. He also co-hosts the VentureBeat weekly podcast, VB Engage, and is a tech journalist who talks and writes about the latest marketing and advertising technology such as Blockchain, ad payment systems, the latest marketing technology stacks for enterprise customers, retargeting strategies, etc.
Website: http://martechtalks.com/
Twitter: @teedubya; LinkedIn
8. Chief Marketing Technologist – Edited by Scott Brinker, the Chief Marketing Technologist talks about marketing technology and how that's changing marketing strategy, management, and culture.
Website: http://chiefmartec.com/
Twitter: @chiefmartech; LinkedIn
9. The MarTech Blog (MarTech Zone)– Douglas Karr is the founder of The MarTech Blog, a recognized MarTech expert, public speaker, and CEO of DK New Media, an agency specializing in assisting marketing technology companies with their inbound marketing.
Website: https://martech.zone/
Twitter: @martech_zone; LinkedIn
10. Customer Experience Matrix –This is the blog of David M. Raab, marketing technology consultant and analyst, and Principal at Raab Associates Inc. The blog is a tool to visualize marketing and operational interactions between a company and its customers.
Website: http://customerexperiencematrix.blogspot.com/
11. Chief Madness Officer–Blog of Rishi P. Dave, blog of the self-styled Chief Madness Officer, who shares with you his experience and knowledge of the real M in CMO. For the record, Rishi Dave is Chief Marketing Officer, MongoDB
Twitter: RishiPDave; LinkedIn
12. MarTechExec– A community for martech execs, similar to inbound.org. But this one is specifically meant for sharing news, views and questions about marketing technologies.
Twitter: @MarTechExec; LinkedIn
13. Demand Gen Report– DGR covers a wide range of topics of interest to our audience, including marketing automation, revenue performance management, content marketing, mobile and social trends, lead scoring and nurturing, cross-channel campaign strategies, benchmark research, etc.
Website: https://www.demandgenreport.com/
Twitter: @DG_Report; LinkedIn
14. Martech Blog and Comic– The Martech Alliance's Comic Blog, complete with a cute pug as a mascot wearing an I Love Martech hat, shares random ramblings and doodles, and aims to set the marketing world to rights.
Website: http://www.martechalliance.com/blog-comic/
Twitter: @martechalliance; LinkedIn
15. Martech World Blog– Digital marketing strategist Ankita Sharma's blog shares her insights and knowledge of everything from analytics software to Big Data and marketing automation.
Website: https://martechworld.blog/
Twitter: @martech_world; LinkedIn
16. MarTech Series– In their own words, MarTech Series provides an "ubiquitous and panoptic coverage of the Marketing, Sales and Ad technology verticals."
Website: http://martechseries.com/
Twitter: https://twitter.com/martechseriesLinkedIn
17. Michael Seymour– Michael Seymour is a sales enablement consultant, and his blog has an interesting mix of sales tips and marketing technology deployment guides.
Website: http://michael-seymour.com/blog/
Twitter: @michael_sey; LinkedIn
18. MarTech Bot– All the MarTech news that's fit to share, shared every 5 minutes by an automated Twitter bot – the MarTech Bot.
Twitter: @mtechbot;
19. DM News– Provider of digital and data-driven marketing analysis, research, and content. Their products collectively serve an audience of more than 150,000 senior marketing executives per month. So the blog posts are very specific and highly actionable, based on their experience and work.
Website: http://www.dmnews.com
20. Verticurl – They're a company providing marketing technology solutions and consulting services, so they have a large knowledge center filled with resources that will bring you up to speed on what's new in martech. They don't have a martech blog per se, but their community section has valuable answers to common questions from their customers who face all kinds of marketing technology challenges.
Website: https://www.verticurl.com/
Twitter: @VertiCurl; LinkedIn
21. VB Insight– Insight is your place for cutting-edge research that will help you navigate the marketing landscape.
Website: https://venturebeat.com/
Twitter: @VentureBeat; LinkedIn
22. CMO Council – Global network of marketing executives specifically dedicated to high-level knowledge exchange, thought leadership and personal relationship building.
Website: https://www.cmocouncil.org/thought-leadership/
23. Technology Translated– Scott Ellis and his special guests provide practical tech tips in terms non-techies can understand.
Website: http://rainmaker.fm/series/technology/
Twitter: @rainmakerFM; LinkedIn
24. Six Pixels of Separation– Mitch Joel will unravel the complex world of digital marketing and social media with the perspective of a digital marketing agency.
Website: http://sixpixels.mirumagency.com/blog/
Twitter: @MirumAgency; LinkedIn
25. Vince Jeffs– Martech for smarter marketing. Vince Jeffs provides great content on using AI and machine learning for optimal CRM and CX.
Website: http://vincejeffs.com/
26. Topo Blog– TOPO provides playbooks and training for marketing and sales organizations, so it's no surprise that their blog has in-depth and actionable insights on everything from account-based marketing to the role of AI, and weekly briefs for those who don't have the time to go through the blogs.
Website: http://blog.topohq.com/
27. CMS Wire– They cover the digital customer experience, martech, digital workplace and information management sectors.
Website: http://www.cmswire.com/
28. VisionCritical– Customer intelligence blog that covers the latest news and insight about marketing, customer experience and product innovation.
Website: https://www.alida.com/the-alida-journal
Twitter: @visioncritical; LinkedIn
29. Spice Works Blog– In addition to being a great place to learn about tech and connect with IT pros from around the world, Spiceworks is an excellent resource for digging up quantitative tech insight.
Website: https://community.spiceworks.com/blog
Twitter: @Spiceworks; LinkedIn
30. Robert Scoble– The Scobleizer, an authority on tech trends and predictions, was making waves recently at the Martech Conference. Want to know more, read Robert Scoble's blogs on AI, VR and their intersection in the world of marketing technology.
Website: http://scobleizer.com/
Twitter: https://twitter.com/scobleizerLinkedIn
31. Marketing Technology Blogs from Forrester Research– Forrester's blog posts are always packed with data, so it's a pleasure to read their posts, insights and analysis provided by their expert analysts and researchers. For example, if you're wondering why the convergence of martech and adtech matters so much, go check Forrester's blog.
Website: https://go.forrester.com/blogs/category/marketing-technology/
Twitter: @Forrester; LinkedIn
32. Act-on Software Marketing Automation Blog– Marketing and sales teams at over 4,800 companies use Act-On to drive their business, and this experience shows up in their blogs, technology how-to guides and expert interviews.
Website: https://www.act-on.com/blog/
Twitter: :@ActOnSoftware; LinkedIn
33. Oracle Marketing Cloud– Formerly the Eloqua Blog "It's All About Revenue," it's now part of the Oracle Marketing Cloud, and called the Modern Marketing Blog, with sections for marketing automation, a CMO Corner, product news, cross channel marketing, email marketing, etc.
Website: https://blogs.oracle.com/marketingcloud/
Twitter: @OracleMktgCloud; LinkedIn
34. SiriusDecisions Marketplace Blog– Seriously useful marketing technology blogs written by experts. Everything from martech tools to expert interviews, VR, AR and AI influences, and ABM technology.
Acquired by Forrester Research.
Website: https://go.forrester.com/blogs/
Twitter: @siriusdecisions; LinkedIn
35. HighQ Blogs– The three HighQ blogs provide news and insights on everything from enterprise collaboration to client engagement, marketing, transaction management and business processes.
Website: https://blog.highq.com
36. Integrate Blog– Tips and insights to help you overcome demand marketing challenges, from David Crane and the rest of the team at Integrate. Everything you want to know about account-based marketing, leveraging martech expertise, and things to try when you need to grow revenue.
Website: https://www.integrate.com/blog
Twitter: @Integrate; LinkedIn
37. eTrigue Blog– This is the company blog of eTrigue, a marketing automation platform that is a complete solution for inbound landing pages, ABM, inbound landing pages, sales lead alerting, etc. Blogs are posted occasionally, but it's good martech that you'll enjoy reading about.
Website: https://www.etrigue.com/blog/
38. Michelle Killebrew – Chief Marketing Officer for Nomiku, advisor for Proof Analytics, and has led the go-to-market strategy for IBM Social Business, and Digital Marketing Transformation for the IBM Cloud business unit. Michelle shares her musings in this blog
Website: http://michellekillebrew.com/
Twitter: @shellkillebrew; LinkedIn
39. Allocadia Blog– Marketing performance management (MPM) solutions provider Allocadia's blog is a treasure trove for enterprise marketing technology, martech stacks, future trends, strategies, financials, etc.
Website: https://allocadia.com/resources/
Twitter: @ Allocadia; LinkedIn
40. Marchex Blog– Talks about everything from the power of inbound calls to call tracking, and planning your inbound strategy for the next year.
Website: https://www.marchex.com/blog/
41. CMO Club–Self-claimed home of the wrld's best CMO conversations. An engaged community of senior marketing executives.
Website: https://thecmoclub.com/
Twitter: @ TheCMOclub; LinkedIn
42. DM Depot– It's a resource center for digital marketing strategies and tactics, and also has a popular daily online newspaper where you can read the latest on everything from blockchain to automated drip campaigns and mobile marketing.
Website: https://digitalmarketingdepot.com/
Twitter: @dmarketingdepot; LinkedIn
43. JeffBullas.com– Blog of Jeff Bullas, social media and content marketing strategist, who is listed by Forbes as one of the top 20 influencers of CMOs.
Website: http://www.jeffbullas.com/blog/
Twitter: @ jeffbullas; LinkedIn
44. Smart Insights– Providing demand generation for MarTech vendors and digital agencies via over 160,000 marketing members and more than 550,000 unique visitors every month. Their blog has interesting data and content on the latest martech trends, studies and statistics.
Website: http://www.smartinsights.com/blog/
Twitter: @ Smartinsights; LinkedIn
45. Insights from McKinsey & Company– If it's a McKinsey blog, you can be sure you'll get more than your fair share of data and analysis. But this particular blog is called Insights, and that's you get – great insights from the all the data they have on everything from what shoppers really want from personalized marketing to moving B2B companies into the digital world.
Website: https://www.mckinsey.com/business-functions/marketing-and-sales/our-insights
Twitter: https://twitter.com/McKinsey LinkedIn
46. Brian D. Colwell– Very compelling blog of futurist, social influencer, blogger and marketer Brian Colwell. You can read the latest flow of trends that hasn't hit the mainstream media yet, from AI and robotics to the coming disruption from Blockchain and drones.
Website: https://briandcolwell.com/
Twitter: @BrianDColwell; LinkedIn
47. eMarketer – The first place to look when you need data about digital, with research and data on nearly every digital topic. You'll find over 40,000 articles, charts and reports.
Website: www.emarketer.com
Twitter: @ eMarketer; LinkedIn
48. MobileMarketingWatch– MMW and its writers cover an array of topics that touch all areas of the mobile ecosystem – everything from advertising, to technology, and even healthcare.
Website: https://mobilemarketingwatch.com/
Twitter: @mobileMW; LinkedIn
49. Martech Office – The purpose of the Marketing Technology Office (MTO) is to help marketers evaluate, embrace and adopt marketing technology to become better marketers.
Website: http://themarketingtechnologyoffice.com/
Twitter: @MarTechOffice;
50. Brian Solis – As Principal Analyst at Altimeter Group, Brian writes on MartechToday and other publications about the impact of disruptive technology and innovation on business and society. On his own website, you can read his latest posts about digital transformation and marketing technology.
Website: http://www.briansolis.com/
Twitter: @briansolis; LinkedIn