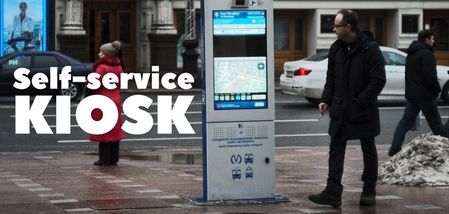 As part of the scope of work with clients, Lucep works with self-service kiosk manufacturers to make use of their APIs and integrate their machines and software with ours including client's existing legacy and digital signage systems that are already in place.
We have a huge amount of data about the major kiosk manufacturers and distributors, all the types of kiosks, software, application areas and industries served, and what kind of APIs and support they provide for kiosk and POS integration. Let me share of them with you on this post.
1. Acrelec – Makes indoor and outdoor kiosks and outdoor and front entrance displays, in addition to providing solutions to increase sales and enhance your customer journey.
Email: [email protected]
Phone: +1 (877) 334 9737 5490
Address: Campbells Run Road, Pittsburgh, PA 15205
Website: http://acrelecamerica.com/
2. Advanced Kiosks – Provider of all kinds of kiosks (wall-mounted, free-standing, counter top, large screen, outdoor, printing, etc.) and kiosk software (kiosk management tools, building directory software, kiosk rescue, etc.)
Email: [email protected]
Phone: 1 (866) 783-3791
Address: 20 Canal Street Franklin, NH 03235
Website: https://advancedkiosks.com/
3. Aurionpro Solutions Limited – Aurionpro provides self-service customised kiosks to a wide variety of businesses in different industries for onboarding, cash and cheque deposit, debit card issuance and bill payment kiosk.
Email: [email protected]
Phone: 1-925-242-0777
Address: 4000 Executive Parkway, Suite 250, San Ramon, CA 94583.
Website: https://www.aurionpro.com
4. Banyan Hill Technologies – Trusted partner for Internet of Things (IoT) consulting. Banyan Hill provides kiosk owners and operators with the most advanced IoT platform for managing large networks of self-service devices, kiosks, vending machines and more.
Email: [email protected]
Phone: 770-615-2528
Address: 3308 Peachtree Industrial Blvd, Duluth, GA 30096
Website: https://banyanhills.com/
5. Crane Payment Innovations – CPI offers an extensive range of premium bill and coin validators and recyclers, coin hoppers and dispensers along with software applications.
Phone: 1-610-430-2700
Address: 3222 Phoenixville Pike, Suite 200 Malvern, PA 19355
Website: https://www.cranepi.com
6. CSA Self-Service Solutions – Provide flexible solutions that are custom designed, premium quality standardized and market focused solution – free Standing, Wall Mounted and Counter Top Models.
Phone: 877-228-6533
Address: 100 Bunker Drive Winchester, TN 37398
Website: http://www.csakiosk.com/
7. DIEBOLD NIXDORF – Global leader in providing integrated self-service delivery and security systems and services. Manufactures the K-two, which is user-friendly, robust and flexible solution that can be easily adapted to changing business needs and consumer demands, with functionality for order taking, service, further product information, ticket and lottery sales and even self-checkout.
Email: [email protected]
Phone: 1-330-490-4000
Address:5995 Mayfair Road North Canton, OH 44720 United States
Website: https://www.dieboldnixdorf.com/en-us
8. DynaTouch – Leading supplier of self-service kiosk systems to the Department of Veterans Affairs (VA) and the U.S. Department of Defense (DoD). They have floor stand-alone, sit down, countertop, wall mount, outdoor, tablet and mobile kiosks.
Email: [email protected]
Phone: 210.828.8343
Address: 9901 Broadway, San Antonio, TX 78217
Website: http://www.dynatouch.com/
9. Fabcon Creative – Leading designer, fabricator and manufacturer of a diverse product portfolio including standard and custom kiosks, tablet and digital signage and retail displays. They have digital signage, wall mount, payment, and entertainment kiosks, and kiosks for casinos, movie rental, medical check in, law enforcement, gas stations, fancy sports kiosks, etc.
Email: [email protected]
Phone: 714-881-2000
Address: 1800 E. St. Andrew Place, Santa Ana, CA 92705
Website: https://www.fabcon.com/
10. Frank Mayer and Associates, Inc. – Specialised in designing and producing creative, branded point of purchase displays and kiosks to connect with today's consumer for any in-store environment. They have QSR self service as well as interactive Kiosks.
Email: [email protected]
Phone: 855-294-2875
Address: 1975 Wisconsin Avenue Grafton, WI 53024
Website: https://www.frankmayer.com/
11. Glory Global – Glory Global provides currency recyclers/dispensers, currency counters, ticket scanners, coin counters, banknote and coin recyclers, currency sorters, casino kiosks, coin wrappers, and coin sorters.
Email: [email protected]
Phone: 1 (800) 527-2638
Address: West Caldwell, NJ (US)
Website: https://www.glory-global.com/en-gb/
12. KIOSK Information Systems – Provider of all kinds of standard as well as custom kiosks and software solutions.
Email: [email protected]
Phone: 888.661.1697
Address: 346 South Arthur Avenue Louisville, CO 80027
Website: https://kiosk.com
13. KioWare – Kiosk management software to keep track of your kiosk health, deploy content to all or some of your kiosks, and monitor kiosk usage stats.
Email: [email protected]
Phone: 877-843-4790
Address: 227 W. Market St. Suite 200 York, PA 17401
Website: https://www.kioware.com/
14. Meridian Kiosk – Maker of wayfinding kiosks, tablet kiosks, bill payment and ADA compliant kiosks, etc.
Email: [email protected]
Phone: (910) 944-1751
Address: 312 S. Pine St. Aberdeen, NC 28315
Website: https://meridiankiosks.com/
15. NCR – Among many other products and solutions, NCR provides the SelfServ™ kiosk series.
Phone: 1-800-CALL-NCR
Address: 864 Spring St NW Atlanta, GA 30308
Website: https://www.ncr.com/
16. OptConnect – They provide wireless network connectivity for a variety of kiosks and vending applications.
Email: [email protected]
Phone: 1-877-678-3343
Address: 854 West 450 North, #4. Kaysville, UT 84037
Website: http://www.optconnect.com
17. Peerless-AV® – Designs and manufactures custom kiosks, digital posters, interactive kiosks, and self-service kiosks for integrators, distributors and OEMs. Peerless-AV also offers a standard line of kiosk enclosures for digital signage or interactive kiosk applications.
Email: [email protected]
Phone: (630) 375-5100
Address: 2300 White Oak Circle, Aurora, IL 60502
Website: https://www.peerless-av.com/en-us/professional
18. PROVISIO – Software development company providing turnkey secure kiosk, digital signage and remote management software solutions.
Email: [email protected]
Phone: (305) 974-1952
Address: 18851 NE 29th Ave., Suite 737 Miami, FL 33180 United States
Website: https://www.provisio.com
19. PTC Electronics, Inc. – Provides multiple weighing solutions for medical or healthcare monitoring kiosks since 1994.
Email: [email protected]
Phone: 1-800-989-9518
Address: PO Box 72 Wyckoff, NJ 07481-0072
Website: http://www.ptcelectronics.com
20. Qwick Media, Inc. – Qwick Media interactive technology embraces a wide range of self-service products, including touchscreen kiosks, digital signage, video walls, click and collect lockers, mobile device, etc.
Email: [email protected]
Phone: (855) 370-1715
Address: 8331 Eastlake Drive, Building 2A, Suite 104, Burnaby, B.C. V5A 4W2
Website: https://www.qwickmedia.com/
21. RedyRef Interactive Kiosks – Kiosk hardware providers whose products include outdoor kiosks, payment kiosks, and custom interactive kiosks.
Phone: (718) 764-3690
Address: 100 Riverdale Rd, Riverdale, NJ 07457, USA
Website: https://www.redyref.com/
22. ServRight – Partners with kiosk and digital signage manufacturers and solutions providers to provide nationwide on-site deployment and hardware maintenance for their products and solutions in the US and Canada.
Email: [email protected]
Phone: 703-916-9092
Address: 5350 Shawnee Rd # 250, Alexandria, VA 22312, USA
Website: http://www.servright.com/
23. SlabbKiosks – Offers a wide selection of self-service kiosks in different models including floor standing series, wall mount, outdoor series, countertop, and Tablet series.
Email: [email protected]
Phone: (866) 289-6041
Address: 248 S Mulberry, #113-116, Mesa, AZ 85202
Website: http://slabbkiosks.com
24. Source Technologies – Kosks for self-service applications in retail, utilities, telco, banking, government and financial services. Fully configurable self-service kiosks for customers who do not require a fully integrated solution.
Phone: (877) 307-5697
Address: 4205B Westinghouse Commons Drive, Charlotte, NC 28273
Website: https://www.sourcetech.com
25. Zivelo LLC – Provider of self-service kiosk and digital signage solutions in the QSR and fast casual restaurant industries.
Email: [email protected]
Phone: (877) 243-9708
Address: 7014 East Camelback Road, Scottsdale, Arizona 85251
Website: http://www.zivelo.com/