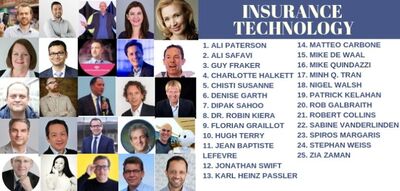 The future of insurance is insurtech. This is the title of an in-depth Bain research publication authored by Matteo Carbone, Founder, Connected Insurance Observatory. In a report, PwC Business Development Leader Mike Quindazzi likewise notes that "#InsurTech startups become insurers faster than #insurers can become #InsurTechs."
The ideas and trends we bumped into while compiling this list of the top 25 insurance and insurtech influencers fully corroborate both these propositions. The insurance industry is rushing to embrace digital transformation and technology that automates customer engagement, sales and claims management in insurance.
What's most refreshing is that insurers are now keen on collaborating with technology firms and providing data access to third-party applications through APIs to improve their customer experience, reduce costs, speed up the claims process, and increase sales revenue, instead of looking on it as a disruptive or cyber threat.
This is surely the way forward, and we're giving some due recognition to people who are constantly thinking and writing about insurance in the way we do.
1. Ali Paterson:
Ali PatersonAli Paterson is Editor in Chief of Fintech.Finance, a news portal and quarterly publication with a reach wide enough and content capable of influencing the entire insurtech landscape.
2. Ali Safavi:
Ali SafaviAli Safavi is Global Head of the Insurtech program of Plug and Play, a global platform that brings together over 10,000 startup accelerators with more than 220 corporate innovation programs. He is also a Principal in Plug and Play Ventures, which invests in startups in insurance, travel and hospitality, and IoT, among others.
3. Guy Fraker:
guy frakerGuy Fraker is the Chief Innovation Officer of Insurance Thought Leadership. As head of ITL's innovation advisory services, Guy works with organizations who want to define the future of insurance and take advantage of the unprecedented opportunity for growth.
4. Charlotte Halkett:
Charlotte HalkettCharlotte Halkett, MD Insurance Product at Buzzvault, is passionate about bringing change to the insurance industry. She's on virtually every top list of insurance and insurtech influencers, and we're honored to include her in this list too.
5. Susanne Chishti:
Chishti SusanneSusanne Chishti, CEO of FINTECH Circle, is a co-editor of The Fintech Book, a bestseller sold in over 107 countries in 10 languages. She's also a CNBC Commentator, and an Advisory Member on the Board of the British Blockchain Association.
6. Denise Garth:
Denise GarthDenise Garth is SVP – Strategic Marketing, Industry Relations and Innovation at Majesco. Denise is a thought leader and known digital transformationist who urges insurance companies to adopt omnichannel distribution strategies in the age of digital insurance.
7. Dipak Sahoo:
Dipak SahooDipak Sahoo is Head of Technology-Asia / Regional CIO, at Generali Asia. His opinions on emerging trends and technologies such as blockchain and AI, and their impact and applications in insurance, are keenly read and picked up by the insurance industry as well as other insurtech influencers. One good reason is because he has over 20 years of experience in the insurance industry, identifying synergies between the IT implementation strategies of countries across Asia to improve customer experience effectiveness.
8. Dr. Robin Kiera:
dr robin kieraDr. Robin Kiera is a thought leader, speaker and digital transformationist for the insurance industry, working through his Hamburg, Germany-based company Digitalscouting. He is also co-author of The Insurtech Book, and a fan of artificial intelligence-based sales and claims processes of companies such as Lemonade. An insurtech influencer who is a fan of the disruption Lemonade is causing is good enough for us to include in this list.
9. Florian Graillot:
Florian GraillotFlorian Graillot is a Founding Partner at Paris, France-based astoryaVC, which invests in early-stage insurtech startups in the EU. He's also an investor in AXA Strategic Ventures and Newfund Management. Florian's social posts about blockchain, AI and other tech trends in the insurance industry are widely read and shared.
10. Hugh Terry:
hugh terryHugh Terry is the Founder of The Digital Insurer, and an actuary by profession with over 20 years of experience in the insurance industry. He is passionate about the application of technology to insurance business models, and is leading the way with Global Livefest – the world's largest virtual festival on digital insurance.
11. Jean Baptiste Lefevre:
Jean Baptiste LefevreJean Baptiste Lefevre is Digital Project Manager at DX Lab BNP Paribas, and passionate about new technologies. He's advocating for smart contracts to revolutionize insurance, and realize the true benefits of blockchain.
12. Jonathan Swift:
Jonathan SwiftJonathan Swift is Content Director, Infopro Digital, and a founding member of Insurance United Against Dementia (IUAD). He has been named journalist of the year by the British Insurance Brokers' Association, and won a prize as general insurance trade journalist from the Association of British Insurers.
13. Karl Heinz Passler:
Karl Heinz PasslerKarl Heinz Passler is an insurance innovator and startup scout for Baloise Group. He's also co-author of The Insurtech Book, and says he's found his sweet spot in insurance at the intersection of technology, startups and the traditional business of insurance.
14. Matteo Carbone:
Matteo CarboneMatteo Carbone is Founder and Director of the Connected Insurance Observatory in Milan, and Cofounder of Archimede SPAC (Special Purpose Acquisition Company) which aims to create an insurtech insurance company in Italy. He's a huge proponent of IoT and Telematics in insurance,and a highly reputed insurtech thought leader, keynote speaker and writer on insurance innovation who has famously quoted that the future of insurance is insurtech. It gives us great pleasure to include Matteo Carbone in this list of insurtech influencers.
15. Mike de Waal:
Mike de WaalMike de Waal is President of group insurance company Global IQX, with a comprehensive understanding of insurtech innovation in the group insurance business and its digital transformation, and best practices in sales, underwriting and administration. His articles on insurtech and insurance trends and technologies are keenly read on LinkedIn.
16. Mike Quindazzi:
Mike QuindazziMike Quindazzi is the Managing Director, leading sales for US Digital Alliances, for PwC. As a visionary business development leader and management consultant for Fortune 500 companies, Mike spends his waking hours developing innovative approaches for complex enterprise challenges. His analysis of insurtechs becoming insurers faster than insurers can adopt insurtech neatly sums up what we're trying to say and do, and we're honored to include Mike Quindazzi in this list of influencers.
17. Minh Q. Tran:
Minh Q. TranMinh Q. Tran is a venture capitalist and investor who is a strong believer in disruptive trends from the "Innovator's Dilemma," and works with corporate entities to launch their venture funds (such as AXA Seed Factory). He is currently Managing Partner of Odysseus Alternative Ventures, managing funds including Proptech Capital and Insurtech Capital.
18. Nigel Walsh:
Nigel Walsh is now Managing Director, Insurance at Google, and formerly a Partner at Deloitte Digital, and Co-Host at InsurTech Insider with 11FS. His contribution to the global conversation about insurtech focuses mainly on digital transformation, and trends about technology adoption. Nigel is also a coauthor of The Insurtech Book.
19. Patrick Kelahan:
Patrick KelahanPatrick Kelahan is a claims expert who spent over 18 years at Allstate Insurance as a claims expert, and he's got a very sharp memory as the "Insurance Elephant." Interesting and detailed articles focused around the intersection of CX, claims management, and automation technology.
20. Rob Galbraith :
Rob Galbraith"The most important man in Insurance" – this is what Rob Galbraith's LinkedIn tagline says. He's currently Director of Underwriting Research at USAA, with over 20 years of experience working for USAA, Citi, and the Federal Reserve Board, among others. Rob is the author of an interesting book titled "The End of Insurance As We Know It," which tries to bridge the innovation gap between insurtechs and insurers.
21. Robert Collins:
Robert CollinsRobert Collins is CEO of Crossbordr, a Miami, FL-based international insurance broker that specializes in supporting innovative insurance products powered by insurtech. He's also an insurtech mentor to startups growing through the Shenzhen, Guangdong-based Ping An Cloud Accelerator. Read Robert's articles if you want to learn about insurance trends and technology in the vast Chinese market – projected by Allianz to be the largest insurance market by 2028.
22. Sabine VanderLinden:
Sabine VanderLindenSabine VanderLinden is CEO of Startupbootcamp's Insurtech Business, and leads corporate innovation activities for Insurtech at Rainmaking Innovation, the founder of Startupbootcamp. She is also Co-editor of The Insurtech Book, a reputed speaker, and innovation thought leader with contributions in writing, on social media, and at insurtech events. Sure to be there on any insurtech list in the world, so we have absolutely no hesitation in including Sabine VanderLinden here.
23. Spiros Margaris:
Spiros MargarisSpiros Margaris is a venture capitalist and Founder of Margaris Ventures. He's also on the advisory board of wefox Group, which owns and operates Insurtech companies wefox and digital carrier ONE Insurance. His articles, interviews and social shares about fintech and insurtech are interesting and will tell you which way the wind is blowing in the insurtech landscape.
24. Stephan Weiss:
Stephan WeissStephan Weiss is Futurebroker and Change Agent for Generali Deutschland AG, and Social Media Manager for Generali Deutschland Informatik Services GmbH. He's a lateral thinker, startup supporter, hackathon manager, and Manager Digital Innovations at Generali Informatik. Stephan Weiss, in his own words, is a trendcoach and speaker for paradigm change in the insurance industry, writing about tech trends and topics such as the huge impact of 5G on insurance.
25. Zia Zaman:
Zia ZamanZia Zaman is Chief Innovation Officer at Metlife Asia, and CEO of Lumenlab, MetLife Asia's innovation center. He is a much sought-after speaker at insurance industry and insurtech events, talking about his 20/20 vision for the future of insurance, and how corporate entities can support innovation and startups.
Disclaimers:
• This listing is alphabetical, and we are not ranking these eminent personalities. It's simply a listing of people who we are inspired by, and whose writing we agree with and like.
• Lucep has recently won the collab EMEA 3.0 contest organized by Lumenlab. We'd just like to say that Zia Zaman is on this list even after we considered this aspect.