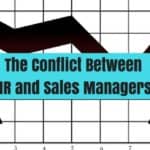 This post may seem like it's about limiting the role of HR in enabling sales, but it's more about HR and Sales managers working together to define your perfect sales force.
HR implements the policies that decide the output and productivity required of each role. They want a clearly defined framework which promotes employee well-being and reduces turnover rates. But this may seem like a barrier to sales managers. It prevents you from pushing your team towards seemingly impossible targets that require far more effort than defined in employee contracts.
The HR vs Sales Relationship
These are stats from an article by sales effectiveness consultant Dennis Spahr, formerly with Mercer's Sales Performance and Talent Consulting Business. He is now an Adjunct Professor at DePaul University, teaching analytical sales and monetizing marketing strategy.
He shares Mercer research which shows how differently sales and HR executives view the role HR plays in sales enablement:
· 70% of HR executives believe they have a solid strategic partnership with sales, while only 45% of sales executives share this sentiment.
· Five times more sales executives rate HR as a basic support function, as compared to HR executives themselves.
This conflict between HR and sales managers can be converted into mutual enablement. For example, sales managers want their reps to be available 24/7 to receive fresh sales leads and follow up on them before the competition gets their foot in the door. But HR doesn't want employees to be on the job all the time. The solution here is technology, such as a callback solution, to distribute outbound leads to sales reps as and when they become available after the previous sales call is concluded.
HR can also assist you in hiring, onboarding and performance evaluations. Sales, in turn, needs to provide the input that clearly defines the role and qualities needed to fill that role. It enables HR to find, recruit and hire the perfect candidate for the job.
How to Hire People for B2B SaaS Sales
This last action item is what I want to focus on. How to define a sales role and the person needed to fill that role? Use Mark Roberge's sales acceleration formula:
Mark Roberge, former CRO, Hubspot, turned the company around from a startup with 4 employees to a $100 million success powered by a growing team of over 450. The secret of his success was simple – he converted the art of building and scaling a sales team into a science. In his book 'Sales Acceleration Formula' and in numerous online publications, Mark Roberge has explained how he did it. See his slide show below:
by Mark Roberge – The Science of Building a Scalable Sales Team from Sales Hacker
Here's a 30-minute webinar by Mark Roberge on scaling a sales team. Listen to it or read the transcript that will take you through the entire process step by step.
Here's a summary of what you should focus on in the first two parts of this four-pronged approach outlined in the long transcript, with reference to sales hiring and training:
a) Pick your most successful salesperson and hire the same person over and over again; and
b) Train them in the exact same way that worked so well for your first successful hire.
After a year of picking sales hires based on this system of 10 criteria to define your ideal salesperson, he did a regression analysis that unearthed what worked for Hubspot – what are the characteristics of top performing hires? The answers the study came up with were – Preparation, Domain Experience, and Intelligence.
These are qualities that aren't specific to sales, but were still most commonly present in Hubspot's top sales performers because their clients associated these qualities with someone who comes off as a trusted consultant, instead of a sales pitch from someone who is a good closer.
So if you're in the B2B SaaS business like Hubspot, you want to hire sales people who can connect with your buyers and decision makers. That requires domain experience and intelligence for sure, but also a lot of preparation to find out everything you can about a client and their needs before you set up a sales call.