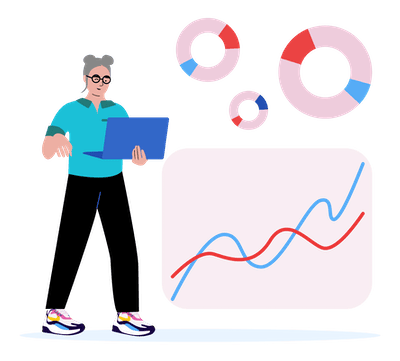 In this post, we examine the basics of reviving non-responding leads that have not converted into sales, the benefits of this lead nurturing process, and actionable steps you can take to implement it into your marketing strategy.
What is lead revival?
Lead revival is the process of educating a prospect or lead that is not sales-ready or ready to buy, with the ultimate goal of converting the lead into a paying customer.
Why is lead revival essential?
Lead nurturing helps you to be present on the same channels where your potential buyers are present, engage them and increase the chance that they will start a relationship with your business.
Some statistics highlighting the importance of lead nurturing:
According to Marketingsherpa, 79% of marketing leads never convert to sales. The main reason for the poor performance is lack of lead nurturing. It also states that only 36% of marketers actively nurture their sales leads, which means that there is a huge opportunity for inbound marketers to gain an advantage over competitors by implementing a lead nurturing strategy and converting them into sales.
For more information on why this should be an essential part of your sales strategy, check out our thoughts on lead management and how it can transform your business in a previous blog.
Some of the key benefits you get by implementing a lead nurturing strategy are:
1. Increase in lead conversion rates;

2. Reduce in sales cycle length;

3. Conditioning leads for higher lifetime customer value and retention.

4. Boost in lead generation volume; and

5. Re-engaging non-responsive leads.
Here are some actual case studies that show these results you can expect from lead nurturing, courtesy Rob Petersen, MBA faculty at Rutgers Business School and also President of full-service digital marketing agency BarnRaisers.
Airstream, to take one example, generated a 78% increase in leads at a 52% lower cost per lead from their lead nurturing campaign that introduced future Airstream buyers to the Airstream line of products.
How to nurture leads?
1. Targeted content.
According to a Demandgen report, leads nurtured with the right content can increase sales opportunities by more than 20%.
As per recent Forrester Research statistics, 33% of B2B marketers quote delivering the right content to the right people at the right time as their biggest lead nurturing challenge.
In order to nurture your leads with targeted content, first you need to get an overview of who are your potential buyers, what are their pain points which your product solves, and the kind of information they are looking for in each stage of the buying process to satisfy their need.
These days, if you have an email and/or a phone number and name, you can get all the information from their social profiles to segment them into one of your customer personas.
Now you can write informational content that addresses the problems of your personas in awareness stage. For the consideration stage, come up with content that puts forth multiple solutions to the buyer persona problems. In the decision stage, your blog posts must explain how your product is the best solution to his (persona) problem, out of all the solutions put forward in the consideration stage.
Creating a funnel that offers this kind of helpful content in each stage creates value in the customer's mind and will help you increase your lead conversion rate.
2. Multi channel lead nurturing.
In the past, lead nurturing strategies were as simple as setting up email campaigns to post emails to prospects by using bulk emailing software. According to MarketingSherpa, almost four out of five marketers say their email opening rates does not exceed 20%. The above report recommends the need for multi-channel lead nurturing.
This kind of strategy includes a combination of marketing automation tools, email marketing, social media, paid advertising, search engine optimization, dynamic website content and direct sales. With so many channels involved, there is need for a single integrated lead management tool (for example plumb5, intercom, etc.) where multi leads can be nurtured across different channels from a single platform or centralized dashboard.
3. Regular follow ups.
According to a Hubspot report, the chances of converting an inbound lead into a customer is 21 times greater when contacted back within five minutes, as compared to 30 minutes after. The benefits of responding to a lead quickly increases your conversion rate, but many organizations are still not doing this quickly enough. The Harvard Business Review conducted a survey of more than 2,240 slow lead responding U.S companies. The study shows that:
1. The average first response time of B2B companies to their leads was 42 hours;

2. Only 37% of companies responded to their leads within an hour;

3. 24% of companies took more than 24 hours; and

4. 23% of the companies never responded at all.
Automated lead nurturing tools that send an instant lead notification when the lead is at the sales funnel will help you in responding to leads at their buying time, and this results in a 70% or so higher conversion rate.
4. Effective personalised email marketing.
Several research studies indicate that email marketing is one of the most effective lead nurturing tactics. Personalized emails are more effective than bulk email blasts. Personalized emails improve click-through rates by 14% and conversion rates by 10%.
How to Send the Right Email to the Right Person?
Determine your audience: Make sure who is your target customer before starting your email campaign.
Segment your contact database: Segment your database by buyer personas and buyer's journey for more effective reach.
According to Hubspot, emails sent to segmented lists receive 62% more clicks than non segmented lists. You can segment your audience by
1. Geographic segmentation ( Country, time zone, address, area code)

2. Company segmentation ( company size, company type, industry)

3. Role segmentation (Role, Seniority, function)

4. Behavioral segmentation ( email opens, pageviews, conversion events)

5. Marketing intelligence
Send the right email at the right time:
In awareness stage: Send content that follows videos, blog posts, frees tools, slideshares, ebooks and guides, etc. that help in educating prospects and move them down the funnel.
In consideration stage: Webinars, case studies, product white papers, FAQ sheets, and third party reviews.
In decision stage: ROI reports,Free trials, consultations, product demos, and estimates/quotes.
This helps keep you in the customer's mind. But sending just one email may not work. It needs a series of emails to gain a prospect's trust and go from lead to customer.
Nurture your Leads Into Customers:
with the aim of getting more lead conversions. According to the latest statistics, 47% of emails you send to prospects are opened on mobile devices. It indicates that since nearly half of the prospects are opening your emails on mobile, it will be a wasted effort if the email is not mobile friendly.
Here are a few simple tips to optimize your emails for mobile:
1. Use responsive templates;

2. Bigger is better;

3. Use clear and concise messaging; and

4. Avoid using tiny fonts.
Use actionable language to be clear and compelling. Make sure that you link to the right landing page of your website.
If you want to see other ways of improving your lead conversion rate take a look at our blog post on sales acceleration and how it can transform your selling process.
Sales and marketing alignment
For an increase in lead to customer conversions, there is a necessity of sales and marketing teams working together. A CSO Insights market research report states that 89% of companies that aligned their sales and marketing lead nurturing efforts realized a measurable increase in sales opportunities.
Alignment of marketing and sales teams refers to nurturing a lead as per the sales funnel. Integrating instant lead response tools with your current CRM tool will help in getting the right lead to the right person, i.e: getting a lead to the marketing team if the lead is not yet in the sales funnel or is in the awareness stage, and getting a lead directly to the sales team if the lead is in the consideration or decision stage of the funnel.
In order to nurture leads you first need to get them, make sure you are not missing out on these valuable sources of B2B leads so that your funnel is always full.