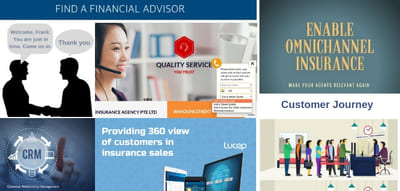 The role of the insurance agent has undergone a huge transformation in the last two decades. Twenty years ago, insurance agents went around in person to people they knew, and friends of friends, trying to get people to buy insurance. Ten years ago, their roles changed to following leads distributed by their company, which in turn generated them on their website and through outbound call centers.
Now it's time for the next round of transformation, with the insurance agent as one of the touchpoints along the buyer's omnichannel journey, after they get an insurance quote online.
According to a recent Accenture survey of insurance executives, a full 79% of insurers are considering or actually redesigning their remuneration model for today's omnichannel environment. Another PwC report notes that nine out of 10 insurers fear losing part of their business to fintech companies.
This is what we explored in our survey of insurance company websites. What are their top digital channels, and what is the role of the insurance agent after customers have got a digital quote online?
Top 5 digital insurance channels
To understand the relative importance of digital insurance channels, we looked at the websites of the largest insurance companies.
The list of top 5 digital insurance channels below is ranked based on use as a primary CTA (call to action) and secondary CTA on the carrier's website to provide quotes to prospective customers.
1. Online insurance quote or application form
2. Toll-free number
3. Find an advisor
4. Phone number
5. Web form or Contact form
The role of the insurance agent after digital quotes
Based on a study of these 10 largest insurance companies, we also found a pattern of omnichannel customer engagement by only two of the ten insurers. The flow starts with an online quote form, which is either directly available in the banner on the home page, or a button on the banner that leads to the quote form page.
The secondary CTA then aims to move prospective buyers to the phone or email, by connecting them directly to experts / advisors. This is done either through a toll-free hotline, or another form that asks for your zip code in order to connect you to the nearest agent.
This screenshot above indicates the typical role of the agent. It's also the best mix of customer engagement for insurance companies. Start with an online quote because every prospect wants that first. Second, provide a means to connect with your agent or expert advisor, in case they want to talk about it. This moves customers from web to phone or email, and then they can come back online to buy when they get a user login and payment link by email.
These findings match with analysis provided by Accenture Insurance in its report (Reimagining insurance distribution, by Erik Sandquist, Jean-Francois Gasc, and Robert Sollmann). The report notes that 79% of insurers are redesigning their compensation models, and 60% are refocusing their physical channels to the stage where agents and brokers can add more value through cross-selling and recommending more profitable products.
How to enable omnichannel insurance engagement
The omnichannel insurance engagement described above (online quote –> agent on phone and/or in person –> email –> web login –> payment) is easy enough to enable if you have the right tools to grab customer data at the first touchpoint, and then follow them on their buyer's journey across all these channels.
You will need an omnichannel software or solution that has:

1. Customizable web form for online quotes, preferably with an instant notification feature.

2. Call now or callback phone number for your website.

3. Email or EDM plugin for moving leads from email to phone.

4. Social media plugin for moving leads from social network posts to phone.

5. Integration with your CRM and other existing systems.

6. Open APIs to enable reports, front-end apps and agent dashboard views.