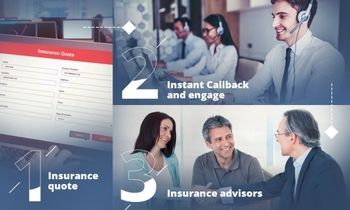 Insurance buyers, as a category of shoppers, are a very fickle breed who will keep comparing quotes from multiple carriers until they find the exact product features and price that they are comfortable with. The trick to a good insurance customer experience is to bring them to that comfort level in the fastest and most efficient manner possible.
This is what you will see in the tips below. These are six ways to improve insurance customer experience that show a prospective buyer the way forward towards their desired product.
1. Online application, quote and policy purchase.
Remove all the intermediate steps and roadblocks for customers who know what they want and want to buy it online right away. A recent survey
we did of the top insurance websites revealed their primary method of engaging customers. The most popular one is the online application or quote form.
Insurers want people to fill up this form first, so they have the qualified lead data. The customer is then sent a quote and a link to buy the policy. This is probably the most efficient way to sell insurance online while still keeping a small window open to verify the lead before offering the cover.
2. Toll-free helpline.
The next step to improving insurance customer experience is the toll-free helpline. Insurance buyers traditionally have got to talk about what they're buying with an agent. Having a call center staffed with well-trained and/or experienced BDRs who can respond instantly and convince interested leads to go back to the site and buy insurance is still a necessary lead response strategy for carriers.
3. Connect to expert advisors.
First-time insurance buyers rarely have any idea of the products or features available, and they need an expert advisor who can listen to them, understand their needs, and suggest suitable coverage that is affordable to the buyer.
The customer experience is measurably improved once they talk to an expert who shows them how to buy insurance, and makes it easy and simple. Don't just send a quote as a response once someone fills in the online insurance application. Provide the option to talk to an expert. Display it prominently, as a seconday CTA on the website, in the response email, and on social media.
4. Omnichannel engagement and smart lead distribution.
Your website and agents doing their own marketing are the primary source of insurance leads, but customers are looking for you on other marketing channels. When you get a lead from social media or an ad or email or referred by an existing customer, how is it handled?
An Accenture survey of insurance executives says that 79% of insurers are changing their remuneration model to factor in the omnichannel approach. Lead data and a history of past interactions is available to your team member who responds to a lead, regardless of the channel.
Customers may compare quotes from multiple carriers and insurance agents. But when they see their own details already filled in above a "buy now" link, they're more likely to just hit submit, as compared to those filling up an empty form from scratch.
This omnichannel smart lead distribution, where the interaction continues from where it was left off in the previous touchpoint, is what makes the customer experience vastly better. It results in a clear increase in lead conversions, revenue and a higher customer lifetime value.
Those who shop using only a single channel will buy up to three products, while omnichannel customers engaged across three or more channels are likely to buy up to nine products (McKinsey study). Omnichannel shoppers will spend up to 208% more (TheRetailpro data) than your direct in-store shopper.
5. AI claims management.
Fair and speedy settlement; quick registration and disposal of claims; it's simple to make a claim; Insurance claim anytime – 24 hours a day, 7 days a week; Making a claim doesn't need to be hard… These are the kind of taglines you see being used by carriers, because they know how important it is.
A hassle-free and quick claim filing and approval basically ensures your customer won't be going anywhere else to buy insurance. You can go one step further and develop an AI claims process to speed up settlement of claims by over 25%. Lemonade holds the world record for speedy claims settlement using AI (3 seconds and zero paperwork).
Intelligent virtual assistants (IVAs) used to optimize the insurance customer experience are one of the future insurtech trends cited in a study published by EY on the "Customer Experience of the Future."
Examples: Geico's Kate, Metromile's AVA, Allianz's Allie, and Lemonade's AI bots (A.I. Jim, Maya).
6. Digital transformation in Insurance – Open API for developers.
What does digital transformation in insurance mean? Does it mean enabling your customers to buy coverage online? That's one part of it – digitization of existing processes that required human or offline interaction. However, the real impact of digital transformation can be seen when you open up your digital core to third-party apps that your customers are using.
As an insurance company, you have a website, mobile app, SMS services and other digital offerings that customers can use to access data and services securely. But in order to leverage the latest innovations in insurtech, regtech and fintech that enhance the customer experience and cybersecurity concerns associated with digital transformation, you need to provide application programming interfaces (APIs) that developers can make use of to access customer data.
Examples: The Lemonade Public API, AXA API, Allianz Global Assistance Insurance API, and HealthCare.gov's Content API.