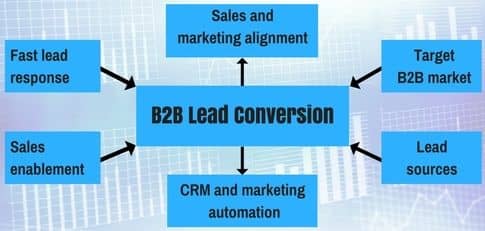 As a start, let me tell you that Lucep will increase your B2B lead conversion rate, and that's what this post is all about.
What we do is enable your sales team to respond instantly to leads, which is one of the six building blocks for increasing B2B lead conversion. Let's look at all six of them, following the flow of your marketing and sales processes.
1. Target B2B market
Who is your ideal target B2B market? Is it a start-up, SME or an enterprise customer? This question was answered by panelists at one of the Lucep 'Sales for Startups' events.
"I would definitely say understanding the target audience very well is essential both to the sales and the marketing function. In a way, sales and marketing function like two sides of the coin and they are complementary functions. So it really really makes a difference if they identify the target audience." – Mangal Karnad, FableSquare
Let's say you have set your focus on a specific segment, such as large enterprises. Now how do you drill down and decide which type of enterprise, in what location, and within that – how do you identify the decision makers.
That was again answered in another Lucep event by someone who is an expert in mapping enterprise buyer personas and influencers.
"So, for our business, you know, when our marketing works, we try and define, obviously beginning with which countries we want to work in. And there is a clear framework which we will use on whether I should be even entering the country or not, even if I have a very significant lead. Because there is a cost of every lead, right? And we work in a banking product, which is in some sense – banking looks like a science from outside but it is actually a practice." – Puneet Chhahira, Global Marketing Head at Infosys Finacle, EdgeVerve.
2. Sales and marketing alignment
Once you have your target market and personas defined, the next step in increasing B2B lead conversions is to define exactly what constitutes a lead.
This means getting your Marketing and Sales teams to define marketing- and sales-qualified leads, and then getting both teams to sign on to a service level agreement (SLA) in which they describe how your marketing and sales processes will collaborate and align to ensure that SQLs are good enough to convert, while MQLs are targeting the right lead sources that are easier to convert.
3. Lead sources
Depending on the type of business and industry you are in, your conversion rate could be anywhere from 3% (e-commerce conversion rate) to 10% (financial services).
But within that, there are a couple of common factors that greatly affect conversions. One of these factors is your focus on the right lead sources. Let's look at this Hubspot chart which explains everything clearly.
Focus on referrals, SEO, PPC, social media, email marketing, cold calling, and blogging, preferably in this order, to generate the most leads you can with the sales team and resources you have.
4. CRM and marketing automation
You're now generating a steady and sustainable flow of leads that are filling up your pipeline, but you're still not happy with the conversions. This is where technology and automation comes to your aid.
Get the best CRM suitable for your organization and budget, and start integrating all your lead generation channels with the CRM. The contacts, deals and organizations from your website, email marketing, social media and other channels should automatically be entered into the CRM.
5. Fast lead response
This is where we pitch Lucep to you, as sales acceleration technology that will help increase lead generation by up to 47% and your lead conversion rate by up to 72%. It's purely the impact of instant lead response. You call a website lead first, before any of your competitors, and position yourself as a trusted consultant who helps define the solution.
6. Sales enablement
Now you're in a position to generate MQLs and SQLs from the right lead sources that are converting better, and the flow of leads through the funnel and distribution to your sales team members has been streamlined by the CRM, marketing automation, and sales acceleration technology.
Now you have a problem of plenty. Your sales team is not able to cope with the flow of leads, so you need to enable them with the right training and tools. In fact, sales enablement should be a parallel process that begins much before you start your B2B lead conversion optimization process.