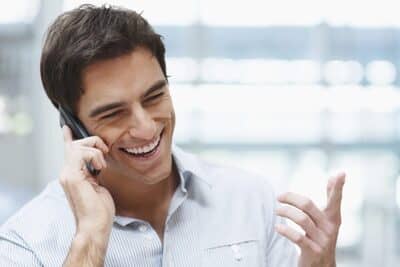 Click to call is typically a web to phone solution. It allows a website visitor to connect with you in real time, or at least instantly, simply by clicking a button, text (phone number, "call now", etc.) or image on a web page.
For example, Lucep's simple click to call technology asks a website visitor to enter your contact phone number into the widget, which is then instantly relayed to a sales team member's phone, who will then call you back – all within seconds.
Click to call is instant response and more sales.
How does a click to call tool help a small business get more leads online and increase sales? It's the power of instant response. A full 63% of buyers give their business to the company that responds first.
A landmark study published by HBR shows that the odds of qualifying the lead is 21 times higher if you establish contact in the first 5 minutes after getting a sales lead. If however, you wait another 5 minutes and get back to them after 10 minutes, you are 4 times less likely to qualify the lead.
Based on the conversion rate increase for small business websites that have started responding to leads instantly using Click to Call, you can expect:
1. Upto 70% increase in first contact rate;

2. Upto 50% increase in first meetings; and

3. Upto 200% increase in sales volume.
Growth of click to call.
Pay per click ads are increasingly being phased out by companies targeting social mobile users. Facebook recently launched click to call functionality through its local awareness business campaigns. Through Adwords, Google also offers advertisers two pay per call models (call extensions and call only) that provide much better marketing ROI as compared to a typical PPC campaign where you bid for keywords and pay for the resultant clicks
John Busby, senior VP of marketing and consumer insights for Marchex, believes that the click to call channel is headed for rapid growth and will hit $2 billion by 2020.
How to implement click to call.
Adding two lines of code to your website template is all it takes to start using Lucep's callback tool on your website. Sign up for the free trial, get the code, add it to your template, and you will see the Lucep click to call widget on your website pages.
Implementing a simple click to call solution as above for your small business website will instantly increase the customer engagement on your digital channels, and enable your sales team to close more deals faster.
It's also very useful for customer support, in case your existing customers want to talk to you and request a callback. Calling them back instantly is bound to make them feel valued and they will stay loyal. Enhance your customer experience and increase revenue by adding simple click to call support for customers on your website, on Facebook, and in your emails.