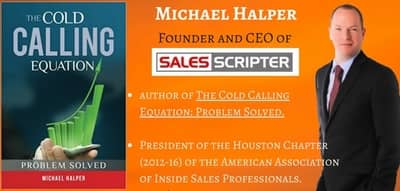 Michael Halper is the founder and CEO of SalesScripter, LLC, a web-based application that will help you develop your sales playbook. Learning from the telesales operation for which he made cold calls for clients, Michael developed the SalesScripter platform to automate the process of taking clients through a series of questions to come up with the right sales call and pitch for specific customer personas.
Michael Halper is also author of The Cold Calling Equation: Problem Solved. The book will take you through the stumbling blocks faced when you are cold calling prospects, and will show you how to build sales call scripts, get over the fear of cold calling, and start listening to what your prospect's needs are in order to get more conversions.
Michael Halper was also President of the Houston Chapter of the American Association of Inside Sales Professionals (AA-ISP). Prior to founding SalesScripter, he has been a sales consultant for Ceridian, an AE for Kronos, and Account Manager for BMC Software.
Q&A with Michael Halper
Question 1) You say on your website that selling is a tough job that only a select few ever even attempt. When did you realize that you were good at it, and it could be something you take a deeper interest in?
Michael Halper: I first realized sales was for me when I was in college and I signed up for a music CD club that would send you 3 free CDs if you got someone else to join the club. Being a broke college student that loved music, I thought it was really cool that I could accumulate something of value (music CDs) by simply working hard and work smart in the form of talking to people about the club and being effective at persuading them to join the club.
Needless to say, after a few months, I had signed up about half of the dorm that I was living in and received over a hundred free CDs. It was at that point, that I knew not only that I wanted to be in sales, but that I had a deep passion and level of interest in the actual process of selling from a tactics and communications standpoint.
Question 2) Can you tell us a bit more about SalesScripter? How does it work, and what are the benefits to sales managers and representatives who want to create and/or refine their sales pitch?
Michael Halper: The first company that I started was a cold call outsourcing and appointment setting business. Companies would basically hire us to perform their outbound cold calling. In order for one of my reps to not only sound like an employee of another company but also generate results, I would give them a sales playbook which would include a call script, email templates, voicemail scripts, objection responses, and more.
In order for me to create a playbook for a client, I would meet with them for one to two hours asking questions about their product, the benefits it provides, the problems it solves, questions that could be asked, and more.
After spending a few years building playbook after playbook, I realized I was always asking the clients the same questions and using their answers to populate the same set of templates and that I could turn that process into a web-app where someone answers the questions and the software could plug their answers into the library of sales playbook templates. From there, I built the software and that is exactly what it does – it interviews a sales manager or salesperson and builds a custom sales playbook with all of their information.
The benefits of using this tool for a salesperson are that it will help them to build a more powerful sales pitch and improve how they communicate with prospects and that should lead to improved sales results. For a sales manager, this can help them to improve how they train and onboard sales resources and can lead to shortening the new hire ramp up time, improving sales performance, and decreasing sales staff turnover.
Question 3) In your book The Cold Calling Equation, you talk about quickly qualifying prospects through incisive questions that could make the phone call controversial. Can you share 3 examples of such questions?
Michael Halper: We divide our qualifying process into 2 steps – pre-qualifying to determine if there is even a slight fit and hard qualifying to determine if the deal is real.
Pre-qualifying questions will typically be unique for each salesperson and here are three of mine:
a. Are your sales reps able to consistently generate leads and acquiring new accounts?

b. How concerned are you about the amount of time it takes to get new sales hires ramped up and performing?

c. How confident are you that all of your sales resources are asking the right questions when talking with prospects?
But hard qualifying questions can be the same regardless of what you sell because they are trying to measure need, authority, ability to purchase, and level of intent and here are four examples with one for each of those categories:
a. Level of need: What happens if you do not do anything and do not make a purchase or make any changes?

b. Ability to purchase: Is there a budget approved for this project?

c. Level of authority: What is the decision making process?

d. Level of intent to purchase: What other options are you considering?
Question 4) Your thoughts on responding quickly to a lead as soon as it is raised? How helpful is it to start talking to prospects before the competition?
Michael Halper: I think it is pretty easy to understand why you should respond to a lead as quickly as possible if not immediately. Responding to a prospect as soon as they visit your website or opt-in to some sort of lead or call-to-action form should greatly improve your ability to secure the business because the lead could be at its hottest point at that moment and it might also be before the lead has begun discussions with your competition.
Question 5) Is it better to have a prepared sales pitch that you launch into right away, or should you be more flexible based on what the prospect is saying?
Michael Halper: We have the word "script" in our company name but we by no means believe that you should read from a script of fixed sales pitch at any point in the sales process. Our core belief and approach is that you can improve sales by being "prepared" more so than "scripted".
Applying the concept of preparedness to your sales pitch refers to having clarity around the benefits you offer, the problems your product helps to resolve, questions you could ask to see of those problems exist, ways that you differ, examples of clients you have helped, ROI that you typically deliver, etc.
When you have those thoughts organized, you can create a number of sales tools that can be part of a sales pitch including call scripts, voicemail scripts, emails, objection responses, and more.
All of that being said, I would never launch into any fixed set of talking points. I may launch into a fixed set of questions and then I would definitely be flexible on where I let the conversation go in terms of how the prospect has answered the questions.
Question 6) Your tips to improve cold calling performance? What can sales reps or their manager do to make more calls faster, and close more of them?
Michael Halper: Here is a blog post on 10 tips to improve cold calling and here are the tips listed out. Each one is explained in a video on the mentioned blog post:
Tip #1 – Don't Sound like a Salesperson Trying to Sell Something
Tip #2 – Deliver an Elevator Pitch
Tip #3 – Perform a Soft Takeaway
Tip #4 – Have a List of Pre-Qualifying Questions
Tip #5 – Be Aware of Problems You Help With
Tip #6 – Don't Sell the Product, Sell the Conversation
Tip #7 – Have Responses for Anticipated Objections
Tip #8 – Have a Game Plan for Gatekeepers
Tip #9 – Use Some Sort of Call Cadence
Tip #10 – Use Some Sort of Call Guide/Playbook
Here is a blog post and webinar recording on how to be a better closer. It is probably too much to explain here but the one thing I will say is that if you do enough of the right things before closing like communicating value, building interest, and qualifying the prospect, when it becomes time to try to close the prospect you should actually find closing easier.
Question 7) Can you share with us a few of your habits that have made you more successful at sales and in life?
Michael Halper:
1. Work hard
2. Try to take a step forward every day
3. Try to learn something in every task or job
4. Learn from your mistakes
5. Don't be afraid to fail
6. Reflect back to improve moving forward
7. Compartmentalize time and tasks to improve time management and mental focus