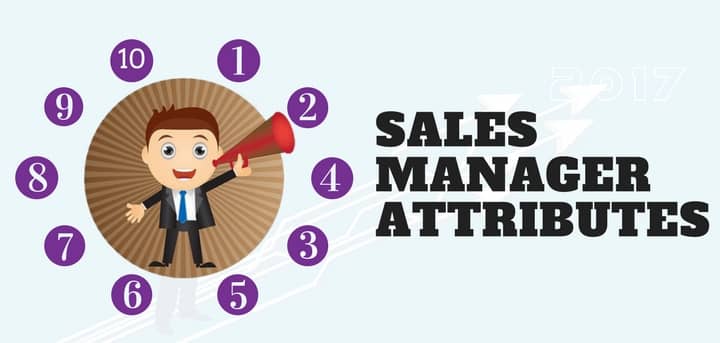 As part of our plan for global expansion, Lucep has opened new offices and putting out sales jobs vacancies for locations across North America and Asia-Pacific. Coming up with the right job descriptions for different job roles from sales managers to customer service reps, developers and software analysts was more time-consuming than anticipated.
I'm just putting down the thought process that went into one of these job vacancy postings, for a sales manager position. These are the 10 key attributes that we think are needed to make you an exceptionally capable sales manager.
1. Always be learning
Self-learning, and the ability to think on your feet, I believe, is the most important attribute that separates a sales manager from the crowd of sales reps.
2. Don't hate on cold calling
If you're afraid to pick up the phone and make a call, then you're never going to be comfortable as a sales manager. But learn to listen more before you speak. Ask questions to find out about the business and company you're trying to sell to. Understand your customers' pain points. They like to see empathy and interpersonal skills from a sales manager, which they don't expect from a sales rep. You must learn to see the problem from the customer's perspective and position your solution and sales process accordingly.
3. Understand your sales process
Manage your Sales ProcessWhile you don't have to do the entire job all by yourself, it is important that you know how to execute every step of each stage in your sales process. That's only likely when you know the entire process inside out, and even better if you designed it yourself.
4. Past experience in sales
Sales teamA long career in sales is important, preferably as a top performing sales rep. You must be able to identify and ride the right trend at the right time. Above all, a sales manager needs to have the ability to execute a plan and hold people accountable.
5. Align your sales process with HR to make sales hiring a science
This post on the conflicts between the roles of HR and sales managers pretty much sums up what I want to say. It's not about limiting the role of HR in enabling sales, but more about HR and Sales managers working together to define your perfect sales force.
6. Align Sales with Marketing for fast lead response
Lead DefinitionWe've written previously about marketing and service level agreements between Sales and Marketing in order to define what is a sales-qualified lead and a marketing-qualified lead because it's one of the keys to increase lead conversions. This should be your number one priority the minute you get a job as a sales manager.
7. Be a part of the industry you're in
Zal Dastur, Lucep Cofounder, at Tech in AsiaLucep is part of the sales industry, and we're trying to position the company and brand as one of the leading voices for sales enablement, sales acceleration technology, fast lead response and AI-powered marketing automation. Any sales manager selling Lucep to other businesses will need to be a part of the industry, in order to be able to speak with authority and as one of the influencers who can sway B2B decision makers.
8. Absolute grasp for numbers, names and faces
As an extension of the above point, a sales manager has to have a near photographic memory for facts, numbers, data, company and decision maker names, and their faces. There'll be a flood of information flowing in at you all day long from different channels, and you must be able to pick what you want to chase – the big deals that will end up as 80% of your target, the trends that will impact sales 6 or 12 months down the line, and the names – decision makers, new sales hires, and your competitors, who must be under your radar all the time.
9. Networking and communication skills
Again, a sales manager's real job is not about hand holding your sales team or looking at the monthly performance reports. Your real job is to identify and chase partnership opportunities for your company, that will generate volume sales at a level that sales reps cannot produce. As a B2B sales tool that facilitates website marketing automation and lead distribution, Lucep is establishing partnerships with complementing solutions in the sales stack, including CRM and website form providers.
10. Build and inspire a team
Sales team motivationThe last attribute that makes you a sales manager is the ability to build a sales team from scratch, and inspire them to walk on coals for you and for themselves. Sales reps are, by definition of the job, extremely competitive and willing to outwork and outdo everyone else. But even so, it's still a job. Your job is to make them think it's not a job, but a mission.
"Sales is not a job, it's not an activity, it's a lifestyle because it's the one job where our total focus is on helping our customers achieve something they didn't think was possible." – Mark Hunter
If you can inspire your sales reps to start looking at sales as a lifestyle, instead of a job or an activity, then your work is about done.
The inspiration for these points from: