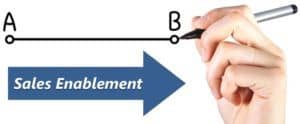 Sales and enablement are both simple words. But taken together, they form a potent combination that is hard to define because there is so much that comes under it. Let's take a crack at defining sales enablement before we get started on the tips
Sales Enablement Definition – Talent, Training, Tools
Sales enablement covers all the tasks and tools used to improve every aspect of your sales process. This includes tasks and sales tools to:
Enable better sales hiring;

nable more effective sales training and coaching;

Enable your sales team to sell better; and

Assessments to enable data-driven improvements.This is a very loose and broad sales enablement definition. In order to make it more specific, you need to know what metrics are commonly considered as enabling indicators
Sales Enablement Metrics and Stages
This Salesforce.com infographic suggests that there are six common categories used to measure sales enablement.
Training

Equipping

Coaching

Assessing

Organization

Recruiting
For the record, the Salesforce infographic also says that only 40% of companies claimed to be measuring some type of sales enablement metric. Only 38% of small businesses (revenue below $25 million) are doing it, while 68% of big companies (more than $500 million) do it.
But this 40% can attest to its strategic importance. A full 75% of survey respondents in a Demand Metric study say that sales enablement has made a 'moderate to significant' contribution to their sales force.
The Demand Metric infographic neatly brackets the progressive stages of sales enablement and the resultant improvements in win rates as you grow.
Stage 1) Undefined – No CRM.
Results: New reps hit quota in 9 months; Win rate is less than 10%.
Stage 2) Progressive – CRM in place.
Results: New reps hit quota in 6 months; Win rate is between 10-20%
Stage 3) Mature – CRM, marketing automation and sales enablement systems in place.
Results: New reps hit quota in 4 months; Win rate is 20% or more.
Stage 4) World Class – Mobile sales enablement systems in place.
Results: New reps hit quota in 3 months; Win rate is 25% or more.
What all these studies, infographics and data suggest is that as small businesses grow, they start doing more and more sales enablement, which in turn helps you grow faster. By the time you are a big business, you will have a full-fledged sales enablement platform.
If you want to skip this whole growth curve, you need to jump the line and directly implement Stage 4 – a mobile sales enablement platform. It will help build your sales team and process into an effective machine that consistently hits targets and outperforms your competition who are still struggling in Stage 1 or 2.
CRM is Not World-Class Mobile Sales Enablement
Getting a CRM is step 1 and a key sales enabler, but you need to follow up with marketing automation, and a proper sales enablement platform. Map your content to your sales and buying process by persona, and distribute sales collateral through the sales enablement platform or include it in a Sales Playbook. Make sure it's all available on mobile to your sales team. Lastly, track success metrics very closely to help improve the performance of your sales representatives.
Do all this, and your new sales reps will start hitting their targets in less than a third of the time it takes them now. Your win rate will likewise quickly hit double digits, and then shoot up to more than 25%.