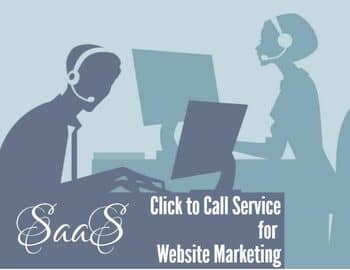 By implementing a click to call service on your website, you are making it fairly effortless for your sales and support teams to talk to your customers. It is fairly straightforward for you to set up this kind of system on your website, or on any other device for that matter.
A question that may be on your mind is "Why do I need to add a click to call functionality to my site? Why not just put my number on the contact us page and let customers contact me instead?"
Pay Per Call Mobile Ads Drive SaaS Click to Call Service Adoption
The answer lies in the increasing popularity of the pay per call advertising model on the web and on mobile apps. Mobile search prompted 30 billion calls to businesses 3 years ago, and a BIA/Kelsey study forecasts that number could be as high as 70 billion by 2018.
A full 70% of Google search users who accessed using mobile devices have used click to call directly from Google's search results. Adding click to call extensions allows you to add phone numbers to your PPC ads, which can increase clickthrough rates by 4-5%.
These stunning numbers highlight the importance of click to call as the future of website marketing, both paid and free.
Now we come to the implementation part. If you want to offer simple click to call functionality on your website, you can call in a developer to do all the coding for you. Or we can make it really easy for you. Just paste a couple of lines of code in your template and start using a SaaS Click to Call service for website marketing.
Here's a simple comparison of making use of a SaaS click to call tool vs doing all the HTML coding by yourself.
You can see from the above table that there are a whole lot of features and benefits that a SaaS click to call can provide you, which you won't get with HTML click to call button code.
Why is this important? Let's take each of these features one by one, and I'll show you how valuable they are, and how they can help you increase lead generation and website sales.
Real-time Notifications – A visitor on your website wants to talk to you, and makes use of the Click to Call button. You're busy and can't take the call, or you're on another call. What happens to all these leads where people try to call you and you don't take the call? This is where an instant response callback SaaS service can automate the whole process by distributing calls intelligently to the right sales team member who is available to convert ( or at least qualify) the lead before your competitors even know about it.
Lead Tracking– The piece of click to call code that you put into your website template also enables you to do lead tracking. The traffic analytics data gathered by the tool will help you track customer behavior before they even call you or request a callback.
Lead Information – Lead tracking also gives you the added benefit of making it a warm inbound lead that has a much higher conversion rate than outbound cold calling. the contact's name & number, their company info, number of times they tried contacting you, call duration, etc. In comparison, a simple HTML code button would just give you the lead's name and number, and nothing else besides.
Lead Allocation – This is an especially useful feature that you will get only in a SaaS click to call service. When a lead comes in, it goes straight to an available sales rep who is chosen based on suitability for dealing with that customer. The AI engine of your click to call tool plays a particularly important role here, in terms of handling lead allocation or distribution to sales reps according to their level of expertise, availability and the analytics data that is available about the lead who has requested the call.
This data collected from each response in turn helps improve the AI, and can also be used for tracking, monitoring and improving sales team performance.
Lead Specific Analytics – Lead specific analytics gives sales teams access to information to engage with leads at their point and level of interest. This plays a major role in taking your customers through the funnel all the way to a decision making stage where they prefer your product over others because you were the one who showed them the way to solving their problem.
Lead Management App – The main purpose of an app is to direct the flow of all your lead related activities towards it. This give you access to all the above mentioned points such as lead tracking, allocation, information, scoring, etc. right in the palm of your hands. You can now easily switch between customers, send the lead to the right sales team member, and have access to all your customer data even on the days you are not working, with just a click of a button.
Customization – Being able to customize your click to call service makes it possible to create an interface that's hugely more appealing than a button. It can make the look and feel of your website professional, one of the primary challenges that small businesses and startups face when they don't have a huge budget to hire designers and developers.
Small changes to a website or page can make a huge difference in terms of conversion rates. In one such design experiment conducted by Heinz, changing the color of their signature ketchup from red to green resulted in the company selling over 10 million bottles in the first 7 months pf the year, in the process generating $23 million in sale. The takeaway here is that a click to call button, just like any other call to action, needs to be appealing enough to get your customer to make use of it.
Sales Team Tracking – The most efficient way to measure a sales rep's performance is by tracking the number of calls allocated and the number of conversions for each member. As mentioned above, a SaaS Click2call service gives you data in the form of weekly reports that includes individual and sales team performance in terms of lead response, conversions and conversion rates.
CRM Integration – CRM Integration allows you to do a number of things in addition to just getting callbacks. When you use a click to call service to respond instantly to leads, it may help you close the sale right away. But if the lead requires follow-up, integrating it into your CRM makes it east to follow-up and track these website leads along with the rest of the leads in your sales pipeline.