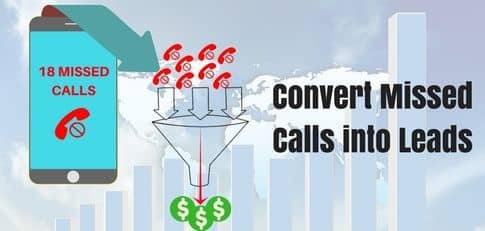 Depending on which business you're in, anywhere between 38% to 60% of the calls you get are from people who want to know your business hours. This according to the Google-Ipsos study on the impact of Click to Call on mobile search users. The study also says that one of the main reasons that 54% of your callers are motivated to call you is because they have more questions than the information on your website can provide.
This is important because your conversion rate is hugely dependent on the customer engagement you do online. If the average of 2-3% of visitors convert, and only a fraction of this total calls you before they buy, then you are letting a huge number of online buyers go by without engaging them.
On the other hand, the conversion rate for inbound call leads is between 30 to 50%. The Google study also says that 70% of mobile search users have used the click to call feature to call the business before making a purchase. Put these two stats together, and what you have is a website marketing tool that will make your conversion rate jump by up to 72%.
Let's start by ensuring that you capture every lead generated who calls you. Even if you start by focusing on connecting with missed calls, that itself will give you a sizeable boost in conversions. In this post, let's talk about how to recapture some of these lost leads by making use of lead tracking software and call tracking services.
1. Callback: No matter where you are in the world, and regardless of the location of all your customers, a callback widget on your website will send you lead notifications, connect you to the caller instantly or at a scheduled time, and provide all the lead tracking data you need to initiate the conversation as an inbound call instead of an outbound cold call.
Want to see callback in action? Use the widget below to schedule a callback demo at your preferred time.
2. Cloud Telephony: If you're missing sales calls, then cloud telephony is the solution to eliminate the bottleneck and streamline your sales distribution process.
A virtual number on the site, allocated to you by the provider, connects you on the phone to anyone who calls or clicks on the number online using a mobile device to access your site.
3. Voicemail: The importance of voicemail for handling missed calls is highlighted in this Hubspot collection of sales statistics. It says that 80% of outbound calls go to voicemail (Ringlead), and the average response rate is 4.8% (InsideSales). As per on-hold stats quoted by WoodStock Media, an estimated 70% of business callers are put on hold, and 30% of them don't call back.
InsideSales.com data says that the ideal voicemail length is between 18-30 seconds. Record and make use of the right Voicemail that works, and you can increase lead generation by up to 4.8% of the 30% of inbound callers who gave up.
4. Call Tracking with Google: Tracking conversions from a phone number on your website is easy with a Google call forwarding number. Sign up for Adwords, create at least one active campaign, and you can list a phone number on your website which can be tracked using Google Tag Manager. It fires an event in Google Analytics that you can set as a goal, and track the conversions directly in your analytics dashboard. Read more…
You can track calls from your paid ads, a phone number on a website, and import call details from your CRM or other call conversion database.