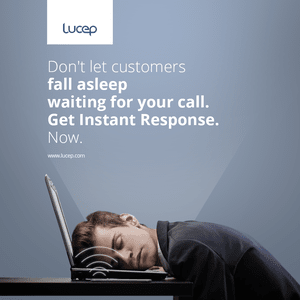 Our business is helping our clients respond faster to their prospective and existing customers, resulting in more leads and test drives generated.
We do our best to understand these process issues, and wish to share the experience gained by working with thousands of customers on lead management. For example, one common objection to instant response to every query raised is that every lead has to be qualified / scored before it can be sent to the sales team. Qualifying leads and scoring them based on your own custom list of factors is a best practice that makes best use of your sales team's time. However, it should be done at the cost of losing the lead itself.
In this post, we want to share with you 5 rapid lead response challenges that we often hear about, and how each one adds to the number of hours it takes for a customer to to get a call back from a business.
1. Lead capture (0-12 hours)
Leads filled in on web forms, social ad campaigns, or emails are often not responded to for upto 60 hours. To start with, if it takes 12 hours for anyone in your organisation to find out that a lead has been raised, then it is impossible to respond to it instantly at the moment of intent - when the customer is looking for you.
2. Lead qualification (12-48 hours)
A digital marketing executive who comes to work at 9 am goes through the new leads, and adds them to a call sheet, CRM or email. A lead qualification stage at this point helps the sales team focus on the hot leads that are likely to convert.
Sending out an automated or bulk email (instead of calling a lead) is a typical way of qualifying leads. Depending on the response (OTP phone number verification, email opens, link clicks, web page visits, lead form fills, etc.) to the email, the lead can be scored as hot, warm or nurture track. But this lead qualification adds upto 48 hours to the lead response time.
3. Lead distribution (48-60 hours)
Sales-qualified leads have to be distributed to the right sales team group or member, but it doesn't go directly to the sales agents in each dealership.
The list of daily qualified leads is emailed by the business development representatives (BDRs) to the Regional Sales Manager's desk, who then sends the relevant set to each Dealership Manager, who will then mail it to the sales agents. This again takes another 12 hours for the lead to make its way to the person who actually calls back the customer.
4. Smarketing
Smarketing is an acronym for 'Sales and Marketing alignment.' Delays in lead response often happen when there is no common definition of a lead agreed upon by your marketing and sales teams. Sales agents may not respond to leads instantly, and not do that many follow-up calls, if they find it hard to convert leads, and will blame the marketing team. Marketing teams may then spend too much time qualifying a lead.
To avoid this blame game, there has to be an agreement between the two teams. Sales has to explain what is their requirement - at what point (eg: lead has agreed for demo or meeting) will it be called a sales-qualified lead (SQL). Feedback from sales on which leads are converting better helps the Marketing team focus on marketing-qualified leads (eg: opened email, and visited product landing page, is in right geographic location, etc.) that are likely to become SQLs.
5. Sales tools
After everything mentioned above has been done, the sales agent may still delay responding to the lead if they don't have the right sales tools. CRMs, call sheets or emails that are accessible only at the office will add another 8-12 hours to the lead response.
Sales agents must be enabled with the right mobile app to respond instantly, whenever they are assigned a lead. This also opens the door to reducing delays caused during the aforementioned four stages in the sales process.