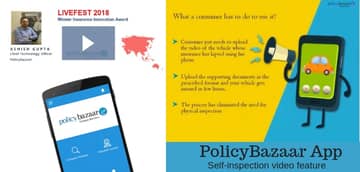 This is a video of one of the presentations at this year's Global Livefest – the virtual insurtech conference organized and hosted by The Digital Insurer (Hugh Terry). In this video, you will see Ashish Gupta, CTO, PolicyBazaar talk about a new feature in the PolicyBazaar app that has eliminated the need for physical inspections for renewing expired motor insurance policy. The process can now be completed in a few hours.
It's a great example of what we are passionate about at Lucep – improving CX in insurance and grow sales and marketing. That's why we love sharing how fellow enterprises are transforming this space.
A few highlights from the presentation by Ashish, and then we'll just take a look at what it means for the digital transformation of insurance in India.
About: Gurgaon, India-based PolicyBazaar is India's largest online insurance aggregator, founded in 2008 by Yashish Dahiya, Avaneesh Nirjar, and Alok Bansal. PolicyBazaar controls about 90% of the retail health insurance aggregator business in India, and accounts for 50% of all digital insurance coverage sold in the country. According to figures quoted in YourStory.com, PolicyBazaar is looking to increase revenue to Rs. 1,500 crore (over $210.3 million) by 2020.
The portal (policybazaar.com) has grown from 180,000 visitors in 2008 to about 100 million this year, generating 30,000 queries a day about insurance products, resulting in around 300,000 transactions a month.
The innovation: Ashish explained that they have introduced a self-inspection video feature to solve the problem of expired motor insurance. PolicyBazaar is the first web aggregator in India to provide this feature on mobile – iOS and Android phones. It reduces the time and cost of the renewal process and makes it more convenient for customers, while also reducing fraud and data theft.
It takes 3-4 days or even 15 days for physical inspection by the company in order to renew lapsed vehicle insurance. Using the PolicyBazaar app's self-inspection video feature, customers can now take a video on their own and upload it. It gets screened by the PolicyBazaar call center team and is then sent to the insurer.
The impact: As a result, a process that used to take 3-4 days has now been cut down to 3 hours, and provides the convenience of renewal at any time, from anywhere.
The digital transformation of this manual process of physical inspections has had a great impact in terms of improvement in customer experience, reduced costs, and an increase in conversions, and thereby higher sales and revenue. Earlier, it was PolicyBazaar's lowest converting segment. Digitizing it has resulted in:
1. 106% growth in lapsed insurance policy revenue within a span of 90 days of implementation.
2. Renewal of lapsed policies has gone up by 60%. Before, PolicyBazaar could convert about 50% of lapsed policies into renewals. Now they are converting 80%
3. 8,000 policies purchased in the first 90 days since implementation.
4. Motor insurance conversions have gone up by 51%.
5. Huge gain through cost reductions associated with physical inspections. Reduction in cost of INR 350 per acquired policy to INR 200.
Not only is PolicyBazaar using this self-inspection video feature for themselves, but also providing it as a white label service for insurers. It's fair to assume that this will bring even more insurers and many of their last minute or lapsed renewals to online portals, once people get to know that it can be done online or on the phone in a couple of hours. It's a new opportunity for additional revenue that is created simply because of digital innovation.
References:
1. The Digital Insurer – PolicyBazaar pitch that won LIVEFEST 2018 ASIA & ANZ Insurance Innovation Award

2. Yourstory – PolicyBazaar looks to create 2,500 jobs this year, eyes Rs 1,500 crore in revenues by 2020