"You're doing Sales because Marketing failed. You're doing Marketing because Product failed." - Navalism
How to stand out as a startup? Everyone knows Salesforce and SAP, but how many people know about your startup offering a killer tool or platform that is better and offers a lot more at a lower price?
The answer could be in your personal brand as a founder, helping overcome that threshold barrier of brand name recognition and trust.
Instead of having to do Marketing and then Sales, trying to reach and convince your customers to buy a product they don't know about, your personal brand as the product makes customers trust the outcome, adding to sales that might not otherwise take place.
Tesla and Elon Musk are synonymous today, but the company was founded nearly a year before Musk came on board as an investor in Feb 2004. Musk then proceeded to literally electrify Tesla with the design and launch of the Roadster and then the Model 3 - the first electric car to sell over a million units worldwide.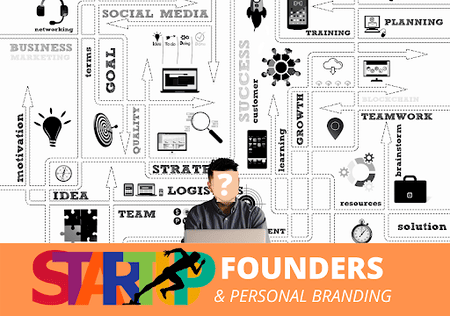 In this post, we learn how to do personal branding for startup founders growing a startup, based on insights from highly successful startup founders and personal branding experts.
Understanding and creating powerful personal brands
To understand how startup founders can create a powerful personal brand, Lucep spoke to Ben Baker, President of Your Brand Marketing, podcast host, and author of two books on branding and leadership, including "Powerful Personal Brands: a hands-on guide to understanding yours."
Ben is also founder and Executive Producer of Communicate Your Why which helps their clients develop content that enables people to listen to you, understand your value to them, and compels them to engage.
Here's the gist of the conversation, containing invaluable tips for understanding and improving your personal brand as a startup founder.
1. You already have a personal brand.
The first thing that I always tell any person who's thinking about their personal brand is you already have one, whether you know it or not. Think of your brand as how other people perceive you when you're not in the room.
If you're not living it on a daily basis, and all you're doing is putting words and images out on social media and you're not living the same way, no one's going to care. You need to be able to say, "This is who I am and this is what I believe," and mean it.
You need to speak and act congruently. You need to be able to say, "these are the things that are important to me." "This is how I treat people." "This is what I want the world to look like," and then go out and live that life. I think it's probably the best advice I can give everybody.
2. Write consistently to improve your personal brand.
When writing on social media, the first thing I tell people is to forget about the metrics. The things that you want to pay attention to is the comments and how you're engaging with the comments. That's the critical thing.
It doesn't matter whether you have 150 people or 150,000 people looking at your posts, take a look at the statistics and say, who are the people that are looking at it? salespeople, founders, executive directors or HR professionals? If those are the people that are consistently looking at your posts, then you're doing the right thing.
So, your writing needs to always be focused. Who are the people that I want to be reaching? What do they care about and how do I present it in a way that's going to be effective and relevant to them?
The more you can do that, the more engagement you're going to have. And it's a long-term play.
I write every single day, seven days a week.
I post something on LinkedIn, and sometimes it's something I wrote, but sometimes it's something I saw, and then I make a comment above it just to add my own thoughts and perspective.
But every single time I'm asking people, what do you think? What do you think? And Then I pay attention to the comments and respond thoughtfully. If you do this, you're going to get far more better traction."
(For the record, Ben lives up to this advice of writing consistently - he has racked up over 2.5 million words in the last 4.5 years.)
3. Understand why you're doing a podcast.
Ninty percent of podcasts fail…and the reason that they fail is that they don't have a strategy, they don't have a goal. Creators don't understand why they're doing it. You need to understand why you're creating a podcast. It's not to get rich. It's not to get famous. Yes. Conan O'Brien just sold his catalog to Sirius FM for 150 million. Yes. Joe Rogan just sold his for 100 million.
The problem is, there is one percent of the podcasters out there actually making real money podcasting, and then there's the rest of us. And if you Podcasters must take a look at their podcast and say, what am I trying to do? Personally, I use my podcast to introduce myself to new people - that could be business partners, that could be clients, that could be influencers, - to spread the word, to idea generate, and content development. It's a marketing piece, and it's a trust relationship piece. That's what my podcast does.
"I make my money because I have a podcast. I don't make my money from my podcast."
Here's a free eBook containing valuable podcasting tips - Download (pdf)
Growing your personal brand
Many startup founders already have a personal brand as a subject matter expert prior to starting a startup. Now you're wondering how to enhance your brand in a way that helps your startup gain more visibility as well.
1. Book yourself some speaker slots.
In the post-Covid era, there are virtual events happening every day in every industry and vertical. The ongoing success of these events on online meeting platforms is driving an increasing demand for speakers who are experts in their field.
Make a list of all the virtual events happening in your field, and send your profile over to them, offering your availability as a speaker or panel guest.
(Lucep CEO and Co-founder Kaiesh Vohra gave the keynote address at Morgan Stanley's Global Infrastructure Conference (Infracon) in Hong Kong.)
Lucep CEO and Co-founder Kaiesh Vohra is an expert on artificial intelligence, TEDx speaker, and regularly gets invited to speak at conferences to share his point of view as a technologist about future trends in different verticals including education, banking, and real estate.
"We went to some industry events as a marketing strategy, setting up booths and trying to generate some business. But then the organizers started inviting me to speak." said Kaiesh."The experience has been extremely useful for Zal and me in terms of growing our personal brands, and positioning us as experts in what we do as a startup - marketing automation and sales technology."
2. Growth school for your brand and startup.
GrowthSchool is an edtech platform that connects subject experts to a large community of people who want to learn from you. Getting your brand on a platform like GrowthSchool gives you their reach, and their tools to create customized programs under your own personal brand.
Classplus is likewise a platform that gives you the structure and technology needed to scale, while letting you focus on what you do best - talking to people about the product, experience and talent that you have.
There was a panel discussion at the Edustars event recently organized by Yourstory, in which GrowthSchool CEO and Founder Vaibhav Sisinty and Classplus Co-founder Mukul Rustagi talked about how creators and subject experts make use of these platforms to build their own brands, and make use of the platform's capabilities and technology to grow their startups into bigger brands as well.
Classplus Co-founder Mukul Rustagi said that creators can't be using one tool for taking live classes, one tool for hosting content, one tool for taking online payments, one tool for maintaining their ledgers, one tool for let's say remarketing and sending email campaigns.
"It can't work because the guy has to behave and live a life like a business owner. He's an entrepreneur at the end of the day, and he can't take his focus and time away from doing the core of what he's good at, which is basically interacting and teaching his followers and fans. Right?" said Classplus Co-founder Mukul Rustagi. "So I think not taking that CPO or CFO or a CTO role for that every creator out in the world is what Classplus' responsibility is. And if we are happy being at the back end of it, as long as the guy is successful, we'll automatically make a big dent out there in the world."
GrowthSchool's Vaibhav Sisinty likewise noted that their mentors (the experts who are sharing their real-world expertise on the platform with students) are getting a big boost with millions of people learning about who they are.
"In fact, our mentors come and tell us that people find them on a restaurant. People find them in a movie theater and they say, Hey, I've seen your ride. I've taken your course. And that makes their day, right? Is this some form of brand building that's happening for them? Yes, it is." said GrowthSchool CEO and Founder Vaibhav Sisinty. "Because when you deliver value and you give value to people, and people accept it, your brand is being built boss, and people are going to follow you. If not on direct followers, metrics outside, but people notice you. And it is in a way of building a personal brand."
Personal branding case studies for startup founders
1. Byju Raveendran - Son of teachers, Byju Raveendran gave up his job as a service engineer at a shipping company to help students prepare for common entrance exams.
From teaching friends to large groups of students in auditoriums to remote learning, his personal brand has now grown into the world's most valuable edtech startup valued at $22 billion. Read more…
2. Kunal Shah - Kunal Shah is one of the most high-profile entrepreneurs who are a part of the startup economy in India.
After founding PaisaBack and then Freecharge (acquired by Snapdeal and then Axis Bank), Kunal founded Cred in 2018.
He's very active on social channels including Twitter (@kunalb11) and Instagram, and credit to Kunal Shah for becoming the public face of Cred in an industry where fintechs are struggling to get the trust of consumers who prefer respected financial institutions that have been around for decades. Read more…
3. Neil Patel - Everyone in the world of online marketing, and a lot of people outside it, know who is Neil Patel.
In fact, one of the questions that Google shows people ask about him is this - "Why is Neil Patel so famous?"
This is a good example of personal branding for startup founders, leveraging your brand into startup success because your customers can clearly see the value.