We're sharing with you a list of performance marketing agencies from around the world, that is actually part of a much bigger list of digital marketing agencies we have for every region in the world, which we'll be turning into a searchable global database soon.
We provide a programmatic marketing platform to automate lead qualification. But one of the most frequently asked questions we get from prospects is - "do you generate leads also? We can pay you per lead."
When we say no to lead generation, the reaction shows how interested every business we speak to is in a trusted and quality lead generation service. This is where performance marketing, the gold standard of digital marketing, comes into the picture.
What is performance marketing?
Performance marketing is where the client only pays for specific objectives that are achieved.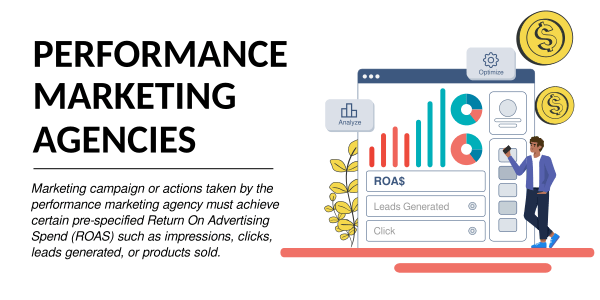 The difference between digital marketing in general vs performance marketing in particular is that the ROAS for the latter are very clearly and explicitly stated and must be achieved, whereas the goals of digital marketing are broader and not so clearly defined.
Performance marketers will deliver a specific number of visitors (pay per impression or pay per click - PPC), lead generation (cost per action or CPA) or paying customers (cost per sale or customer acquisition cost - CAC).
These are the world's top performance marketing agencies near you, categorized by location, that will deliver results with managed media advertising spends, including paid search engine marketing (SEM), paid social media ads for lead generation, display and programmatic advertising, and sponsored emails.
Performance marketing agencies in India
These are some of the top performance marketing agencies in India, categorized by city. You can find the best performance marketers in Bangalore, Chennai, Delhi NCR region, Mumbai, Pune, Kolkata and in the rest of India.
Performance marketing agencies in United States and Canada
These are the top 10 performance marketing agencies in the United States.
Performance marketing agencies in UK and Europe
These are the top 10 performance marketing agencies in Europe and the United Kingdom, including the best lead generation agencies in London.
APAC Performance marketing agencies
These are the top APAC digital marketing agencies offering performance-driven solutions.