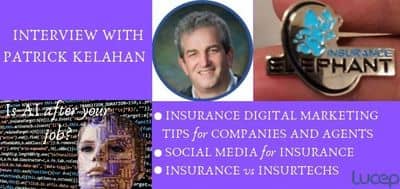 Patrick Kelahan is a CX, engineering and insurance professional,who has been a part of the insurance industry in various capacities for around three decades. The bulk of this was at Allstate, as a Claim Service Leader for more than 18 years. Patrick is currently a building consultant for H2M architects + engineers, where he does claim damage review and serves as an expert witness in damage litigation.
However, the reason we talked to Patrick is because he's better known as "The Insurance Elephant," among the most popular insurance industry experts on social media. This is a point he makes in the interview – that many insurance companies typically don't allow their executives to engage with people on social media, which means there's a huge wealth of expertise that isn't being made use of for innovation and customer engagement.
Since we do have an expert in Patrick, we asked him these questions about insurance digital marketing and social media, the increasing role of AI in insurance, and tips for tech startups who want to provide solutions for making insurance better and more efficient.
Q & A With Patrick Kelahan
1. Patrick Kelahan is most famous for being The Insurance Elephant, and for inviting us to be part of the herd (got the pin here as proof of membership). Can you tell us how this started, and became such a famous beast on social media?
Insurance digital marketing tips for companies, agents and startups
2. A little about your active role on social media. You've been listed as an insurtech influencer and thought leader by Lucep, and you're a columnist for a fintech magazine. Your digital marketing tips for businesses and people in insurance (company leaders, agents, startups and others) who want to do better online and on social media?
Insurance claims innovation and automation
3. You've been working in claims and appraisals for over two decades. What are the most significant and lasting changes you've seen in this time?
4. Narrowing that down to claims – you're an advocate for improving the claims process, as well as offering better customer service and CX. Can you describe – for the insurance company executives reading this – how innovation and technology can be used to do this?
Insurance vs Insurtechs
5. Your thoughts on the whole 'insurance vs. insurtechs' debate – Are the legacy carriers going to be replaced by innovators using technology? What should insurance companies do – collaborate, compete, or carve their own path towards digitization?
6. Your advice for tech startups who want to be insurtechs. You wrote an article about innovators today going around with a hammer, looking for nails, as opposed to coming up with solutions for real challenges being faced by insurance companies. Can you share with us some of these nails – in your experience, what are these insurance challenges that tech startups should go after?
Is AI going to replace you?
7. Patrick – are you at risk of being replaced by an AI? This is what you do in claims, as per your LinkedIn profile – "Serves role of claim damage review, estimate oversight, subrogation analyst, insurance appraiser. Virtual assessment/reviews or onsite. Serve as expert witness for claim damage litigation." And now, Lemonade boasts of setting a world record by approving a claim in 3 seconds. Everybody's talking about how to use connected insurance, blockchain and AI to automate the claims process. Is it really possible to take your 20 years of experience, and all the fieldwork and customer engagement that you do, and replace it with AI and automation?
Lucep testimonial from Patrick Kelahan
8. A word about Lucep – we already have plenty of written testimonials from you. We'd like you to add to that, and tell us what you think about Lucep and what we do.
9. Anything else you would like to share with us, Patrick?