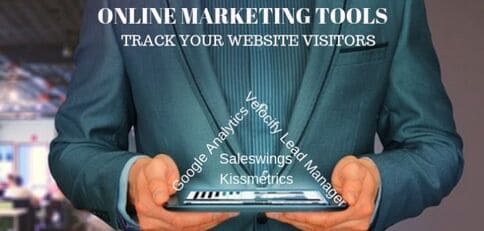 A lead tracking tool will help you understand where a lead stands in your marketing and sales funnels, and follow the path that they take through your campaigns and website pages, all the way from being an unknown website visitor to a lead and then a customer. The good thing about the latest cutting-edge lead tracking tools is that they're not just the "hit counters" that were seen on the old web.
Some of these tools offer you disruptive website marketing technology to increase sales in many ways apart from what you can learn from your traffic data and reports.
Take a look at these online marketing tools, and see how you can use them not just to engage and track website leads, but also to improve your marketing and sales processes.
1. Google Analytics is a free traffic analytics tool used to track, measure and report website traffic. It's the world's most popular traffic analytics tool, with a market share of over 91%. There's no dearth of testimonials about GA provided by website owners and developers, but here's one that's worth sharing. Published on the Google Analytics website, it quotes Sr. Director of National Geography, Mia Vallo, as claiming that the tool has helped them in improving engagement by 33% and click throughs by 21%.
Did you know that Google's collection API and SDK can be used to measure and manage how your users interact with your content and marketing initiatives? GA data analytics and reporting will help you find out which content you published is more popular, the amount of traffic a campaign drives to your site, which tweets and blog posts are getting more visitors and engagement, etc.
2. Kissmetrics is a customer analytics platform founded by Hiten Shah and Neil Patel. It provides insights into how users interact with websites or an app. This will help you make smarter decisions, boost your revenue and deliver valuable information for SaaS and e-commerce business. Kissmetrics helps you determine the effectiveness of your marketing channels, the time it takes for a user to convert, cohort analysis, remarketing, etc.
3. SalesWings is a fully automated add-on for advanced lead activity scoring. SalesWings is a quickly deployed software which identifies your most sales ­ready leads based on their website activity. It analyses past and future visits of your leads and will score their level of engagement/interest. SalesWings offers an alternative to all-in-one marketing automation suites. It plugs into third-party tools of choice to identify, track and monitor when leads visit your website, and qualifies the 10% hottest leads using predictive lead scoring.
4. Velocify LeadManager is an inside sales lead tracking software that will help you respond faster to high priority leads, sell smarter and close more deals. Velocify captures and automatically distributes inquiries coming from a variety of sources and marketing automation systems, including website lead forms, and over 100 lead providers.
The tool intelligently distributes leads by taking advantage of push, pull and hybrid lead distribution options. In hybrid lead distribution, the leads are pushed to multiple sales team members, wherein the first sales member to respond handles the lead. In push, leads are assigned to a team based on a specific set of criteria.
You may be interested in some of these other related posts:
Calculate and Reduce Costs of Digital Marketing and Customer Acquisition