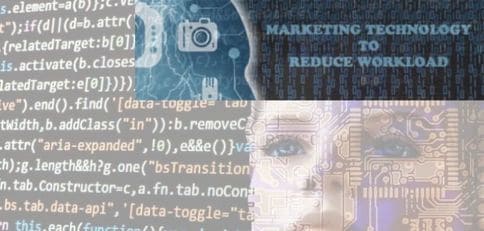 While there's plenty of angst about how artificial intelligence and automation are killing jobs, it's also true that marketing technologies are major factors in amplifying productivity and reducing workloads. Implementing the right automation system will simplify your job and help you multi-task with far greater precision.
A marketing technology update report in Forbes notes that 60% of marketers predict business intelligence will be the most purchased technology by the end of the year.
In this article, Forbes Contributor Louis Columbus explains how high-end automation helps with top business priorities like customer-centric focus, brand management, market insights, omnichannel and cross-channel promotion, KPIs, etc. Couple this with a study conducted by Oxford University that shows that artificial intelligence can reduce workloads by 50%.
So let's take a look at some of these marketing technologies and solutions that can help take the load off your shoulders and provide extremely valuable business intelligence from the data that's already flowing in and out of your business processes.
Website marketing technologies.
1. SEMrush is another website marketing tech tool that helps you with competitor analysis. It gives you deeper insights into your competitor's keywords, their ad strategy and budget.
SEMrush shows the competition and bid for a specific keyword, making it easier for you to tweak your digital marketing strategies. It will also help you find your organic competition. This handy tool will help you statistically know and break down what your competitor is doing by the numbers, rather than having to guess.
Email marketing platforms.
2. Infusionsoft is an integrated small business CRM platform that lets users manage their business by collecting data points related to marketing, leads, payment, etc.
The email marketing technology on this platform helps you create and host forms and links, automate campaigns, track ROI, manage your customer database, shopping cart, dynamic discounts, coupon codes, etc.
Infusionsoft even helps you implement e-commerce functionality into your email campaigns, and also includes a contact management app for mobile devices.
3. Mailchimp is by far the most popular email list management platform. You can add up to 2,000 users free of cost, and blast newsletters to all of them. Email marketing technologies available in Mailchimp include instant notifications of opens, clicks and responses. You can integrate Mailchimp with your CRM and other tools directly or use Zapier.
Social media marketing technologies.
There are around 2.3 billion active social media users, and counting. Over 1 million new active users are added every day, at a rate of 12 per second. Social media marketing (SMM) is rapidly becoming the most popular and effective channel for marketers to focus on.
4. Hootsuite is invaluable today as one of the most popular and effective social media marketing technology platforms available. The user interface dashboard allows social media integration across Twitter, Facebook, Linkedin, Google+, Instagram, Youtube, etc. Additional integration is also available via Hootsuite's app directory, allowing you to bring in Tumblr, MailChimp, Reddit, Marketo, etc., all under one central dashboard.
Hootsuite will support your entire SMM team in managing multiple social networks from the dashboard, schedule posts for maximum effectiveness, and helps you avoid tedious duplication of posts across networks. Hootsuite sends weekly analytics reports with metrics including the number of clicks per day, top referrers, geographical information, and most popular links. This entire automation of SMM vastly reduces your workload and saves time.
5. Cision makes use of cloud-based marketing technologies to support customer acquisition and retention by making it easier for you to reach your target audience. Cision's PR software and services including content marketing, media monitoring, media list building, distribution and analysis help firms in making data-driven decisions
Cision users are able to reach target audiences through influencers, and track coverage across social media and traditional outlets. It enables continuous monitoring of posts and data to evaluate social performance and engagement of your brand, and for analyzing the effectiveness of campaigns and PR tools.
This tool is highly effective in powering your stories across multiple social media platforms and public relations channels, thereby reducing your workload and optimizing resources.
6. Tweetdeck is also a highly useful tool for handling multiple twitter accounts and responding instantly to mentions, search, retweets and likes. Keep the conversation and social momentum going on twitter using Tweetdeck, which is a Twitter tool.