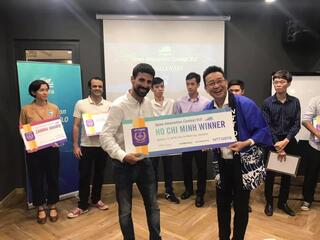 Lucep recently won yet another award as the regional winner of the NTT Data Open Innovation Contest in Ho Chi Minh City, Vietnam. I want to share with you what this innovation challenge is all about, and what makes this win so special for us.
NTT Data, headquartered in Tokyo, Japan, is a global IT services provider and systems integrator with operations in 45 countries. They work with clients from all over the world, and have a pressing and urgent need to provide innovative solutions for challenges across all industry verticals.
Through NTT Data Open Innovation (oi.nttdata.com/en/), the company is facilitating collaboration between startups that are developing innovative and advanced technologies, and its customers who can make use of these solutions.
By itself, this initiative to support innovation is admirable enough. But what makes it noteworthy is that NTT Data has linked their support for open innovation to the advancement of the United Nations Sustainability Development Goal (SDGs).In their own words, the aim of their Business Contest is to "spur the creation of innovative businesses that can solve social challenges." How does it work?
NTT Data Open Innovation Contest and Challenges
The contest invites applications from startups providing innovative solutions to a set of challenges selected by NTT Data group companies. Each challenge also aims to further the advancement of one or more of the SDGs.
For example, the "Finance, Insurance & Payments" challenge focuses on the transition to a cashless society, and calls for "proposals that will lead to the sophistication of finance, insurance and payments as well as the transformation of business models." The SDGs targeted under this challenge are Target1 – No Poverty, and Target10 – Reduced Inequalities.
You can see all the NTT Data Open Innovation challenges here – http://oi.nttdata.com/en/contest/9th/challenges/
Lucep was invited to take part in this contest under digital marketing and was picked as the regional winner of NTT Data Open Innovation 9.0 contest by judges Zamma Kotaro (Head of Section of Open Innovation and Business Incubation, NTT DATA Corporation) and Kaz Okada (Senior Expert, Open Innovation and Business Incubation, NTT DATA Corporation).
As the regional winner, Lucep got the opportunity to pitch at the Grand Finale in Tokyo, as one of the 20 finalists from NTT Data OI contests held in 20 cities spread across the world.
The Grand Finale was won by Pune, India-based FlytBase, which has developed the world's first Internet of Drones (IoD) platform.
In conclusion, Lucep is grateful to NTT Data and partners Startupbootcamp and Rainmaking for the opportunity to participate in this contest, and proud to have won the regional contest. We're now more aware of the social implications of the business we do, and how we can help advance some of the 17 SDGs that will make this world a better place for all of us.