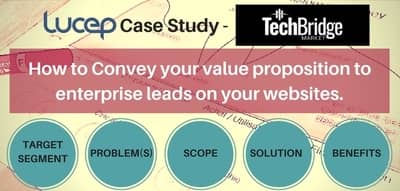 As part of an effort to showcase the success stories of customers using Lucep, we're today featuring TechBridge Market. The data I'm going to share with you is a good lead generation case study for businesses wondering how to convey your value proposition to your website visitors.
Profile: TechBridge Market (formerly CIO Matrix) is an online HR platform that connects technology-centric enterprises and recruitment MSPs directly to a global pool of vetted enterprise IT professionals.
The company specializes in niche, hard-to-find and sought after technology skills that enterprises may not have in-house.
Pain Points: TechBridge's problem was that visitors landing on their site were not able to grasp the depth of the platform. On the face of it, the site was being seen as a job board, and the company had no way to explain the power of the engine that could work behind the scenes to find and deliver high-quality talent for ERP, IT security, project management, etc.
The traditional method to fulfill HR requirements at this niche enterprise level was through direct in-person conversations with Account Managers. So the question was, how do you replicate that AM experience with an enterprise HR executive or departmental head who is on your website?
The lack of this mechanism was costing TechBridge a lot in leads that were not being generated from all the traffic that was landing on their site and then clicking through to the page where they were supposed to post their job requirements.
"There is not a lot on the website to establish the history of the business or credibility. Nothing that shows we are anything more than just a job board. Not a lot that explains the engine that we have behind the site, and we were seeing a lot of traffic moving straight from homepage to the page where they post their requirements, but it wasn't coveting at any sort of meaningful rate." said TechBridge Director Dominic Clonen.
"Recruitment is still done in an old fashion way, companies are used to speaking to recruiters and conveying their requirements directly to them. Particularly in tech where every job has "need to have" requirements and "nice to have" requirements which any recruiter needs to understand. We really struggled to get across our value proposition in an easy to understand and simple way." Said Clonen "We needed a way to have a conversation with people that were interested and wanted to find out more. When I found out about you guys, I realized that when someone wants to have a discussion it is very easy for them to request a call back."
The Solution: Up until January this year, the company had very little to show in terms of website conversions. Then they started an aggressive campaign to engage people on their website. This included the use of the Lucep request a callback widget to respond to website leads.
The Result: TechBridge noted an immediate jump in the number of people contacting them. The lead generation peaked at the end of February, with 25 leads generated in that one week alone.
Out of all the leads generated from the website in the first quarter, a full 60% made use of the Lucep callback tool to request a callback. The remaining 40% directly posted their requirements. Not a single person used the contact form on the website during this period.
"In the last 6 weeks we have had a whole bunch of leads but we had 6 high quality leads that came from large enterprise customers. One of the six leads was from a multibillion dollar conglomerate that has 34 companies underneath it. We are now working on a full company wide SAP transformation which is 150 placements over 2 years," said Clonen. "This was an organic inbound lead that came through the Lucep tool and allowed us to respond to them quickly and help them to fill their need."
Another important point he highlighted was that both enterprise clients and the candidates they wanted to hire had been calling them through the Lucep tool.
Talking to highly qualified candidates with niche and in-demand enterprise IT skills apparently addresses their concern that their CV is just being sent only to relevant jobs, and not going around everywhere.
He added that the communication with their customers through the Lucep app allows these major companies to see them as a real, living breathing organization and not just a faceless / voiceless website, which he said is very important for large enterprise customers.
Smaller customers are happy to use the self-service option, but large clients with big requests want to speak to someone to know it is a proper business. "It helps us to create the credibility with these customers by responding to them fast," said Clonen.