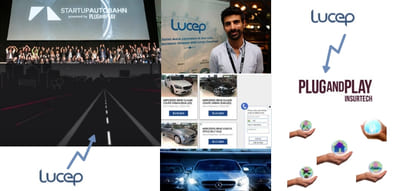 Lucep recently got entry into two separate accelerator programs in different verticals, but with a common thread – the PlugAndPlay Accelerator.
First, we got into Startup Autobahn, which is an automotive technology innovation program created as a partnership between Daimler and Plug and Play. The other one is our recent selection into the PlugAndPlay Accelerator's first insurtech batch in Asia
About PlugAndPlay Insurtech Accelerator Program
In this post, I want to explain how PlugAndPlay, a global innovation platform headquartered in Silicon Valley, is plugging innovators and their exciting new technologies into the business processes of some of the world's largest corporations.
With a growing list of over 15,000 startups and more than 250 official corporate partners, PlugAndPlay is supporting the startup ecosystem and innovation in different verticals such as insurance technology, fintech, IoT, mobility solutions, brand and retail, healthcare, supplychain and logistics, food and beverage, travel and hospitality, energy and sustainability, new materials and packaging, cybersecurity, real estate tech, etc.
How PlugandPlay is Accelerating Automotive Tech
The video below shows how the Plug and Play Accelerator program works with large companies such as Daimler and Mercedes-Benz, connecting them with startups that have developed technologies that have potential to disrupt the market, and are ready to test it on enterprise customers.
Let me explain how big an effect Plug and Play has had on Lucep's foray into automotive sales, a vertical that we had purposefully targeted based on market research done by a team from UC Berkeley.
Since being selected into Startup Autobahn to help develop automotive sales lead distribution technology for Daimler group companies, Lucep has added a Mercedes-Benz country website as a client, along with one of their largest dealers whose month-on-month sales doubled after they started using Lucep.
Mercedes-Benz is now not only using the Lucep widget, but also a test drive form that generates instant notifications to their sales team on the phone.
After we published these success stories as a case study on our website and distributed it on social media and through email, we've got hundreds of automotive dealership leads, all asking what we can do to help them increase revenue from online channels.
Lucep for car dealerships ad on Facebook Lucep automotive dealership case study
As a followup, we now have approval from Facebook to provide an official integration for Facebook Lead Ads. Your sales team member who handles that category of product will get an instant notification anytime a form is filled by a potential customer on Facebook.
This is the level of market entry, branding, sales and product development that is being fueled by the Startup Autobahn innovation platform created by PlugandPlay and Daimler.
PlugandPlay Accelerator for Insurtech Startups
Since winning Metlife's collab 3.0 EMEA contest out of a pool of 148 startups from 32 countries, we've made huge strides in providing insurance companies a 360-degree view of the customer journey, and helping agents engage with customers.
Lucep has now been selected as one of the startups in PlugAndPlay's insurtech batch, so we hope to be working with these insurance and insurtech companies listed below that are partnering with PlugAndPlay.
During this 12-week program, Lucep and the other 23 startups selected will get to meet and work with Plug and Play corporate partners to consider the potential for pilot projects and investment opportunities.
For our part, Lucep is grateful for this opportunity provided by Plug and Play, and eager to share our insurance customer engagement and agent enablement innovations with all these companies, so that it benefits the industry as a whole.