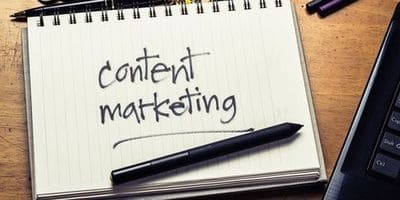 In this article, I would like to share some valuable data-driven insight on the effectiveness and ROI of your lead generation process. We have the privilege of analyzing a lot of data coming in from clients in different sectors such as SaaS and B2B. So one of the things we did was take a close look at six months' worth of data for 25 of Lucep's top performing clients.
As a result, we have been able to identify some of the key practices of these top performers that consistently result in a sustainable pipeline of quality leads. One of these key factors is engaging content.
Take a look at the chart below, and you'll see how big a difference it makes when your content is able to engage website visitors from the right source.
The average number of pageviews for visitors who don't turn into leads is almost flat-lined close to the bottom of the chart, and the number of leads generated for many sites drops precariously as the amount of traffic you get in terms of unique visitors starts dropping. You have two instances of lead generating page views peaking along with a sharp rise in unique visitors.
But what's really interesting is the lonely blue peak in the middle and a few similar ones to the left and right, where a higher number of lead generating page views is not a result of a spike in the number of unique visitors. These are sites that are producing engaging content that is generating more page views and leads with less unique visitors than others that are getting more traffic.
This is perfectly in line with what seasoned marketers focus on when it comes to the metrics used to measure the impact of content marketing. According to a survey report from the LinkedIn Technology Marketing Community, lead generation is by far the top goal of content marketing. Furthermore, the top four content marketing metrics (see slide 10/29) are as follows:
1. Web traffic or Site visits – 63 percent;

2. Page views – 59 percent;

3. Lead quantity – 42 percent; and

4. Lead quality – 39 percent
One very important thing you should know about is that Lucep's data shows that there's a threshold at the other end too. On the one hand, low page views equate to an audience not engaged and who are non-lead generating visitors. But on the other hand, our data also shows that you typically have only three pages to show before you lose the visitor. Put simply, you need to create a content strategy that engages your website visitors and takes them down through a funnel of up to three pages in order to generate a lead.
This process of creating engaging content is critical to increasing your page views, lead quantity and quality – all metrics that are cited as the most important by digital marketers.
How to Increase Content Engagement
The next question that arises is about how to go about creating engaging content. The bottleneck where you lose a lot of visitors is your title – while 8 of 10 visitors may read your headline, only 2 of 10 will actually read on. Optimizing your title so that it appeals to readers as well as search engines while being relevant to the actual content inside is difficult, but it's still an essential part of content engagement.
You then have to give away your whole stash fairly quickly to retain attention. Long form content ranks well in search engines, but engagement metrics such as comments and social sharing aren't necessarily related to the length of the content.
a. Top 5 search results – 2,300 words

b. Top blog posts – Takes 7 minutes to read

c. Content Scanning – A full 55% of your visitors lose interest within less than 15 seconds while reading content Chartbeat.
This means you have to make your case very fast, and then break the subsequent sections into easily scannable and short paragraphs and/or bullet points with large sub-headings. By the time or before the visitor loses interest, the next sub-heading grabs them by the scruff of the neck and keeps them reading for another few seconds.
74% of Internet Traffic Next Year Will be Video
Adding a video in the right place on a landing page will increase lead conversions by 80%, according to Unbounce. A video by itself is also a great way to increase content engagement. A marketing summary from Invodo notes that 74% of all Internet traffic will be video by next year. The same study also notes that 65% of viewers watching a video tend to watch at least three-fourths of the video. More importantly, a full 52% of marketers surveyed in the study cite video as offering the best ROI among all content types. ComScore data further suggests that 64% of users are more likely to buy a product online after they watch a video.
Once you have started to generate all of this content to your website you will need to learn what to do with it, may we suggest some of these helpful guides.
Lead Management – How It Can Transform Your Business