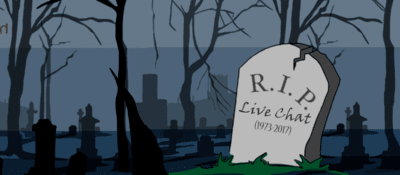 The traditional tools for offering customer support on your website include email, phone, contact forms, social media, and live chat. The rest are all established channels that are part and parcel of customer engagement, but live chat hasn't been able to reach that level of acceptance.
In fact, there are good live chat alternatives that can do a better job enabling your customer support process.
1. Multi-channel customer support using Desk.com.
Desk.com is a rare tool, in the sense that it's hard to find useful software dedicated to keeping your customers happy, and able to do it well. How do they do it? This tool makes it possible for you to stay on a single dashboard and communicate with your customers across multiple support channels including social media (Facebook and Twitter) and traditional channels such as phone, chat, and email.
You can even integrate Desk.com with Salesforce, so that your sales and service teams are not siloed and can connect with each other and other channels. You will be able to use productivity tools to resolve customer issues quickly, and collect valuable metrics from analytics and reports to further improve your processes. Providing fast, awesome customer service has never been easier.
Most useful Desk.com customer support features:
Multi-channel support: Tweet and post on social from inside Desk.com. Turn emails into cases, and manage customer phone calls alongside emails, social and chat responses. Add chat boxes and discussion boards to your website to engage customers, offer real-time support, and build a community.
Other Desk.com features include productivity tools, case management with a central repository of customer interactions across all channels, self service support, mobile support, embedded service, and internal ticketing.
Case Management – Moving cases to resolution is quicker and faster with the help of an intelligent case management software. Easy steps to create case filters and business rules, labels and custom fields, track escalations and collaborations.
Mobile Support – Respond to customers from wherever you are. With customer inquiries in the palm of your hand, you don't need to be at your office all the time to answer customer queries. Download the app and resolve cases directly from email notifications. Get your very own mobile-optimized support center on the go.
Business Insight and Performance Monitoring – Track your customer support team performance, analyze service metrics and improve satisfaction. Find out the key performance metrics across all of your support channels, track how well your agents are performing, and gather data on business metrics that are above and beyond support.
Knowledge Base – Your team can take support content right from the powerful knowledge base and answer support queries in more detail than they know. You can even do your own content rating, create contact forms with simple builders, and create a multilingual knowledge base so that you can communicate with your customers in their own language.
2. Free and open source customer support using ticketing system Helpy.
Tools such as Helpy.io come under the category of open source helpdesk software. It uses a simple and easy to use ticketing system with an online support portal that gives you advanced support tools. This platform aims to help your customers resolve their problems directly without contacting you.
Most useful Helpy customer support features:
Self service: Helpy is designed to enable and maximize the benefits of self service support. The system will help customers get solutions to their issues on their own, without having to chat or email or get a ticket for reaching out to a customer support representative.
Offer multi-language support in 19 languages right our of the box, integration with Google Analytics, performance tracking metrics so that you know whether your agents are hitting their targets and conforming to the SLA, and branding options to help you match the tool to your website design.
Beautiful built-in reporting, customizable features and a modern open tech source on board will keep your customers happy without making it seem impersonal.
Helpy's community discussions work just like any other support ticketing platforms, but any customer can answer and it only happens over the web. With this feature in place, you can offload support responsibilities on your best customer advocates and see your customers assist each other via threaded discussions that give you and your customers a place to share tips, help and ideas.
3. Crowdsource support using open source forum software MyBB.
MyBB is probably the most effective way to provide quick and detailed answers as help guides or product documentation. Let your community of users help each other. It's free, it's open source, and so popular as free and open source forum software that you can get MyBB plugins and themes for any feature that isn't already there in the tool.
Most useful MyBB customer support feature – Community forums: Crowdsource customer support and create a repository that will eventually replace the crowdsourcing support model with readily available answers to common queries.
Apart from the plugin system and template/theme editors, other features include moderation, private messaging, customer polls and promotions, mailing, calendar, and task scheduling.
4. Talk to customers instantly using callback customer support.
One more customer support tool, a better livechat alternative for talking to your customers, is instant callback. It gives you the best part of the multi-channel Desk.com option, and adds the human touch that chat, forums and ticketing support systems.
The easiest way to resolve a customer issue is a phone call. That's what a call back tool does, by moving your customers from web to phone in a seamless manner. Let's see how.
We've written before about how callback is way more effective than Live chat, website contact forms and emails. These traditional tools don't come close to what "just a plain call" can offer. You'll get unmatched customer support, but using a callback tool will also push your website marketing and sales with up to 400% higher lead generation, and over 72% more lead conversions.
Studies have shown that almost 77% of online buyers prefer to connect with a real person before making a purchase. This means live chat is not enough for lead generation from your existing customers.
So you need to find a better alternative than live chat for talking to your website leads as well as your existing customers. Test all of the live chat alternatives listed above. All are either free or at least offer free trials. See what works best on your website. Provide customer support that's better than what you have now.