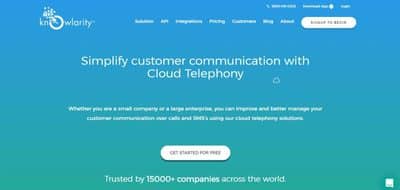 Knowlarity is a cloud telephony provider that has focused on reducing the number of touchpoints between you and your customer.
These services are too often thought of as just customer interaction tools, but they go far deeper with advanced reporting and customer insights that will help you increase conversions.
If you're missing sales calls, losing leads, and it's getting difficult for you to manage all your customer queries with the phone ringing off the hook, then this is the solution to your problem.
1. Signing up to K Broadcast.
K Broadcast is an outbound calling solution for you to reach sales prospects with automated text and voice messages. Features include 24×7 customer support, SSL data encryption, and various reports from the analytics section to know exactly how your outbound sales campaign is doing.
The signup process for K Broadcast is fairly simple. Go to the K Broadcast page on the site. Once there, you can go through the entire page to read about their solutions and offers, or you can just click on the "GET STARTED FOR FREE" button.
You are on the signup page. Here, you can either add all the requested details manually, or use your social media logins – Facebook or Google+.
After confirming all your details, you head straight to your very own 'SuperReceptionist' dashboard where you will be asked to either take the free trial or go ahead with buying the product. I would always recommend you taking the free trial.
If it's not really benefiting you, then you at least have other options to consider. Go ahead and select one. After completing the steps you will be taken to the dashboard.
The Super Receptionist dashboard is topnotch. Even though you selected the outbound voice and calling service "K-Broadcast" you get to use all other solutions of Knowlarity Cloud Telephony services straight out of the box from this dashboard. Some of the other features might address your other sales process needs as well.
So jump into the dashboard and play around with it. You will also need to get yourself a plan depending on what you think might be required once your free trial is over. Along with that, you will be asked to register with a free Super Receptionist Numberto start off as well. Select a number that suits your requirements and start receiving calls to that number. For using SMS services, you will need to get an add-on for that number.
Let's start off by creating a new campaign.
You will have to fill up all the necessary details as seen in the above screenshot, starting right from selecting the campaign type, to selecting broadcast types, uploading phonebooks, selecting IVR types, call scheduling, etc. When you are done with everything you just have to click on the schedule icon for it to start the services. Once scheduled, you can always head to campaign logs to find out the status of your campaigns and get reports on the same.
Knowlarity has an AI powered TTS (Text-To-Speech) service to accentuate their outbound calling services. Just add your "offer" in simple text format and you can have that very text delivered to your target customers as a voice message. It requires minimal manual effort, and can reduce your outbound operational costs by up to 70%.
2. Drive more sales with a virtual number.
With the help of a virtual number you are able to redirect any number to an existing phone line, mobile phone, home phone, VoIP phone, international numbers, and even to a voicemail system. These have helped a lot of large companies to stay in contact with their clients 24×7 and also provide appropriate information to the callers as and when required.
Knowlarity provides you with:
Local and International numbers – A great help if you want to showcase your company as a local company or at least from the same country.
Intelligent Routing – An auto-routing system according to agent availability, location time and other metrics can turn losses into profits.
Call logs and recording – Gives you deeper insights into call quality or flow and can be used for monitoring or training purposes as well.
Support for VOIP and PSTN calls – Some legacy systems cannot be changed. With support for such systems, you can take your customer calling experience to the next level.