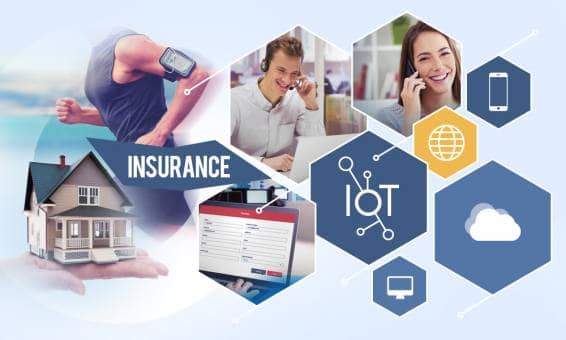 Our omnichannel API makes everything from core banking software to government IT backbones integrate seamlessly with all the surrounding systems and third-party software. But one truly fascinating application is in insurance, where Lucep's open APIs can track and provide omnichannel engagement data about your customers.
What we want to look at in this post is a specific part of engagement involving the use of IoT and blockchain for providing risk cover that not only indemnifies, but also actually puts the carrier in a position to protect through real-time tracking.
It makes insurance the in "thing" on the IoT, as the gateway to the 31 billion devices expected (source: Statista) to be part of the Internet of Things by 2020.
AI and blockchain for on-demand micro-insurance contracts.
Blockchain is disrupting the banking, insurance and financial services industries, forcing established institutions into reducing international transaction costs and delays, implement eKYC for faster account opening, etc. Fraud detection and claims management are among the top insurance use cases for blockchain.
Fintech startups providing solutions to the insurance sector are already looking at combining IoT and blockchain. For example, IoT sensors trigger an event and send notifications when an accident happens. Blockchain can then be used to automatically provide verified data required for automotive repairs, healthcare ,and for automating the claim.
Similarly, fintech startups are also developing on-demand micro-contracts for carriers that could be combined with IoT, with the coverage being made available as needed based on events triggered by data sent from IoT sensors.
For example, Metromile offers pay-per-mile car insurance. All their customers under this cover get the Metromile Pulse that must be plugged into the vehicle's OBD-II port. It not only measures mileage to calculate the insurance cover, but also makes use of an accompanying app to track the car's health.
Metromile has also developed an automated claims settlement AI assistant called AVA that can verify claims within seconds and resolve them quickly, using the data provided by the Metromile Pulse.
Insurance-as-a-Service powered by open APIs.
Another way to provide on-demand insurance is through APIs. AXA's insurance-as-a-service powered by it's open APIs makes for a good case study.
The open API can be used by partners who want to integrate AXA's home, travel and car insurance into their own products and solutions.
Customers can buy the cover instantly, right there on the partner portal or mobile app.
One such example can be seen on the SATS "Ready-to-travel" planning app. People using the app can buy travel insurance fro AXA for their trip right there, from within the app.
This is what Tomasz Kurczyk, Director, Digital Transformation, AXA Insurance, said in a news release announcing the launch of their insurance-as-a-service: