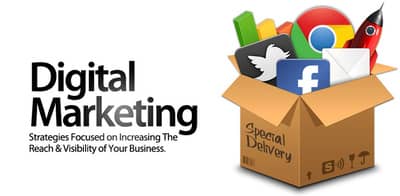 A full 52% of B2B buyers now say they expect half of their purchases to be made online within the next two years. With consumers and B2B buyers now on the web and mobile, the drive to get more leads online has forced companies to pursue a "digital-only" marketing strategy instead of one that simply supplemented their core offline marketing campaigns.
You need a digital marketing team today, and that's not just because it's so important to business survival and growth. Digital marketing, including SEO, SEM, PPC, content creation and marketing, email marketing, social media and other such things, is also not that hard to understand or do once you get the hang of it.
The core problem is the enormous amount of time and work that needs to go into all this, regardless of whether you are a small business, new startup or a globe-spanning enterprise. If you want to continue to run your business and do what you do best, you need to get a digital marketing team.
To highlight the benefits, I'm going to list some case studies that show the dramatic impact of getting your digital marketing team to do all the hard work and implement innovative strategies and campaigns.
DB Squared Digital Marketing Team Gets 415% Lift in Page Views
When business finance company DB Squared hired its first marketing employee Elisabeth Kraus, her primary responsibility was to bring DB Squared's online presence in line with marketing best practice standards for success.
Elisabeth @beinpulse is quoted by MarketingSherpa as saying that content marketing was kind of her wheelhouse, but they needed to do a lot of different things including email marketing. Elisabeth made it clear that first they needed to redo the website and create SEO content.
Another responsibility handed over to her team was lead generation. Their goal was to generate leads that would be handed off to Sales, freeing the sales team from the pain of cold calling to get leads which they could then chase.
The main channel of lead generation in their digital plan was content marketing. The results of the site revamp, followed by a focused content creation and marketing plan, are as follows:
253% – number of sessions

310% – number of unique users

800 to 5000 – new social followers on social media pages

415% – increase in number of pageviews

47% – increase in number of pages per session

40% – Drop in bounce rate (from 60% to 20%).
Read the full DB Squared digital marketing case study.
Neolane Digital Marketing Team Draws 42,000 Inbound Links
Neolane, a marketing automation and campaign management software and services development company for both B2B and B2C marketers, joined hands with KoMarketing to develop an integrated SEO and content marketing plan.
In order to come up with a comprehensive link building campaign, strategies were built around recommendations for bylines, link analysis associated with events and conferences, and outreach related to content marketing assets.
To ensure Neolane's international SEO initiatives would be just as successful, visitors from different countries were directed to the appropriate country destinations, allowing for highly targeted analytics and reporting.
In just two years, Neolane saw a remarkable change in the metrics, including 42,000 inbound links. This included:
4x increase in unique visitors to the website;

169% year over year growth in organic search engine traffic for a 12-month period;

The creation of 200 content assets, including blog posts, infographics, landing pages and an eBook;

21% increase in lead opportunities through organic search;

First page Google search results for more than half of the strategic keyword targets; and

Over 42,000 inbound links point to Neolane.com landing pages
Read the full Neolane digital marketing case study.
Sleepwell Property Management Digital Marketing Team Gets 115% More Organic Traffic
Sleepwell Property Management, a company that helps people find comfortable and affordable places to stay, kicked off a digital marketing campaign with the aim of getting more Google traffic.
A simple website audit that required very little work on their website enabled the crawlers to go through the site pages more easily. Newly created social media accounts and a new blog both focused on content targeting customer pain points. All of it combined to generate a 47% increase in organic search traffic in just six months.
After six more months, Sleepwell had clocked up a 115% increase in their organic traffic, resulting in a huge increase in lead generation, conversions and online sales revenue.
Read the full Sleepwell Property Management digital marketing case study
AT&T Digital Marketing Case Study – B2B Blog Nets $47 million in 18 months
With sales drying up, AT&T was being forced to something new. Sander Biehn (@sanderbiehn) and other members of their team decided to try out a new digital marketing plan.
They wanted to implement a blog-centered sales strategy that would help the staid old company build new-age relationships through social media.
Most of the content they had been pushing out was not really helping since it often had a promotional slant. Their new efforts were more customer-centric, with content that was all about the customer and things that were important to them.
This was done through a new B2B blog called Networking Exchange. The AT&T digital marketing team published exceptional content based solely on their customer personas, and this content was promoted through constant engagement on social media channels such as Twitter and LinkedIn.
The result of all this was an enormous breakthrough. The content and social media strategy completely changed the rather icy and distant corporate behemoth image of the company into a customer-friendly one that cared about ordinary people and all their concerns. Most importantly, the strategy showed that AT&T was listening to each customer, and treating them individually as people.
The ROI from this new digital marketing initiative was a whooping $47 million in new business, that too in less than 18 months from the time they launched the new social media strategy.
Read the full AT&T digital marketing case study.